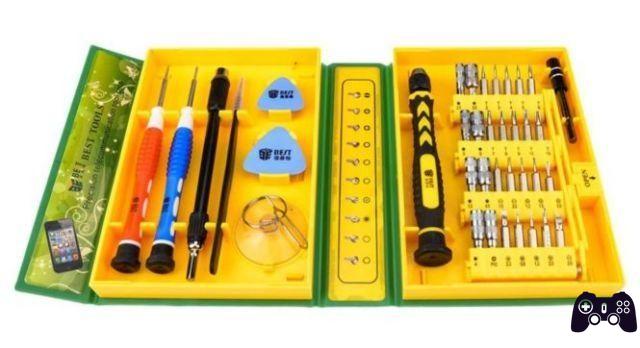 Your cell phone battery doesn't last as long as it used to? Then maybe you want to replace it or change the old and broken screen. This isn't very difficult actually, you just need to be very careful, minimal knowledge (luckily there are a lot of guides on the internet, especially YouTube). And of course the most important thing is have the right tools to disassemble and repair your smartphone.
Snapdragon 855, this is the new Qualcomm processor with 5G and NPU >>
Finding these tools is not very difficult, especially if you decide to buy them online. You have many options like Amazon, iFixit, eBay, AliExpress, etc. But here we will tell you what tools to buy to repair a smartphone.
Thermal gun
to remove the screen of a smartphone it is necessary to heat the adhesive. This should be done with a heat gun, if if it comes out of your budget you can use a hair dryer. Heat must be applied for the adhesive to soften. Then using a heat gun it is easier to remove the screen and it is less likely that something will break.
An old credit card or a guitar claw
Credit cards you no longer use can be very useful. They are a good option for lift large parts inside the phone. But it also makes it easier to open the phone, as in many cases the cover is secured with adhesive. It will also come in handy if you want to remove the battery from your phone, as you slide it from side to side without breaking anything.
A guitar pick can function as a second hand spudger. But can also function as excellent spacers. For example, if you have half of the screen loose but not the other half. One option is to place the guitar picks in the raised half so it doesn't stick again.
Suction cup pliers
While guitar picks are useful, there is a simpler and more professional solution. There suction cup gripper can lift the screen of an iPhone to open it. It is very easy to use, if you are going to open an iPhone just press one of the suction cups on the phone screen and the other on the back. So you just have to press the clamps and the phone will easily separate from the screen.
Table lamp
It is important to work in a well-lit environment, a desk lamp will be very useful. There additional light will make it easier for you to see small pieces that a further light does not allow you to distinguish. It doesn't have to be a professional lamp, an economic one is fine too.
Magnetic mat
Disassembling a device, be it a phone or a tablet, is the same as having many screws and small parts that are loose. And nobody likes to lose screws and waste time looking for them on the floor. The magnetic mat prevents screws from falling out and also helps organize parts. It's a kind of mat with dividing lines.
How to recover files from a smartphone with a broken screen >>
Magnifying glass
I pieces of the smart devices are very, very small, if you've already opened one before you know it. That's why a magnifying glass is an excellent tool that will never be out of place on your desk.
The magnifying glass is one of the tools to repair a smartphone if you have to carry out welding work. It is possible to buy it at a very affordable price and the best ones are those with pliers support. This way you can have your hands free and work better with soldering and magnifying glass.
Further Reading:
How To Dry Cell Phone Dropped Into Water - Simple Methods
How to repair damaged SD card and recover files, photos and videos
How to remove scratches from the phone screen
How to use Luminar AI to get beautiful landscape photos
Clean boot into Windows 10 and troubleshoot