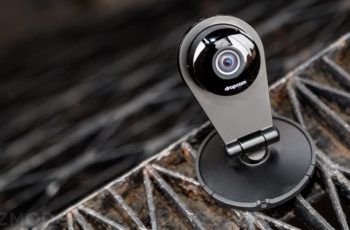 Discover the comparative ranking of the best wireless cameras for outdoor video surveillance. What is the best outdoor surveillance camera? Which outdoor camera to choose to monitor the house from a smartphone? Which inexpensive outdoor camera to choose?
Why buy an outdoor surveillance camera?
An outdoor surveillance camera allows you to monitor your home or garden day or night from a computer, smartphone or tablet. It is a simple and effective way to monitor your home live or to view recorded video wherever you are and whenever you want. A wireless IP camera can be used for basic video surveillance or to observe the animals walking around the garden at night.
A wireless surveillance camera is an easy way to see what happens at home when you are gone. The video is accessible wherever you are from a computer, phone or tablet connected to the Internet. The system also allows you to view video clips recorded later.
A Wifi surveillance camera can be used for the video surveillance of your home, your children or to observe the animals that spend the night in the garden, it is a practical accessory for your safety.
On the other hand, a surveillance camera alone does not offer the same level of protection as a complete alarm system. And most models aren't completely wireless because they need to be connected. They are therefore useless if there is no power. Some cameras do not have a video storage system and are therefore useless if the Internet connection is interrupted.
A wireless surveillance camera with a cloud storage option like Netgear Arlo Pro is the most pertinent solution. Some may even send alerts to your phone if they detect unusual motion.
How to choose an outdoor surveillance camera?
Installing a surveillance camera is a simple and effective solution to deter thieves and thus protect your property or business at a lower cost. This will allow you to have a permanent eye on your home without the need to make large investments.
Numerous models of outdoor surveillance cameras have been released in recent years in the face of growing interest in telemonitoring. As for an indoor surveillance camera, there are several models of surveillance cameras currently available in the market.
Models of surveillance cameras
Today, there are several models of surveillance cameras that could, however, be divided into 4 main categories based on their operating system and the type of use they are intended for.
Mini dome
This camera is mainly intended for video surveillance of sensitive areas. Its discretion allows it to easily blend into the furniture and its high impact resistance is explained by the presence of a reinforced casing associated with a vandal-proof half sphere. Finally, it is an easy-to-install model that ensures image quality clear enough to allow people to be identified.
Telecamere box
Suitable for both indoor and outdoor use, these cameras are still the most popular model for remote home monitoring. This is explained by their much cheaper price, but also by the ability to easily add different lenses with different and different angles of view to allow them to fulfill their mission more effectively.
Infrared cameras
The main advantage of infrared cameras lies in their ability to film day and night while offering the same quality, although night images will be black and white while those filmed during the day will be in color. They are the LED bulbs that are activated in low light conditions capable of obtaining night images of good quality and with a range of up to 70 meters for the more sophisticated models.
Motorized domes
Motorized domes are used in car parks and in very large areas in general thanks to their ability to rotate 360 ​​degrees and to transmit images of remarkable quality. Fixed to the wall or ceiling, these motorized domes can be remotely controlled with a mouse or joystick by programming the shifts in advance to cover the entire area. An internet connection will be required in this case.
Criteria for purchasing a surveillance camera
The type of use:
Before orienting yourself on a particular model, you must first define the type of use you intend to make. For example, if you are using IP cameras or analog HD-SDI models, they can be used as an indoor or outdoor surveillance camera.
Now, if you need to monitor a place 24 hours a day, you should opt for infrared cameras in this case which will be able to offer good image quality day and night. Finally, if you are looking for an easy-to-install model, mini domes are the ones that require the least amount of installation effort.
Ease of use and control options:
Ease of use means the ability to turn on the video surveillance system and the ability to easily access the images recorded by the camera. To do this, it would be preferable to choose a model that allows you to view these images through an application accessible from the interface installed on your computer or even from your mobile phone for more sophisticated models. This application must be intuitive with not too intrusive notifications or it will be difficult to use.
The picture and sound quality:
Since it is essential to be able to clearly identify thieves, image quality is therefore a primary criterion. Furthermore, most thefts occur at night and it must be said that infrared models remain the most effective in this exercise.
On the other hand, and as far as sound quality is concerned, we have to admit that it is rarely perfect, even for the more expensive models. However, care must be taken to choose a model whose sound is audible enough to identify at least an individual's voice.
Optics and field of view:
Optics and field of view are one of the most important characteristics when choosing a surveillance camera. Expressed in degrees of angles, the field of view makes it possible to know the very purpose of the lens. The width of the area that the camera can capture is determined by the focal length of the lens. Also, a camera with a wide angle lens has a shorter field of view than a telephoto lens.
Consumption:
It should be remembered that the surveillance camera is always in operation. This generates additional energy consumption that could be perceived on the bill in the future, therefore favoring low energy consumption models.
Is it easy to install an outdoor surveillance camera?
Installing an outdoor surveillance camera is relatively simple, but care must be taken and some aspects such as choosing the location or setting up for the video surveillance system must be taken into account to be effective. Generally, the installation methods depend on the surveillance camera model that has been chosen, the characteristics of which may vary between viewing real-time images, remote control or video storage.
In any case, we recommend that you always place a detachable mount camera so that you can easily change the orientation later if the need arises. It is also necessary to secure the camera at height in a discreet access location and place it out of the reach of thieves. Finally, and for an IP camera that allows remote viewing over the Internet using a computer, tablet or mobile phone, you need a router with a broadband connection.
The best wireless cameras for outdoor surveillance
Nest Cam Outdoor
It seduces with its original design where we find all rounded lines where white is the dominant color. Furthermore, it is not only an aesthetic detail, but it is also an aspect that has its importance in practical terms as this color can send heat and light.
IP 65 certified, it guarantees considerable resistance against rain, snow, heat… etc. If the installation is done easily, you will still need to connect the camera to a power source as it cannot operate independently, which explains the presence of a power cable of 7m in length.
Nest Cam Outdoor features a 3MP sensor with 8x digital zoom and 130 ° wide angle. For filming, you can choose between Full HD 1920 x 1080 at 30fps or HD 720p and 360p. We regret, however, not being able to film at 60fps for smoother smoothness. It has, in any case, a speaker which provides a clear and perfectly audible sound up to a range of 3 m. This is a useful option for deterring thieves or simply for communicating with someone outside.
Powered by the Nest app (available on iOS and Android), Nest Cam Outdoor gives users the ability to control the video surveillance system directly from their smartphones. In the event of an intrusion, the user will receive a notification on their smartphone and an email in their inbox.
However, you will need to sign up for the Nest cloud offer to access your sequence history and this, at a cost of € 10 for 10 days or € 30 for 30 days. Another negative aspect, the lack of an alarm, as is generally the case for other models sold at the same price (around 175 euros).
This outdoor surveillance camera must be connected to the power supply. It offers exceptional performance such as 1080p HD video resolution, listening function or the ability to distinguish between a person and a random movement. The only drawback, the lack of battery power and the subscription to Nest Aware.
Netgear Arlo Pro
The kit includes a base and three high definition indoor / outdoor wireless cameras. This is a truly wireless system because the cameras do not have to be connected to the network. This 100% wireless system offers many more possibilities.
Small and rugged, Arlo cameras offer 720p HD resolution, 130 ° field of view, zoom and digital panorama. The cameras can be placed indoors or outdoors. They are powered by rechargeable batteries that can last for several months. They can be connected directly to the network if needed.
They are easy to install and the video quality is great even at night. And motion or sound detection is effective with smartphone notifications and instant email alerts.
Netgear Arlo Pro is able to guarantee a control of your property continuously 24 hours / 24 with good image quality (720p) both day and night thanks to the infrared mode.
To view the recorded images, simply access a protected page on the Netgear manufacturer's website unless you prefer to install the ARLO application directly on your smartphone. It is also possible to keep videos locally on a USB key or external hard drive.
The system has an internal alarm and it is possible to activate a siren of over 100 decibels. The geofencing function allows you to define a geographic area in which to strengthen the surveillance of the camera towards the front door or windows, for example. The geolocation function allows you to automatically activate the cameras if you leave the house and deactivate them as soon as you return.
With the Netgear Arlo Pro Kit, each user benefits from 1GB of free cloud storage (equivalent to 7 days of recording). The videos are available from the application for PC, smartphone and tablet (iOS or Android). They can be recorded, downloaded or shared at will.
The Arlo Pro 2 is the latest generation of outdoor surveillance camera. The design and features are very similar to Arlo Pro. However, Arlo Pro 2 can shoot in Full HD at 1080p and video recording can be done continuously.
This outdoor camera is 100% wireless. It offers an excellent picture and clear two-way sound. It offers alerts for noise and motion detection, an alarm of over 100 decibels and the ability to record video in the cloud or on a local USB stick.
Netatmo presence
It is an external video camera that doubles as a projector. Equipped with a 15W LED, this projector is programmable to turn on as soon as a person approaches the door.
In addition, its design with aluminum rectangular lines is more reminiscent of a lighting fixture than a surveillance camera, which allows it to remain discreet in the decor. Thanks to its aluminum structure, it is perfectly resistant to shocks and wind, rain etc. as evidenced by its IP66 certification.
Netatmo must be connected to the Wi-Fi network because it does not have an Ethernet port. In any case, its configuration remains within everyone's reach, just follow the detailed instructions in the guide. Equipped with a 4 megapixel sensor, it is capable of capturing in Full HD over a wide angle of 100 °.
It differentiates animals, cars and people even if not, it has the ability to identify faces. We would have liked to have had this opportunity, rather than just detecting the presence of individuals.
Associated with an application, called Security, Netatmo Presence can be controlled remotely with extreme ease thanks to the ergonomics of the application in question. Finally, the only negative point of this camera remains the lack of identification of intruders because, for the rest, it seems to offer advantages in line with the reputation of the Netatmo brand, a reference in the field of video surveillance.
Inker 720P - The cheapest
It's a cheap outdoor surveillance camera. It offers very interesting services for the price at which it is sold (less than 60 euros).
Its installation proves itself simple as much as the use since the iSmartViewPro application allows you to remotely control it from a smartphone, tablet or PC. The sensitivity of the motion detector can be adjusted according to your needs.
In any case, as soon as abnormal motion is detected, the alarm is triggered and the recorded images will be sent to you by email. Equipped with a double detector with IR-CUT infrared filter, the night vision is more than enough to record and view quality video, even in the dark.
The Inker 720P offers exceptional HD picture quality at 1280 x 720p with the ability to record continuously 24/24, depending on the scheduled time slots. No problem with the ruggedness of this camera, as it is IP7 certified and includes a weatherproof outer housing.
It is always possible to activate the guarantee for free technical assistance. Finally, it should be noted that this model works with both Wi-Fi and Ethernet, and allows you to keep an eye on it in real time via 3G / 4G from the IsmartViewPro application. As for storage, it takes place in the internal memory (MicroSD), the size of which is 8 GB.
At the time of writing, the Inker 720P appears to have many strengths, starting with its attractive price point but also the image quality both day and night thanks to its night vision or its resistance to atmospheric agents.
Further Reading:
The best WiFi surveillance cameras
The best wireless alarm systems
The best wireless printers
Cordless vacuum cleaner: how to use it correctly? The secrets for a long life
Video surveillance systems to protect your home