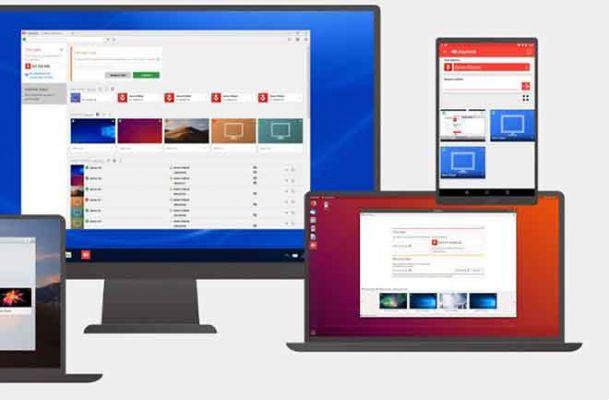 A computer can be controlled remotely. There are many applications that offer us the ability to remotely control PCs, and not only from another computer but also from a smartphone or tablet.
These remote PC control computer programs allow for full access, some with a professional focus for system administrators and others more focused on home or personal use.
Teleworking is increasingly widespread and although today we can find many tools that allow us to connect to the necessary services of our work from home, it is possible that on many occasions we need to enter a PC, to open a file saved locally and that we don't even have to identify ourselves to the work network in order to use certain services.
What does a PC control program do
It would be necessary to distinguish between two types of remote access to a computer in this area. On the one hand, remote access within the local network; i.e. remote control, but within the same WiFi network. And on the other hand, remote control over the Internet.
In the first case, the distance will inevitably be shorter and limited by the range of the local network itself, generally wireless, although it can also be wired. And in the second case, the remote connection could be done from anywhere in the world.
Why do we need to remotely control a PC? As we mentioned, it is an essential tool for sysadmins in a professional setting.
But taking it home, or personal, is what allows us to have remote access to a computer for issues such as helping to remotely configure a relative or friend's computer.
And, of course, it is the remote connection tool that will allow us, for example, to access our files stored on your computer, from your mobile phone, within the same local network or from any distance if we correctly configure remote access from Internet.
PC remote control programs
1. Supreme
This remote PC control software is gaining popularity in recent times due to its ease of use, which does not require installation on the PC, and is also completely free.
Other features of Supreme are that we do not need to configure absolutely anything in our router or firewall, as it automatically uses NAT traversal technology for inbound communications, allows multiple users to connect to the same PC, and also uses AES-256 encryption to provide the best security possible.
Finally, Supremo is cross-platform, supports both Microsoft Windows operating systems, and also has an app for Android and iOS, in addition, we will soon have a version to control devices with macOS.
2.TeamViewer
TeamViewer is one of the applications for remote PC control, most recognized as PC remote control software. For personal use it is free and the limitations of the software are practically nil.
In fact, it offers full support and compatibility with both Windows and macOS computers, and also offers us the possibility of installation on ultrabooks with Chrome OS operating system.
As for mobile devices, we can install it without problems on Android and iOS smartphones, as well as on tablets with both operating systems and with complete and perfect adaptation to touch commands.
TeamViewer establishes a secure connection with our user account and a password - via numeric code - which is generated uniquely. From here, we can establish and cancel the connection from the client - the remotely controlled computer - at any time.
And we can control absolutely everything on the computer as if the smartphone, tablet or "second computer" were the screen, mouse and keyboard of the PC we are controlling remotely. Download TeamViewer
3. Windows Remote Desktop Connection
Although there are free third-party remote access programs for PCs, such as TeamViewer, Microsoft's operating system has a built-in tool.
It's called Windows Remote Desktop and it only takes a few steps to set it up. First, of course, we will have to activate the function within the section Settings of Windows 10, from the search box on the taskbar.
Once enabled, a remote login name will be generated for the system and it will begin to be visible to other devices so we can connect.
Windows Remote Desktop is compatible with Windows, macOS, Android and iPhone systems. From the Google Play Store and App Store it is possible to download the client for Android and iPhone, and from there you will be guided through the entire process of configuring the connection, once we have already activated the service on the PC.
As for TeamViewer, once the connection between 'server' and 'client' is established, we can control PCs remotely.
4. Chrome Remote Desktop
The web browser of the Mountain View company, Google Chrome, also allows us to remotely control our PC with an 'extension' of the program. It is not an extension to use, available in the Chrome Web Store like the rest, but a small application for Chrome itself.
Installed on the computer, in addition to connecting remotely, it allows connection from the specific app for smartphones and tablets via our Google account. Once the PC has been configured correctly, as soon as we open the app on our mobile device we will see the computer as a possibility - among many, if we have more computers - of connection for remote control.
Although it is part of Chrome, it not only allows us to remotely use the web browser but also the entire computer. The configuration is really simple, much more than in most alternatives, and this makes it one of the best programs, ever, for the remote control of the PC.
In addition, it forces us to configure a PIN code - six digits - to ensure security in connections beyond the Google account itself.
5. VNC Connect
VNC Connect is a paid remote control program. And it's important to start there because, so far, all the PC remote control programs we've seen are totally free. However, it is a fairly advanced utility in this area.
It offers support for Windows, macOS, GNU / Linux systems as well as mobile devices running Android and iOS. Therefore, compatibility is ensured on any device without any problem.
And one of its great advantages is that it has a very simple interface and configuration process, for inexperienced users and without experience in system administration.
Due to the particularities of this program and its possibilities, it is probably the best option if we want to have multiple remotely controlled computers. If, for example, we need to remotely manage multiple computers in a small office, or at home.
Obviously, connections can be made both on the local network and remotely, via the Internet. And the management and administration of multiple systems is a little more complete and at the same time simple - in use - than the rest of the programs seen previously.
6. Splashtop
Splashtop, is the second of the paid remote control programs, although it has an open access version with more limited functions. In this case, we are faced with a PC remote control program that allows us to connect within the same local network.
And that it has no compatibility problems with Windows, macOS and GNU / Linux systems in relation to the desktop, as well as Android and iOS - both smartphones and tablets - if what we want is to access from a mobile device. Again, we need to install different programs on the client and on the server, for pairing between the two devices.
In general, it differs little from the rest of the programs developed for remote PC control. However, it offers an advantage over the alternatives and is in the transmission of audio and video between connected devices with reduced latency.
In this way, although there are applications developed specifically for this function, it is considered a good option if we want to use the computer as a 'media server' and play the contents, remotely, from another device connected to the same local network without downloading the media file in question.
7. AnyDesk
AnyDesk is a solution for remote PC control created by the team of developers who participated in the design of TeamViewer and is for many the alternative to the famous tool for faster remote control of computers. In this way, it becomes one of the best tools when what we need is to manage heavier programs from a distance.
Of course, this doesn't mean AnyDesk is a very simple tool to manage. It is available in a free version specially designed for private use and a paid version for professionals and companies. Download AnyDesk.
Further Reading:
How to remotely control your computer (Windows + Mac)
Control PC remotely with TeamViewer
How to use an Android phone as a mouse or keyboard on your PC
The best smart coffee machines
How to wipe your Android data remotely