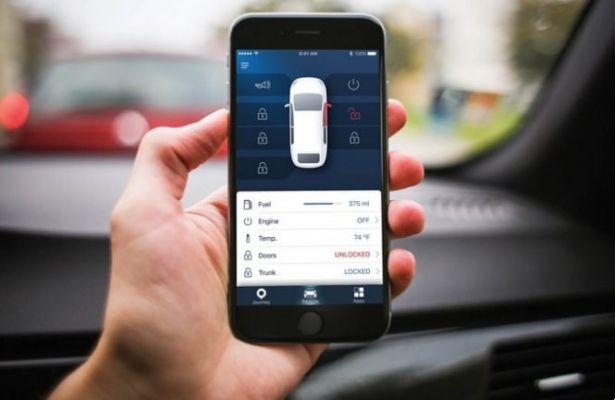 According to various studies, it has emerged that a large part of our time is spent just behind the wheel of your car, a habit that often tends to be a real source of stress given the city traffic, the lack of free parking spaces, possible accidents not to mention all deadlines concerning the car maintenance and management.
As always, however, for some years now, technology has come to our aid by devising valid solutions to streamline every activity, as well as managing your own car. In this regard, there are smartphone applications designed to install security systems, keep all car functions under control, but also manage vehicle maintenance and deadlines as well as find parking during rush hour. But which are the best car management app?
EasyPark
It is one of the fundamental applications for those who need find parking without having to waste unnecessary time. Ideal in most Spanish cities to be able to easily find free parking in the area near where you are. Furthermore, with the new updates it is possible to make parking payments even simply via smartphone, calculating exactly the parking times of the vehicle.
Torque
Torque is the application designed to be able to record exactly and in real time each parameter on the maintenance of your car, starting from the performance of the car up to reporting vehicle malfunctions.
THETorque application it represents an important diagnostic tool that can be easily customized by the user who uses it, moreover it is possible to find it both in the Lite and Pro version.
DIY Smart Key
For greater safety of your car you can install it on your smartphone DIY Smart Key, a complete alarm system that can be used for both cars and motorbikes, but also for your own home security.
This application works as an intelligent key capable of both locking and unlocking all the installed devices thanks to special codes that can be managed directly via your smartphone.
Car management
From the inspection of your car, to the payment of the car tax, as well as all the practices relating to the payment of insurance, and the documentation relating to the possession of your car can be easily monitored digitally thanks to the application for Car Management smartphone.
In addition, the app is able to remind the user of various important reminders regarding car maintenance, reminding the user of having to change the oil to the car, but also to check the brakes, change filters or tires.
Starline
When the safety of your car becomes the priority it is necessary to rely on any effective means to secure your car. Starline is the application that allows you to remotely control the management of the alarm and all associated services.
LStarlite application available on both Apple and Android devices, it works like any type of GSM alarm, GSM modules and is able to provide the exact position thanks to GPS geolocation.
Michelin MyCar
But the management of your car also starts from the systematic check of the tires for greater driving safety, for a lower consumption of tires and fuel. One of the best tire management applications is Michelin MyCar.
The application available on Android and iOS devices it is particularly complete for the user as through the four sections it provides technical support, with the possibility of creating a list of all maintenance interventions, as well as identifying the ideal tire model for your car, and finally viewing a section on advice provided by Michelin.
The app was not enough, for a general discussion on tires we recommend the forum Saccon Blog, where you can find news on which tires to buy according to your needs, how to manage them, and possibly also how to repair them in the event of an accidental puncture.
Drivvo
Dwelling on the theme of car management the Drivvo application offers users a rather perfect solution for those who want to keep their car data under control. Ideal for users who like to build graphs and tables on all values ​​in order to cross-reference the results and keep vehicle running costs under control.
Furthermore, through the Drivvo application it is possible to check refueling, but also the maintenance services carried out on the vehicle, as well as generate and store real personal reports, and set reminders of important events related to your car.
C
While not a real application for car management, C it could be essential to group the most important apps on your mobile phone on the screen of your car that allow you to use them quickly and easily via voice command.
Further Reading:
The best Bluetooth speakers for your car
How to pair iPhone with your car
The best apps for car maintenance
What to do when Android Auto won't connect?
Disk Management does not open on Windows 10