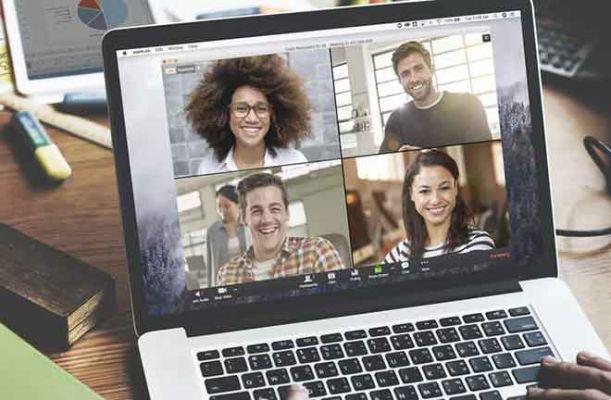 Video calling is rapidly replacing the socializing aspect. With the pandemic taking place sideways, video calls are perfect for staying in touch with everyone. Although there are so many apps for making video calls, it is quite complicated to choose one that meets your needs. The apps we suggest below can be used for personal purposes or to host quick group video calls.
If you want to host a video conference with many people, even if it is limited, consider the options in the article. Of course, you need to think about everyone's availability and not just use FaceTime. In this post, we'll cover the top five group video conferencing apps for connecting with friends, family, and employees so none of them are limited by an operating system.
1. WhatsApp
We will start this list with one of the most popular messaging apps of all time: WhatsApp. Billions of people are already using it, which is why it wouldn't be a big deal to try it. Of course, the basic requirement is to know the phone number of the person you want to call.
One way to start a group video call is to call someone and then add other contacts to the same call. Alternatively, you can press the video call button icon in the group chat and then choose the members you want to add to the video call.
While this all sounds great, WhatsApp only allows up to four people in a video call. It also uses as little data as possible. So don't put too much emphasis on the overall quality of the video call. In short, it's nice to be with friends or family.
So yes, to connect with people, WhatsApp is great. But don't plan to use it to show some content or something that requires good quality. WhatsApp is available for Android, iOS, Windows, macOS, and the web. If you're just starting to use it, check out our collection of the best Whatsapp tips and tricks.
2Google Duos
Google Duo is pre-installed on many Android phones. Once you've added your Google account, setting it up is only a matter of seconds. Duo offers much better video quality than WhatsApp. You can even create custom groups for making video calls.
Currently, Google Duo can support up to 12 people in a group video call. One of the best things about Duo is that it offers a simple and practical interface. Google Duo is available for Android, iOS, and the web. If you're just starting out, check out our collection of the best Google Duo tips and tricks.
3. Skype
We cannot fail to mention a veteran app like Skype. It has been around since 2003 and continues to be one of the most trusted voice and video calling services. Skype initially gave problems for many users, but the service works great on every platform.
Among the many features enclosed within, one of the features we use the most is screen sharing. This makes things smoother and easier when communicating with an individual or group of people.
If you are looking for the privacy of your location, Skype also offers an option to blur the background. Well, Microsoft prides itself on using AI algorithms to achieve this with any type of camera, internal or external.
However, if Skype doesn't work with your camera on your laptop or PC, please refer to our guide on how to do when the Skype camera doesn't work on Windows 10. Skype is available for Android, iOS, Windows, macOS, Linux, and the web. If you're just starting to use it, check out our collection of the best Skype tips and tricks.
4. House party
Houseparty is a newcomer to video calling capable apps. The name is clear, it tells you that it is a fun and perfectly suitable app to use for calling your family and friends. Its popularity has recently increased due to the coronavirus pandemic, which has forced a nationwide lockdown in many countries. One of the best things about this app is that you can join a video call with others.
You don't even need an invitation from people. Once you have a friends list, the app notifies you whenever someone is online. That's why it works great for a group of friends who want to hang out on a video call. Houseparty also includes games that you can play in a group, which makes it unique among all the apps on this list. Houseparty is available for Android, iOS and macOS.
5. Zoom
Zoom is one of the fastest growing apps for video calling and video conferencing hosting. The app had around 10 million users as of November 2022, and the number has skyrocketed to 200 million users by the end of March this year.
It is also possible to use Zoom for free with some limitations. Whether you want to host a webinar or a group video call, Zoom offers first-rate quality. The only drawback of the free plan is that you can get up to 40 minutes for a group call of up to 25 people.
Plus, you can share desktop, software or presentation screens, images, and other files during a video call. We highly recommend that you avoid sharing confidential information, screenshots, and other details during video calls using Zoom.
Does it seem strange to work from home? Thankfully, Zoom offers virtual backgrounds to make your perspective look a little different. If you're just starting out with it, check out our collection of the best Zoom tips and tricks.
Bonus: Google Meet
It is one of the video calling apps already used by many people. You can go to meet.google.com and start a meeting. Invite some contacts to the meeting and you can even share the current screen using Present mode.
Since you are the host, you must have a G Suite (corporate) account to start Presentation Mode. Meanwhile, attendees must have at least one regular Google account to join the meeting. If you're just starting to use it, check out our collection of the best Google Meet tips and tricks.
Further Reading:
Ten applications for making group video calls
Then you can use your TV to watch WhatsApp video calls
How to video call with Android phone
How to use Android phone as your computer's microphone
How to share your screen in a Zoom meeting