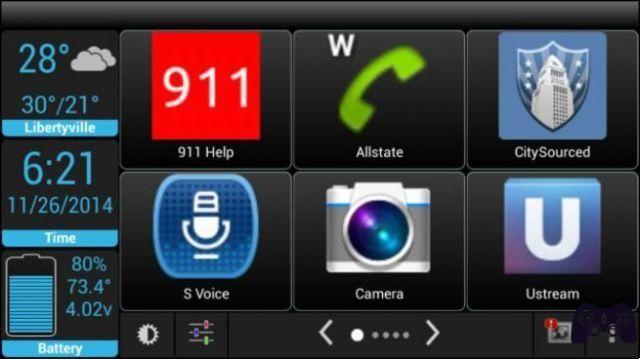 For so many people travel by car it is a pleasure, for others a necessity due to work done or other commitments, but in any case, traveling many kilometers with four wheels is always a bit unnerving.
All in all, while remaining strictly within the scope of compliance with the Highway Code, we must pass the time. You can do it in a useful and constructive way, or to avoid boredom or, again, take the opportunity to enjoy some good reading, depending on your preferences.
As? And with what if not with it smartphone?
This small but precious tool, a true masterpiece of technology, has now become a faithful companion of our days, so much so that we take it everywhere and we can hardly do without it.
The apps currently available allow us to carry out, much more easily and quickly than in the past, an infinite number of actions both regarding leisure and practice. We can say that there is an app for everything, from cooking to household bills, from the weather to the news of the day, from games to tourist guides and so much more, just know the right ones.
Some car apps they are completely free, some for a fee, but almost always worth a few bucks (the figures are always quite popular) in exchange for great service.
Returning to the car and, specifically, to those who usually travel many kilometers often with it, it is good to know that there are apps that can really prove to be of extraordinary validity in these situations.
If you want to know them (and use them, as we recommend), below we indicate you, with the help of the expert friends of vida-auto.com (used cars Udine), some of the most popular of the moment: the choice is yours based on personal tastes and preferences.
1) Road Trip
Do you want to monitor the costs of owning and using your car? For this there is the Road Trip app, available only for Apple, which is enjoying great success among users.
You can choose between two different versions, namely Lite, totally free, and complete, at a cost of 4,49 euros. In practice, it allows you to know everything about it, from the state of wear of the tires to fuel consumption both on a daily basis and per kilometer.
Even the deadlines and maintenance of the vehicle, both routine and extraordinary, become easily manageable. Road Trip is easy to use and is really very useful: certainly recommended.
2) Auto Mobile
Auto Mobile is an app available exclusively for Android devices. It is practical and useful, since, like the previous Road Trip, it allows you to record the consumption and running costs of your vehicle with precision and punctuality.
But not only that, as Auto Mobile also keeps track of the road tax, the status of the revisions and that of the license points.
It is therefore superfluous to underline how this application can even prove to be indispensable for the most distracted and chaotic people, who generally have difficulty keeping everything in order and under control.
Thanks to Auto Mobile, at least as far as the car is concerned, everything is solved in an instant, without difficulty and quickly. There are two different versions: the free one involves some limitations to the options, while the complete package costs only 1,79 euros. A negligible amount, therefore, and certainly well spent.
3) Petrol prices
Here we are at an app that has become a real must for motorists.
You know, gasoline is the "soul" of the car, but it is also subject to constant price changes and, unfortunately, to frequent price increases, which is why being always up-to-date in this regard is certainly convenient from every point of view.
Saving money is a desire shared by many people, for which Petrol Prices is therefore the right app. Thanks to the timely reports of users, this application is able to indicate the distributors closest to the area in which you are located and also those who offer the most convenient offers.
Moreover, the support concerns not only petrol but any other type of fuel, i.e. diesel, LPG and methane) and, at a cost of only € 1,99, you can also eliminate the advertising banners, which not a few consider annoying and intrusive. Petrol pricing is available for Apple, Android, Ovi (Nokia) and Bada (Samsung).
4) Speed ​​cameras!
Are fines your nightmare? Well, you are in good company. Today, however, thanks to Speed ​​Cameras! Avoiding them is easier. This app indicates speed detectors, traffic lights and tutors in real time. The application is available for iPhone and Android.
Although free, it is good to know that Speed ​​Cameras! it also exists in a Premium version, for which only € 5,99 is enough.
5) Tap&Park
Tell the truth, how difficult is it sometimes to find a parking space? For this reason, many apps have been created with the aim of helping motorists in this difficult but essential operation. Among these, Tap & Park is quite popular and appreciated.
The application exists for both iPhone and Android and is free to download.
Definitely to try if you are an avid traveler.
Further Reading:
How to pair iPhone with your car
The best Bluetooth speakers for your car
SEAT Minimó, the two-seater electric car, with removable batteries and 5G connection
The best apps for car maintenance
What to do when Android Auto won't connect?