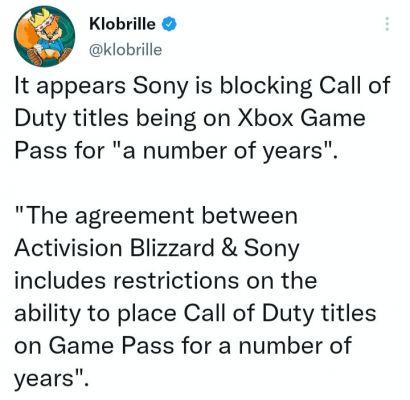 Despite the many games that arrive on time on Xbox Game Pass, Call of Duty has never been a part of it. Obviously we are not talking about the most recent games, but also about old chapters that have never appeared in the Microsoft service. Now, according to the papers of the CMA, the body that is overseeing the acquisition of Activision Blizzard by the Redmond giant, the reason has been revealed.
The reason why Call of Duty has never been included in Xbox Game Pass is precisely the agreement with Sony. In practice, the Japanese giant was very clear with Activision Blizzard: no title in the series can enter the Game Pass catalog. This, as it turns out, applies to both old and new games. Clearly the situation will not be able to change even if the antitrust authorities give the go-ahead for the acquisition: Microsoft has indeed undertaken to maintain the same current deal between the makers of the first person shooter and Sony for three years beyond the deadline.
This is, of course, an absolutely normal maneuver in a market like this. Sony has probably established a relationship of trust with Activision Blizzard and especially with Call of Duty and it is therefore right that it protects itself from a certain point of view. Clearly this plays against Microsoft, but in a market like ours everything is practically legitimate.
Thanks Sony for protecting gamers pic.twitter.com/zQIyhcX2JO
— Xbox Infinite (@XboxInfinite117) October 19, 2022
Microsoft's acquisition of Activision Blizzard could be finalized in 2023. At the moment the CMA has expressed several doubts, and given the precedents (for example the acquisition of ARM by Nvidia) it is not certain that Microsoft will be able to take home the entire group, purchased at the beginning of the year for a figure close to 70 billions of dollars. Keep following Tom's Hardware for all the news and upcoming announcements from the world of video games.