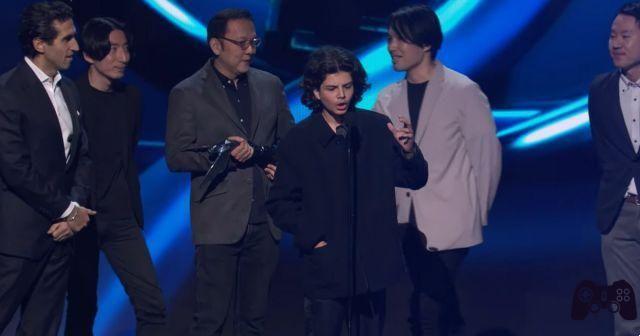 The night of the TGA 2022 has certainly been full of surprises for video game enthusiasts around the world. Going, however, one second beyond the big announcements that accompanied the entire evening, many were amazed in front of a completely unexpected twist: A intruder unknown, during the delivery of the most coveted title of all, he took the stage together with Hidetaka Miyazaki and to the team of Elden Ring , taking the microphone for a few seconds and dedicating the award to Bill Clinton, davanti a fuck in total confusion.
You got it right, someone managed to take the stage of one of the most important video game events on the planet, without arousing any suspicion, and was undisturbed alongside Miyazaki and the other professionals for a few minutes, even managing to speak in the most genuine as possible. The apparently casual dedication released by the unknown young man was as follows: "I dedicate the award to my Reformed Orthodox rabbi Bill Clinton".
The individual who interrupted our Game of the Year moment has been arrested.
- Geoff Keighley (@geoffkeighley) December 9, 2022
Once the situation was understood, the direction of TGA 2022 immediately moved away from the stage with a more panoramic shot, followed by the immediate intervention of the security on the spot, without showing the methods of arrest and the probable attempt to escape of the unidentified individual. identified.
Going back to what happened with this crackling and unexpected finale, following the closure of TGA 2022, its presenter, Geoff Knighley, he was keen to clarify the incident through a Twitter post in which he confirmed the arrest of the young man: "the individual who interrupted the moment of the Game of the Year has been arrested".
For now, no further details have been revealed about the incident. We don't know who this boy was, we don't know the reason for the gesture and above all how he managed to be right there at that moment, circumventing any possible form of security for the guests. We just have to wait for new news.
Before saying goodbye, we suggest you drop by our YouTube channel, where you can find videos dedicated to the videogame world at 360 degrees, with curiosities, goodies and reflections on the sector and the current approach possibilities it offers.