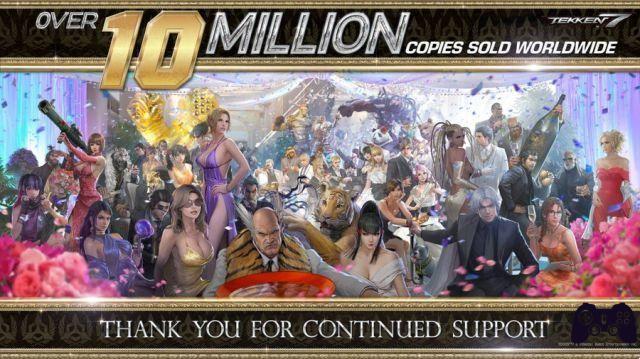 As recently reported on the profilo Twitter di Katsuhiro Harada (its game director), Tekken 7 has sold over 10 million copies worldwide, confirming itself, as in the past, the biggest sales success that this saga has ever seen.
The announcement of this new milestone for Tekken 7, which further increases the sales of the entire saga bringing it to 54 million copies sold in total, was accompanied by a dedicated image, which brings together the most famous characters with fans and the general public, in original poses.
All this success can only give us hope for Tekken 8 which with its recent trailer at The Game Awards 2022 has fueled even more the general curiosity towards the future of the franchise. The video played a lot with the feelings of the fans, showing new elements accompanied by extremely familiar faces.
For now we still don't know much about this new chapter, except that it will introduce new dynamics related to gameplay, which will transform some of the best-known characters and that its release is expected over the next year. We just have to wait for new details regarding both the new chapter and the previous one, given that its growth over the years certainly deserves continuous analysis also for the coming months.
"TEKKEN7" had achieved Over 10 million sales.
and Recorded Over 54 million copies sales for the series.
Thank you for your continued support!
「鉄拳7」の実販岩下り1000万本をしますしますしたしたしたして(シリーズ紀計は5400万本超), 这是に感謝したます.#TEKKEN #TEKKEN7 #鉄拳 pic.twitter.com/qxJlHl0Uk0
— Katsuhiro Harada (@Harada_TEKKEN) December 11, 2022
Are you surprised by the results achieved by Tekken 7? Are you among the historical fans of the title, or have you never approached the saga? Such numbers, of course, can only confirm the immortal love of the fans and the general commitment to developing every single chapter, keeping the level high from time to time.
Before saying goodbye, we also recommend that you drop by on our YouTube channel, where you can find videos dedicated to the videogame world at 360 degrees, with curiosities, goodies and reflections on the sector and the current approach possibilities it offers.