Streaming has now become popular in modern gaming (and beyond). By now everyone has tried, at least once, to go live trying to bring content that could interest people. Then there are those who decide to continue and transform it into a real job - or into a profitable passion in any case - and it is precisely these people to whom the new Stream Deck+ di Elgato, a device that promises to greatly simplify the activities for content creators.
Over the last few days I have had the opportunity to test this new product in depth and I must admit it: despite not being used to streaming and having the standard Stream Deck, I found myself very happy with this device.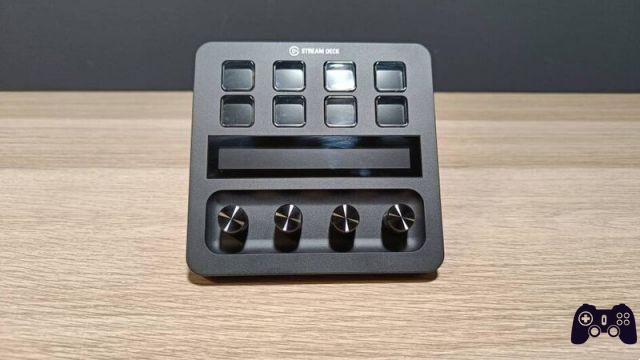 How it is made
Stream Deck+ is a peripheral designed to help content creators (and not only) to work faster, more organized and more comfortably. It looks like a single block of very resistant plastic, in fact it is not foldable and not even very portable, but certainly perfect for being kept on a desk in a fixed way. Present in the package you can find a Type-C – USB-A cable for power supply
The base has a rubberized cover that allows the device to remain fixed on your shelf without slipping or moving, which I found very comfortable and stable, without particular movements that tended to move it.
Stream Deck+ features 8 customizable buttons and four Dial Stacks (knobs) useful for setting volumes, brightness of the device or connected lights, chat/game balance and much more. Just above the Dial Stacks it is possible to find a small LCD screen, also customizable, where it is possible to find the type of setting chosen, so as to allow us to always keep everything under control. Although there are 8 buttons, they can still lead to a second profile in which it is possible to set other additional commands.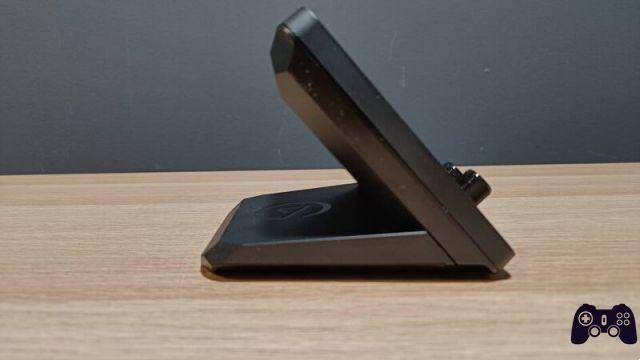 My experience
I've spent the last week testing the features of Stream Deck+ and I must admit that the customization possibilities are really many, so much so that I really indulged myself in trying various key combinations, taking advantage of the new Dial Stacks, very useful for new options for interacting with your PC.
Even if we work in streaming from time to time – thanks to our live shows on YouTube – I appreciated the fact that Stream Deck+ proved to be an interesting product also for normal daily work, on the other hand we are still analyzing a device that allows you to set a series of important hot keys to reduce the time needed to move around our desktop, offering us the opportunity to start games, programs, take screenshots or record quickly without having to go further. Of course, its primary function is linked to live streams, extremely useful for changing scenes or balancing volumes. Imagine using Photoshop, thanks to Stream Deck+ its use inevitably becomes easier, even if it is presented as a product for graphic or other modifications.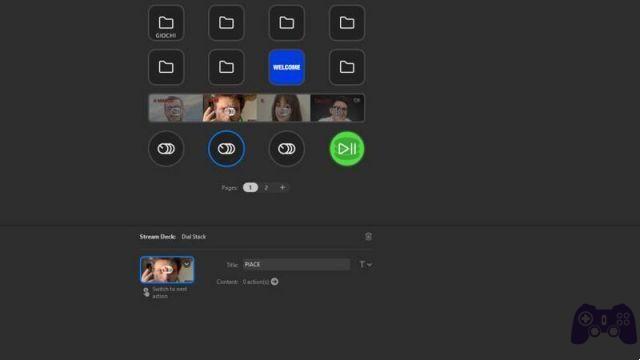 Thanks to the free Stream Deck software it is possible to customize every single button and Dial present to our liking. The real peculiarity lies in the fact that each of the inputs can be entirely managed as we wish: from the choice of the image (even cropping one of our photos) to the possibility of choosing the type of function to activate. To give you an idea, in the photo just above you can see on the screen the faces of some colleagues that I set in a simple way, which, for heaven's sake, have no use whatsoever, but they certainly give a good idea of ​​how much Stream Deck+ is highly customizable.
Conclusions
In general I found it very good, in my opinion for those who work a lot with video editing or live streaming it can become a really useful tool, even after a cost that is not exactly accessible – we are talking about 229 euros. Despite this, it is undeniable that Elgato now has a variety of useful products for every need, making this Stream Deck+ just one of the many possibilities offered to content creators.