Now that F1 2022 is on the market and ready to enter your living rooms, we have decided to meet you with a guide dedicated to those who are the best steering wheels to play F1 to fully enjoy the racing experience. In fact, the models that you will see, in addition to boasting quite different prices, so as to facilitate your wallets, are all ready to satisfy the most important need: to increase the sensations in the race, to offer you a valid and engaging simulation experience.
If you are new to our pages, know that over the last few months we have also created other guides related to the racing world, in particular a guide to the best steering wheels and a guide to the best racing games out there. So, take a look at it. Having said that, let's start immediately with the roundup of steering wheels!
The best steering wheels to play F1
Thrustmaster Ferrari SF1000 Edition
Thrustmaster Tm Open Wheel
Thrustmaster Ferrari Race Kit: Volante F1 + Cuffie Gaming
Thrustmaster T80 Ferrari 488 GTB Edition
Logitech G29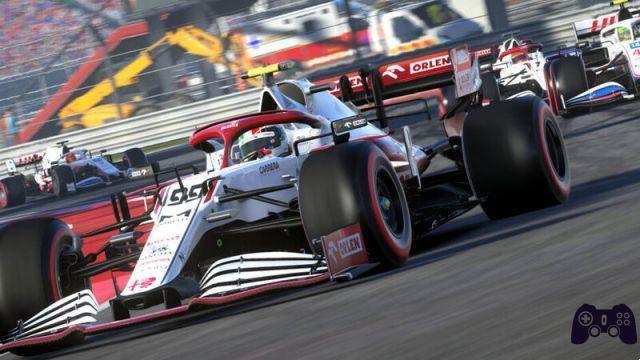 Thrustmaster Ferrari SF1000 Edition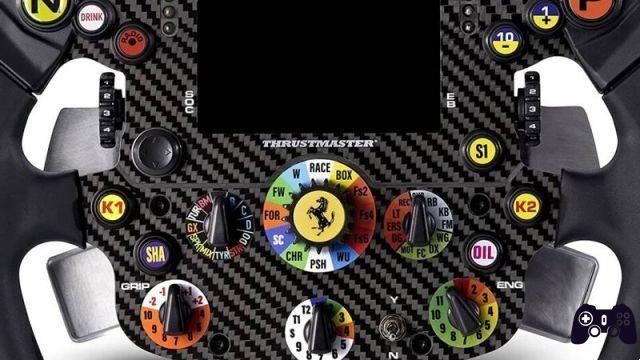 Let's start with a real big shot, a Ferrari screen-printed steering wheel and designed for all simulation enthusiasts. The design, in fact, is really well cared for, and the materials used suggest a really high level of comfort. Among the features of this model, the small IPS LCD screen in the steering wheel deserves a mention, capable of displaying up to 69 different types of information.
Going more specifically, there are then up to 25 buttons, including 7 encoders, and aluminum paddle shifters. In short, if you own a PC, Xbox or PlayStation, this steering wheel will satisfy your needs and allow you to fully enjoy your passion for engines. Truly one of the best steering wheels to play F1.
See on Amazon
See on eBay
Thrustmaster Tm Open Wheel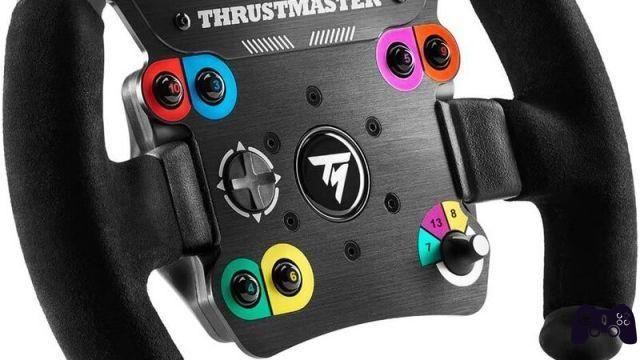 Now is the time for a less expensive but no less suitable peripheral. The Tm Open Wheel model, in fact, also produced by Thrustmatser, is a rather cheap solution which allows gamers to enjoy games like the upcoming F1 2022 at modest prices.
Coming to the design, we point out the shapes perfectly compatible with the F1 steering wheels and a rather minimal general appearance. The dimensions of the steering wheel are rather compact, about 28 cm in diameter, and Lightweight design increases perception of Force Feedback. There are also two shift levers and 6 action buttons. Finally, the grip on the steering wheel is well designed and comfortable.
See on Amazon
See on eBay
Thrustmaster Ferrari Race Kit: Volante F1 + Cuffie Gaming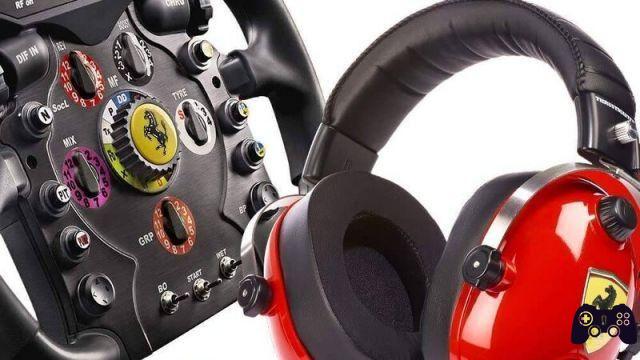 This kit is absolute the best buy product of this guide. A high-quality kit sold at an all in all affordable price, considering the presence of two Ferrari screen-printed products: a steering wheel and gaming headphones! In short, fans of the Ferrari team will have something to rejoice in considering that the aesthetics of the two products can be perfectly associated with the real headsets and steering wheels used by Ferrari.
As for the steering wheel itself, we point out some features similar to the SF1000 model, except for the LCD screen. Otherwise really similar both in terms of functionality and build quality. So, if you are a fan of F1 and want to get smart by bringing home two products at a really advantageous price, this kit is absolutely for you!
See on Amazon
Thrustmaster T80 Ferrari 488 GTB Edition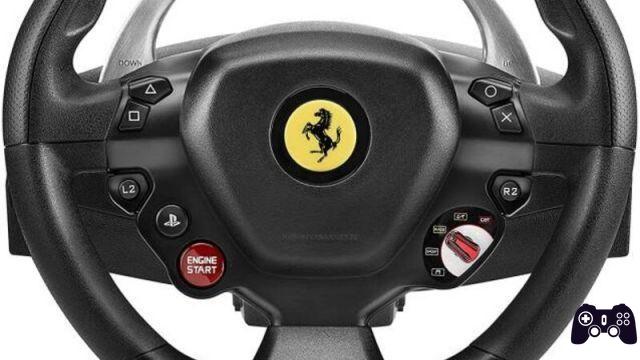 Let's now move on to a more traditional model, certainly different from the classic F1 steering wheel, but still able to offer excellent sensations in the race. Also, the model selected by us it is also screen-printed Ferrari, an extra incentive not to miss it, also available at a very advantageous price.
Regarding the steering wheel, as mentioned it has a round and quite traditional shape, and in this particular edition linked to the PlayStation and PC world, it is equipped with numerous keys including options and shares. In short, a great steering wheel and a great price.
See on Amazon
See on eBay
Logitech G29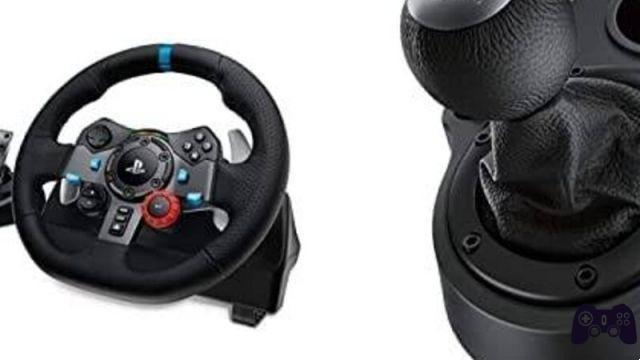 absolutely, one of the best known and best performing steering wheels on the market, among the first choices of many enthusiasts. The model selected by us, among other things, is also equipped with everything necessary, from the pedal set with a clutch, up to the gearbox. The quality-price ratio, among other things, is really advantageous, especially considering the general quality of the steering wheel and the addition of the gearbox and pedals.
Although it may seem like a minor detail, Logitech G29 has a very active community, which could be of help to the most novices, but also to those who don't want to waste too much time on possible problems.
See on Amazon
See on eBay
How to choose the best steering wheel to play F1
Gaming steering wheels, as we will explain later, can be complex to use, but they manage to offer passionate players truly remarkable sensations in competition, far superior to what you might experience with a traditional controller. In games like the upcoming F1 2022, for example, playing with a steering wheel is highly recommended. So, fake complexities aside, we'll try to list some of the main features to keep an eye on to enjoy the best racing wheels to play F1.
Ergonomics and build quality
Perhaps, it is the most important feature of all, so pay attention. We tell you why a good grip on the steering wheel is essential to fully enjoy a satisfying experience, and a similar situation is not ensured only by the form factor that must adapt to your hands, also and above all by the build quality. A steering wheel characterized by a slippery and poorly maintained texture will never last over time and make you play great, so pay close attention when buying. Needless to tell you that similar features also depend on the price: simply, the more expensive models that we have recommended suffer less from the problem, so it all depends on your budget.
Active community
Trying to save at all costs and running into a completely unknown steering wheel could be the worst of evils for a novice racing games enthusiast. In fact, if you are not very practical, are about to start or don't want any hassle at all, focusing on the most talked about steering wheels could be a panacea. We tell you this because being able to benefit from an active community, always ready to share their solutions regarding compatibility with some titles, or regarding the best settings, can save your day on more than one occasion. So, pay attention to the models you eye.
Force feedback and important features
You have surely heard of it somewhere, since we are talking about an almost indispensable technology for any self-respecting enthusiast: force feedback. What is that? Briefly, it returns sensations as close to reality as possible, trying to make you perceive the reaction of the wheels, automatically returning the steering wheel to its home position as the wheels move. If you really want to maximize driving sensations, make sure the wheel in question supports this technology. But it certainly doesn't end there! A self-respecting complete experience cannot fail to boast a pedal set and a gearbox. To help, there are some models already equipped with everything, and they are the ideal solution for those who want maximum sensations and realism.
Price and Compatibility
As mentioned in the paragraph dedicated to the general ergonomics of the steering wheel, spending too little could be a bad idea, since the construction quality of the steering wheel, the form factor and the grip in general, may not be very suitable for a self-respecting racing experience. The ideal, therefore, is to spend a little more, in order to ensure a purchase that lasts over time. In our opinion, an expense of around €200 is really excellent for starting to embark seriously on the world of racing games. However, there are other cheaper products, such as the T80 Ferrari 488 model, which renounces the traditional shape of the F1 steering wheel, but guarantees you optimal performance for just over €100.
Another very important thing is compatibility: as you may have noticed from our overview, not all steering wheels are designed for cross-platform use; some are designed only for Xbox consoles, others for PlayStation ones, with the PC always in the middle. So, don't forget to check this aspect as well.