2022 proceeds inexorably, getting ever closer to its conclusion. Although this thought may give rise to a slight contempt for the writer, Valve will cheer up this hot October, with the new edition of its Steam Next Fest. Valve's celebration of largely indie titles and the people who make them has flooded the catalog with exciting new demos. Ready to be tried, even if the incredible amount of content certainly doesn't help you choose which ones to start from. You will remember when, a couple of months ago, we recommended 10 titles to keep an eye on. Experiences that struck us for their quality, originality and artistic beauty.
For this autumn edition, we thought we'd do it again, suggesting 10 titles for you to try, some of which are so interesting that they deserve the Wishlist for a moment. We remind you that many, if not all, of these demos are still available for download, even though the October Steam Next Fest has just concluded. Let's proceed!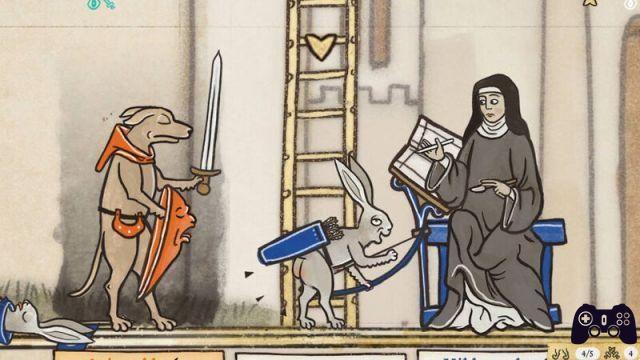 10 games to keep an eye on
10) Storyteller
Estimated release: 2022
Page Steam
Annapurna Interactive is no stranger to experimental, small, and often narrative-focused indies. Storyteller is a bit of all of this, with a little twist. The narrative soul of the experience is in fact declined in the form of a puzzle. Different stories, with different scenes to compose to give life to the events, or to our personal interpretation of them. An extremely relaxing and curious title, thanks also to the comfortable interface that allows you to interact with the different scenes in a simple way, moving characters and elements quickly. After playing Storyteller, the thought immediately flew to Scribblenauts, who knows if it wasn't an inspiration to the developer Daniel Benmergui.
9) The Pale Beyond
Estimated release: 2022
Page Steam
Part text adventure, part strategy with survival elements, The Pale Beyond leverages several elements to create an addictive and tense experience. The setting is the South Pole, among the ice that embraces the sea and suffocates the fragile ships of the time. An exploratory game where we will manage the crew, the resources and the choices to be made in order to survive. The title of Bellullar Studio and Fellow Traveler is really interesting, and could prove to be a surprise for those looking for hybridizations between interesting and original genres. Although it has not been officially declared, it reminded us a bit of The Terror, an Amazon Prime TV series, in itself a beautiful concept to be translated into a video game.
8) Scars Above
Estimated output: To be defined
Page Steam
Announced during the Summer Game Fest, Scars Above is a peculiar sci-fi action adventure, with a strong narrative component. The first trailer was quite fascinating, showing some similarity to the concept of Returnal. Although Dr. Kate Ward's "shipwreck" on a mysterious planet is very reminiscent of the opening words of Housemarque's masterpiece, Scars Above has a much more survival and exploratory soul. Times are dilated, the different areas are explored paying attention to alien creatures, materials or useful objects, and points of interest to scan. Scars Above has a pretty enthralling gameplay loop, and this demo definitely piqued our interest in the full experience.
7) Hell is others
Expected release: October 20th
Page Steam
Hell is Others is not only a child title of the Spanish team Yonder, but it is also a rather peculiar experience. It is called a PVPVE survival horror, a bizarre acronym to define a certain approach to online gaming. In the city of Century City it is always night, and blood is a bargaining chip. Above all, the raids of our protagonist, all based on twin stick shooting. The peculiarity? Among the monsters haunting the city may be other players, a rather interesting deception. Hell is Others is a project to keep an eye on, especially given the very close release.
6) Roller Drama
Expected release: September 16, 2022
Page Steam
The visual novel genre lends itself very well to hybridizations, because it allows you to tell stories and create relationships between characters in a pure form, separate from what is actually the actual gameplay. Roller Drama is another of the titles to exploit this idea, combining the visual novel with a sports management. A full contact sport on roller skates, with five female athletes to manage and a strong narrative component to discover. Dreams, loves and sports, the perfect recipe for a great experience, seasoned with a truly inspired aesthetic style.
5) Manor Lords
Estimated output: To be defined
Page Steam
There are many strategic and managerial ones on PC, but there are few that remain etched in the memory of the players. Manor Lords, during the Steam Next Fest, managed to capitalize on itself quite effectively. The reason is obvious: a realistic management, with a strong historical imprint and inspired by the art and architecture of 14th century Franconia, which allows us to take on the role of a medieval lord. Build your own city, manage resources and then go to war. An ambitious and well-groomed management game, with a pinch of Total War. A real dream for any fan of the genre.
4) Potionomics
Expected release: October 17th
Page Steam
Potionomics was really a surprise. The title from Voracious Games puts us in the role of the witch Sylvia, who inherits her uncle's potion shop. A penniless and inexperienced witch, who will have to learn to manage the family business and try to avoid collapse in the face of pressing customer requests. From crafting to the peculiar trading management (based on a card system), Potionomics is truly a peculiar experience, transforming a management classic into something more dynamic, original and profound. There is also a relational component, with different characters to get to know in the role of the funny Sylvia. What about the animations and character design, a feast for the eyes.
3) Season: A letter to the future
Estimated output: To be defined
Page Steam
Cycling is a rather contemplative experience, even in real life. However, Season decides to make the solitude of the journey, its silences and the nature that passes through it, a playful experience of depth. As a young woman, we will leave home for the first time in search of answers, of stories, before a mysterious cataclysm takes everything away. Season makes us collect stories, testimonies, asks us to take photographs and record sounds. It all ends up in our protagonist's travel diary, an account of unique lives and places, all to be explored. The Scavengers Studio title is truly unique, and we can't wait to be able to experience it in its entirety.
2) Floodland
Expected release: November 15th
Page Steam
A management software with an environmentalist message is no small feat these days. Floodland is about a world devastated by climate change, where we will have to gather resources and gather survivors for the various lands still afloat in this ruined world. A strong message, conveyed through an exciting and deep gameplay, with a really nice art style. On our pages you will find a small proven one, where we have described it with "in addition to being a city builder, Floodland hides a whole component of micro-management of people and rather advanced problems".
1) Coconut
Expected release: Winter
Page Steam
Leaving aside the unfortunate name in our beautiful language, Inkulinati is truly a unique title. A turn-based strategy, where the manuscripts come to life and do battle on paper. All inspired by medieval marginalia, the title of the Yaza Games studio is a concentrate of strategy, unexpected mechanics and a lot of humor. Supported by video interludes reminiscent of the good old FMVs. A joy to play and to behold, and one that promises to be extremely deep in its strategic gameplay. Recommended, and if you have the Game Pass it will be yours on day one when it releases this winter.