Steam Deck, the console / portable PC from Valve, has finally arrived on the market despite the very long purchase and shipping queues. The general enthusiasm for the technology meant that the Valve device was well received by audiences and critics. The product, in fact, despite some juicy problems, above all the ergonomics and the battery, is enthralling a fair number of users, to the point that we have decided to develop guides completely dedicated to Steam Deck: today we will focus on the cases, which are very useful for keeping the device in the best possible way and taking it on the road; in the next few days we will give you suggestions on how to take care of it, including protective films and rubber covers.
In short, if you are a fan of Steam Deck, stay connected. Now, however, let's start immediately with our guide, let's see together which are the best Steam Deck cases!
The best Steam Deck cases
Teckey Steam Deck Case
Steam Deck Travel Bag
DLseego carrying case
Hard case compatible with Steam Deck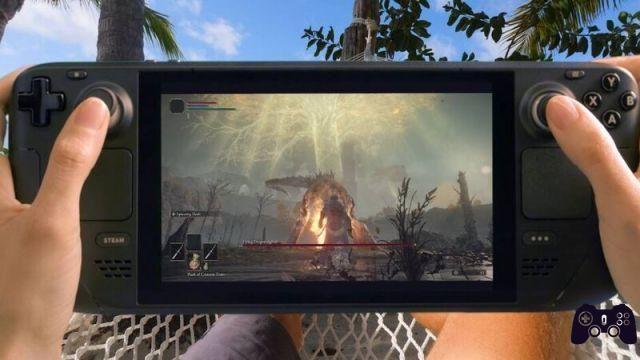 Teckey Steam Deck Case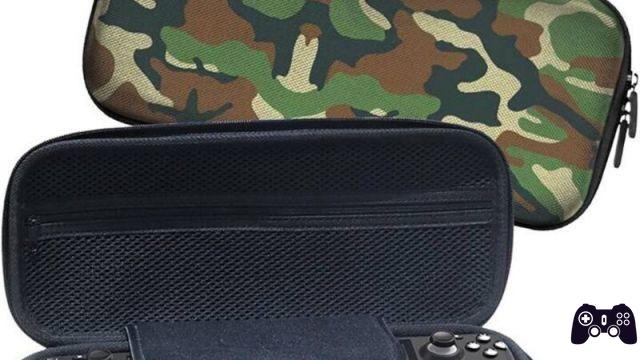 Made using very soft materials, Teckey Steam Deck Case aims to best protect your Steam Deck from scratches and falls. The appearance of the case is very particular, characterized by a rather bizarre camouflage colouring. The dimensions are instead perfectly compatible with Steam Deck, i.e. 12,7 x 5,7 x 2,6 inches / 32,2 x 14,5 x 6,5 cm.
It is also very easy to take on the road thanks to the special bow that allows it to be transported as if it were a briefcase; more, it has numerous slots for accessories such as chargers, cables, SD card, and more. In short, if a Steam Deck case is what you are looking for, this model named Teckey could be right for you, all at a not too exaggerated price.
See on Amazon
Steam Deck Travel Bag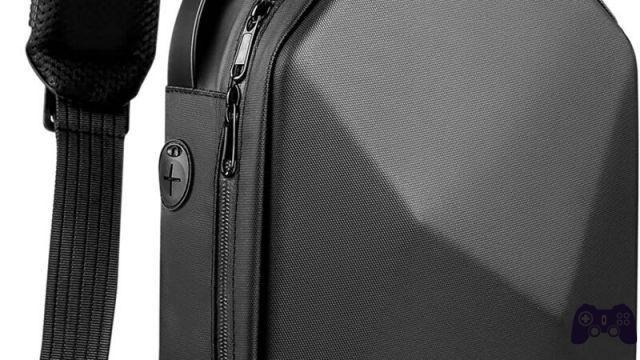 Now let's move on to a very different product from the previous one, certainly more expensive but also of higher quality. Exactly, as the title suggests, it is not a simple case with a zipper, but a travel bag designed specifically for the Valve device. The design is in fact very comfortable and offers excellent protection. In addition, the aesthetics of the backpack is very elegant and inconspicuous, and includes inside numerous slots for accessories, from chargers to cables and headphones.
We also talk about a multifunctional bag, so nothing prevents tomorrow from using it for other purposes, not necessarily related to Steam Deck. For this reason, we believe that the price, higher than in the previous article, is amply justified.
See on Amazon
DLseego carrying case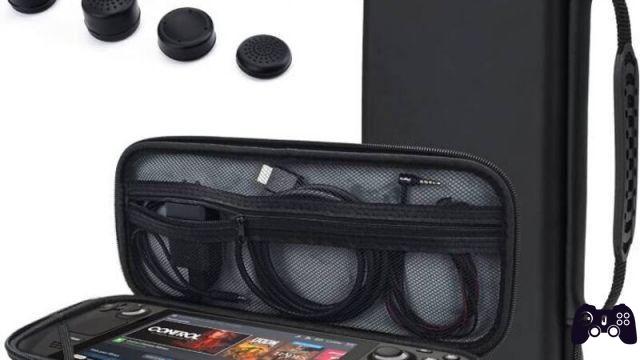 Let's go back again to a more traditional product, along the lines of the first one we suggested, the Teckey model. Well, DLseego is a product that is presented to the public as an ideal case for travel and transport, and useful for storing various accessories. Nothing new compared to the previous model, if you like, except for the dimensions, which amount to 33x14x6 cm.
Plus, as a special feature, this Steam Deck case also includes a pair of analog and key pads, very useful in case you want to preserve its state and preserve the Valve device in the best possible way. It closes with a very sober color, which makes its own without overdoing it. In short, if you are looking for a good case, considering the price at which this model is sold, you may have found the product you were looking for.
See on Amazon
Hard case compatible with Steam Deck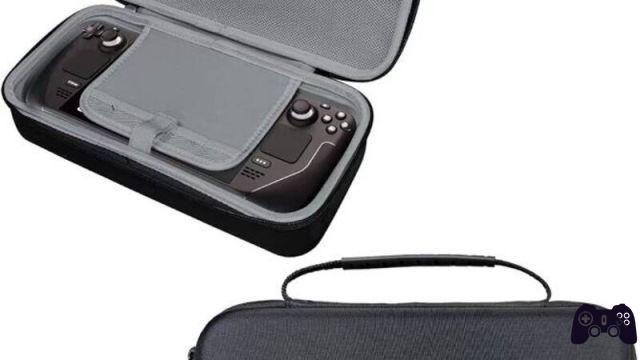 Finally, we close with a traditional model once again, characterized by very common shapes and aesthetics. As always, also in this case the purpose remains to protect the display and the body of Stem Deck from damage. The exterior of the case is made of EVA and is waterproof, resistant to dirt, shock and dust.
The general aesthetic, as reiterated above, is nothing too particular: the classic uniform black is very sober and elegant. More, also inevitable are some pockets designed to house numerous accessories such as chargers, cables and much more. In short, once again, if you are looking for a Steam Deck case, this could be for you.
See on Amazon
How to choose the best Steam Deck case
Choosing a Steam Deck case can depend on several features: from aesthetics, which has always been the determining factor in the selection of a product, or from purely practical issues; namely general form factor, weight and other similar characteristics.
Unlike Nintendo Switch cases, which users also use to carry game cartridges around, in this case any accommodation will be used exclusively by headphones or other accessories not too generous in size. Having said that, let's see together some elements to pay attention to before buying a Steam Deck case.
Better a case or a protective shell?
Before proceeding with the actual characteristics to pay attention to, well, start from this point: is it better a case or a protective shell? They are two different products, designed for two distinct scenarios. The first product, the case, provides Steam Deck with near total protection, since the console is well stored inside a solid hinged case. The protective shell, on the other hand, usually made of rubber, is useful when using the device: it can improve the general grip and protects the front body. The ideal, therefore, would be to combine the two. For this reason, at the same time as this one, we have also written a guide for you in which we suggest body and display protections.
Method of use and dimensions
Exactly, as mentioned in the introduction of this mini-wiki, the main features to pay attention to are these two: the method of use and the size of the case; two elements that, among other things, go hand in hand. Starting from the first, from the method of use, it is essential to understand if your intention is to use Steam Deck on the road or only at home. For example, if your goal is to store the Steam Deck, to prevent it from catching dust, even a not very robust case could be for you; alternatively, if you have to carry the Valve laptop with you, it is better to focus on a case that is small in length but rather resistant, so as to mitigate any falls.
In short, first of all, clarify your usage scenario well, then you will be ready to choose.
Accessories
As in any self-respecting case, the housing for accessories of various kinds is a must for all users. We said before that, unlike Nintendo Switch, Steam Deck is not a console that reads discs or cartridges, so you won't need to bring games with you. However, a very small space for headphones or for your SD memory is right to find it, so make sure that the case allows you to store your accessories too.
robustness
We vaguely mentioned this earlier when we talked about usage scenarios. Your case, if you usually take the Steam Deck on a trip or around your city, it is essential that it is able to cushion any falls and reduce the possibility of scratching the display or marring the body. It is equally important, however, that the case fits easily even in a travel bag, without the need to take up a lot of space. So, buy a very sturdy case, but be careful not to take one that is too bulky.
Price
As always, in this article we have examined what are the best proposals for you, in this case cases designed to best preserve Steam Deck. Despite the small number of Steam Deck cases that can be found on the web, we have strived to include products that are sufficiently varied in price. To give you an example, to bring home a good case no more than €20 will be required, for example by purchasing Teckey Steams Deck Case; alternatively, for those who want a more capacious product also designed for different usage scenarios, we recommend going up to €50 with the budget and taking home the Steam Deck Travel Bag.