This year we were a bit selfish, on the occasion of our birthday: but Io, Videogioco is a project that had been in our minds even before having created the website in version 1.0, and we can't wait to share with you the details of this old / new crazy initiative.
Holygamerz was officially born three years ago.
Officially, because July 28, 2014 was ours D-Day, the date we have chosen to present version 1.0 of the new site to everyone - taking advantage of the expiry of the embargo on the review of The Last of Us Remastered, the first "business card" with which we began to harass readers. But the idea behind Holygamerz clearly comes first. Not as early as you might expect (as in the best stories, things happen a bit haphazardly), but enough to throw down some ideas on what we wanted to do "when we grow up", at least from a critical / editorial point of view. Three years later? Virtually everyone has found their own personal answer, which often and willingly it has absolutely nothing to do with a club with the conclusions of the rest of the editorial staff. And that's right, to cite one of our columns (are we or are we not the kings of product placement?).
Each of us could now pull out the photo album - or the archive of his published articles - and recall any of the moments that (like it or not) we have shared. Write a few lines about how much effort and satisfaction there is behind the pixels that your monitor has turned on to make some of our content appear on the screen. Or look ahead, do some of our usual teasers about what we want to do from here on out. And maybe we will, too, but not today. Today we are basically here because three years after the opening we finally managed to realize what was the oldest project of the editorial staff, the one that is in fact the first idea that someone (if I'm not mistaken it is Filippo's fault, in this case) had put on the plate during that famous conversation that led us to put up the whole shack.
Today we are here to tell you that we have finally managed to publish our first collection of insights. In other words we are here to say I, Videogame.
Io, Videogame is a recreational path structured in six journeys, six CD-Demo which each dedicate themselves to a specific theme. From how the industry has changed to what it is today, from the relationship between video games and health to the analysis of some of the biggest phenomena that have gone through our favorite form of entertainment. Obviously, there is an unconventional path (it would not be us, otherwise), where we have inserted a series of contents that have very little to do with what usually an information website (I prefer to say "criticism", but I it hurts to admit that we also do information) traditional. But luckily Holygamerz it is not a traditional news website and they let us write them anyway.
However, these are contents already available for free here on the site: with the exception of the preface and the presentations of the itineraries, the material is taken from the virtual pages that we have created during these years - in particular, during the last year of stay on the web. Why publish a "duplicate" also on Amazon? Great question. The answer can be found right on Amazon.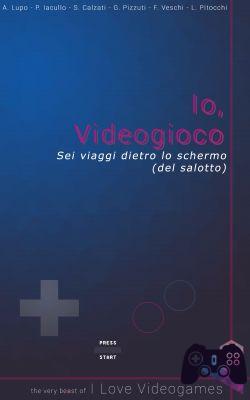 The cover of Io, Videogame