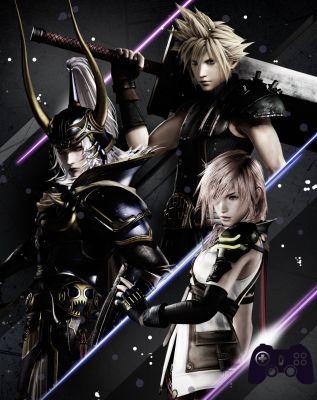 Last 29 Settembre, At the Games Week in Milan, we were guests of Koch Media and we had the opportunity to chat with the producer of Dissidia Final Fantasy NT: Ichiro Hazama. With Federico Baglivo, colleague of Everyeye, we were able to find out more about the new title, a mix between fighting and action rpg, dedicated to one of the most popular brands by fans.
If you were to choose characters for a Dissidia tournament, which team would you have composed to have a strategic advantage?
My choice would surely have fallen on a well-balanced team, with a Vanguard, a Marksman and an Assassin. I would definitely keep in mind what not to do like, for example, separate characters too much in combat. And I should pay attention to the map located on the right of the screen to keep the party always united otherwise if I am attacked they could not defend me and the same thing on the contrary. Not separating is something that I recommend to players. But I want to be honest with you (laughs), I spent 8000 yen alone on the arcade version and I'm still not very good so don't ask me for advice. More than anything else if the Japanese players saw me here giving you advice they might say "but he doesn't know anything, why are they listening to him?" (laughs)
How was the transition between the arcade and the console version?
Look, it was actually very simple because when we created the arcade version we always knew it was coming to Playstation 4, so we prepared a lot of things to make the conversion easier. Compared to the arcade title, we expect a larger audience to play it and therefore we have worked to include elements that console players could also enjoy, such as a story mode. This time around we were able to incorporate a very large story in which we have a large number of heroes, which is only possible in Dissidia because it includes a lot of characters from the series. This was one of the biggest things we worked on in the conversion between arcade and Playstation 4.
In the conversion did you have to give up any element present in the arcade version?
No, actually not. (Laughs) The arcade version is based on the Playstation 4 hardware, so there were no elements we could have missed in the conversion, the two titles are pretty much the same. The arcade version had a screen of about 27 inches, the televisions that most players have at home are much larger so they will see the game much cleaner and it will be much better to see the spectacular fights.
Each battle set (the configurations of skills and equipment that each character has ed) seems to be well balanced between attack and defense. Will it be possible to create customized ones?
Yes, it will be possible to customize each battle set to your liking, the default ones have been made to show certain types of attacks possessed by each character but you can go there and change it to your liking.
What kind of emotions did you want the player to feel, pad in hand?
We know there will be a lot of Dissidia buyers and a lot of fans of the Final Fantasy series who will love just using their favorite character. In three-on-three battles, on the other hand, we would like players to feel in a team by communicating with each other and helping each other in difficulties, this is the kind of feeling we want players to feel within Dissidia. In the thirty years of the saga people have always played alone, as most of the titles are rpg, here our goal is to show how fun it is to join other people and play all together.
What is your favorite character from the Final Fantasy saga?
A: One of my favorite characters is Cecil from Final Fantasy IV. Here he uses two forms - one as a paladin and one as a dark knight - and we wanted to include them in Dissidia NT, allowing the character to switch jobs at the appropriate time. Playing as a dark knight you find yourself mastering moves while as a paladin you have others, it's a lot of fun to use Cecil.
The game seems to be much more strategic than it may seem at first glance, it will be interesting to try all possible combinations.
A: Yes, I agree and I think you are right. It's great to try all possible combinations of characters and abilities, but you can also stop at your favorite and say "Yes, I love to play with him" and learn all the possible moves and then move on to another one, thus increasing your knowledge of Dissidia. NT. As I said earlier I spent around 8000 yen on the arcade version and my win rate is around 35%, not that much, but I still have a lot of fun.
Will Dissidia NT be considered an eSport title in the future?
Yes, we are really interested in this aspect and we think that Dissidia has everything to be considered an eSport title. We have been careful that all the characters are balanced and that it is the skill of the individual player that counts, I think it really can be a great competitive title. We are not working on saying "Ok, let's make it an eSport", it is something that if it happens it will be more natural and we will have to work hard to get the players to organize tournaments until it is recognized as a competition title.
So if there is a demand from professional players then there may be more chances of it becoming an eSport
A: Yes, I also think in this way and it would be a strong signal if it came directly from the fans.
Immediately after the interview we got ready to face a tournament organized by Koch Media with the chance to challenge Mr. Hazama at stake, unfortunately the undersigned gave up in the first round in a hard-fought match overturned by the Cloud team who took advantage of the suggestions of the producer to win the victory. It will be for next time, maybe when the title is finally in stores.