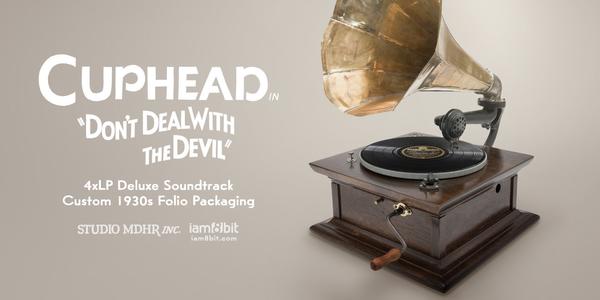 Everyone has talked about Cuphead and everyone continues to talk about it and play with it, extricating themselves from a grim level of difficulty softened by an incredible, priceless, exciting graphic style. The Disney of the '30s revives in this work, but now close your spoiled eyes for a moment; it's time to listen.
The article you are about to read was written by the virtual pen of someone who bought the title on Xbox One but who, for one reason or another, only played for an hour and then jumped headlong into the game. listening to 50+ tracks of digital vinyl composed by Kristofer Maddigan and its big band, which can be purchased at the ridiculous (for the quality) price of 9,99 € on Steam, following the music from this link. The impressive work of composition and study of jazz from the 30s, revived almost 100 years later, however, risks being muffled by the curses forced out of our mouth by the playful system and, above all, by the wonder of a technical realization that represents the dream of any child weaned from Disney to interact and play with a cartoon. Freeing yourself from this videogame splendor and immersing yourself in it only with your ears is equivalent to taking a totally different journey from the one suspended between fairy tale and grotesque by the nice Cuphead and Mugman. A journey through the sounds of 20s and 30s New York, the cradle of jazz, swing and Charleston, where the Cotton Club, between racism and art spread his own melodies (especially by "black" artists, such as Duke Ellington and Louis Armstrong, in line with the classic contradictions of stars and stripes) in the starry sky in the shadow of the Empire State Building, to influence the American and world pop music. A whimsical genre declined in a thousand variables, from the most festive to the introspection of the most bluesy, maliconic and persuasive songs.
Make yourself comfortable, a pair of headphones on your ears and a great desire to relax and abandon yourself to this story in 4/4.
a space-time gap of very strong sounds
This work is a space-time passage of very strong sounds, which gives glory to the pioneer B and his clarinet, with a revered and reinterpreted Sing, Sing, Sing in this incredible introductory track, on the images of a grotesque dice game with the devil himself. It is not an orderly orchestra but a musical orgy in which trumpets, trombones, bass drums and basses make love, improvising like a big band in front of the patrons of the club, a place where you hid from the shadow of the prohibition to let yourself fall into the arms of the devil, or of alcohol if you prefer, lulled and exalted by a demon-possessed rhythm, between cirrus clouds of passive smoke and cultured chatter of men and women for whom the Great Depression were just two words. Love for a very distant time, both in the costumes and in the music, which resists at these levels and is remembered only in certain clubs (the Blue Note in Milan for example), bastions of jazz culture which, however, has naturally evolved since its roaring years. Roaring like jazz samba.
fusion of cultures that never as in the 30s began to come into contact
Floral fury between piano and Bossa Nova, another example of a musical culture and a research not fossilized on the great classics but also curious towards more danceable melodies, mergers of cultures that never as in the 30s began to come into contact, especially in the artistic and cinematographic fields, beginning to undermine the preconceptions of a society that was still class and divided by class and skin color. This track is more and more exceptional with each listening, overwhelming in its carioca charm and perfect in its execution that recalls Flying Down to Rio with Fred Astaire and Ginger Roger, bringing to mind images of group dances between the glitz and the elegance of the fashion of the time, imagining a lonely and beautiful woman who seeks comfort in this momentary cheerfulness, blond hair gathered in a brilliant tiara. Rhythm symbol of the party side, fun and colorful of a title painted in pastel colors that makes overflowing charisma its cornerstone. A character so strong that it does not make it seem even for a moment the tribute it is, but that manages in the memories of the lucky users to join and mix with those vintage cartoons, that culture of animation, as if it were simply a repetition.
Nothing else is needed, just a few notes
Joy that flows into the grotesque and noir, in the horror hidden behind a pencil line and fairytale colors. The anxiety and the expectation of those who have just sold their souls to the Devil for a game of dice, in the hell of Inkwell Island; a wait on the notes of a solo piano that refers to Duke Ellington (and there is an equally wonderful version with wind instruments as protagonists) and all that dark imaginary of private detectives and gangsters, cigarettes and contraband that has in Polanski's Chinatown his greatest staging. Dark stories, of love and lead, told by touching the black and white keys of the noblest instrument. Nothing else is needed, just a few notes and our wealth of memories shaped by Hollywood and documentaries makes us feel surrounded by a soft light and blue emotions like the ocean, or perhaps like the sapphire necklace of that elegant woman who leaves the party, while behind her the door that closes puts an end to a Bossa Nova that has not managed to calm her soul.
A musical script that closes like a perfect circle
Mr. King Says, right arm of the Devil himself, with hoarse and deep voice filtered by the gramophone it requires us to respect the agreements, take all the contracts of those who owe their soul to their employer and return, perhaps then it will allow us to face a new face to face with those who condemned us. A fascinating and high-sounding voice embellished by the chorus of minions, the scene of an animated musical which explains in a threatening way that no, we have not yet respected the agreements. A stylistic-musical solution that has its roots in the animation always halfway between films and musicals that characterized and still characterizes the works of Walt and associates. A musical script that closes like a perfect circle returning to the first track, that unheard admonition, "Don't deal with the Devil", which tells the story of the dynamic duo exactly like in the opening credits of a feature film. An incredible a cappella choral performance in its anachronism, where the voice becomes an absolute and complete instrument. If coming to terms with Lucifer allowed us to hear this soundtrack, perhaps we should re-evaluate his temptations and indulge in yet another game of dice with our soul. A work within the work to be enjoyed also (and above all) detached from the main course, as only great musical accompaniments can be. #Sounday