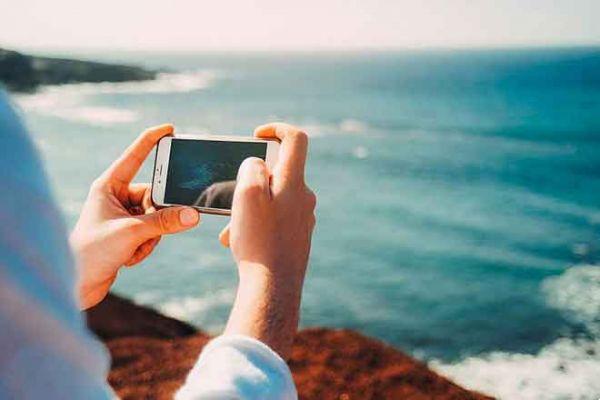 In this article I suggest you to use Snapseed app the best photo editing app. Stay with us and you will discover all its strengths.
The fact that we are taking more and more photographs with our mobile phone is a fact, and the proof of this is that the manufacturers of these devices have bet a lot on the photographic features they offer us.
But no matter how avant-garde the camera has, as is the case with even the most professional photography, the our images will improve significantly if we apply a few small changes.
But do you have a favorite app to do it? In this article I suggest you to use the app Snapseed Android to perform them. Stay with us and you will discover all the strengths of him.
The rise of mobile photography
Without a doubt, mobile photography is something very popular today. Thanks to the camera of our device we can capture unexpected moments that we want to keep forever, and before which we did not have our camera ready.
But in the same way that there are a number of tips when it comes to capturing photos with your mobile and that we have already told you in this article, it is interesting that you take it one step further.
As with SLR photography, no matter how well your mobile takes pictures, it will always be interesting to take care of their processing to achieve their full potential and make them stand out from the rest.
And in case you still don't have a favorite application to make this work with, in this case we will see how to make it with Snapseed.
Snapseed - a professional editing application
Snapseed may be one of the most comprehensive and high-quality mobile photo apps we find today. It is available both for Android and iOS, it is free and is also highly appreciated by users, which gives us a glimpse of its great potential.
Behind it now is Google, and since its revamp to its 2.0 version it continues to constantly incorporate improvements, including even editing photos in RAW format.
Introduction to Snapseed
As we have already said, Snapseed is a very accessible application, since on the one hand we are talking about a free app, which will make it reach a wider audience, and we can also work on it from iOS and Android, both with our mobile phone and with our tablet. So we can therefore say that Snapseed manages to bring us all together for a good cause: photo editing.
When we enter the application, the first thing it will ask us is to select the photograph we want to edit. To do this we will press the Open button and we will access our main folder of images.
If what we are looking for is in a different folder, just slide your finger across the screen to the right and we will access our set of folders from which we can choose it.
Once the photograph is selected, let's analyze what appears on the screen. On the one hand, we see that in the lower left corner the histogram of the image appears, which usually most photo applications do not have and which already makes us perceive the degree of professionalism of the app.
At the top we have the possibility to save, and the three dots take us to the sharing options, see the details of the image and, after starting with the retouch, we can also go back to the previous steps.
Finally, we have the pencil icon in the lower right corner, which is the one that will take us to the menu where we have the Tools and Filters which we will use to edit iPhone and Android photos.
Snapseed Management Tips
Snapseed is an intuitive application, with highly organized menus that make it easy to navigate. Before starting, you should know that to adjust the intensity of the adjustments and effects we apply to our photograph, if we move our finger on the screen to the left we will reduce its intensity, and if we move it to the right we will increase it. If we want to move between the different adjustment options, by sliding the finger up or down we can do it.
On the other hand, if you want to see the changes you have applied regarding the original photograph, you need to press the icon located in the upper right part (a sort of square divided in half), or press on the image itself to see it.
Snapseed tools
Within the tools we see that there are some options we can choose from. To begin with, and what I consider a must for any photograph, it is Enhance photos. With it we will have access to the adjustment of the following parameters: Brightness, Contrast, Saturation, Ambience, Lights, Shadows and Heat.
We can make this adjustment automatically by pressing the pencil underneath, ma it is advisable to adjust it manually. The cool thing about this x photo app is that we can make adjustments to our measurement to get the effect we want.
As for the other options of the tools, we have the possibility to crop the photo, rotate it or give it more details to get sharpness (a kind of focus mask).
We can also adjust both vertical and horizontal perspective with the Transform tool (something very useful for building photography for example), and we also have options that look like they were taken from Lightroom or Photoshop itself, like the Brush, with which we can make adjustments to areas, Selective Adjustment or Blemish Remover, which is like a concealer brush.
To use the latter, I recommend that you enlarge the area where you want to apply it so that the tool is as thin as possible and does not spoil the image. Finally we also have the Vignetting option, with which we can adjust the brightness to the pattern we want.
And Snapseed filters
As for the filters, we see that we have a good selection to choose from. From the Blur, with which we can emphasize the attention on the photographic motif we want or to the Glamor that will help us to create portraits with a look in the purest fashion photography style.
Two of my favorites are the HDR mode, which I use a lot to add strength to my landscape photography, but always readjusting the parameters myself, and Vintage mode, to give my images a specific style.
The options are varied and the application allows us to add several at the same time , something interesting as sometimes we want to create a subtle combination of more of them.
But the best thing about Snapseed is that not only are you applying a filter without further ado, but you can adjust its intensity and modify the parameters that characterize it so that it becomes a unique filter.
Furthermore, another of its strengths is that it works in layers, so if we go to the home screen and press the number of changes we have made, we can either adjust them again individually or delete them regardless of the order they were in. .
When you finish editing your picture, you just have to save it and if you want to share it on your social networks from its shortcuts.
Has the application convinced you?
No, they don't pay me extra to recommend it, but as you have seen it is a powerful application that can help us process our mobile photos to enhance photos.
If you really want to discover its full potential, I encourage you to download it and practice it yourself, and if you already know it, why don't you tell us your opinion?
Further Reading:
How to invert image colors on Snapseed
The best photo editors for Android
How to make a photo collage with Snapseed
How to delete objects or people from a photo
How to change the background color in Snapseed