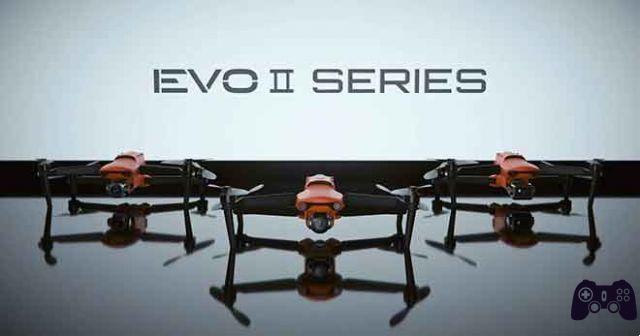 The Evo II drone is a professional-grade quadcopter that has been on the market for a few months now, presented at CES at the beginning of 2020, this drone has conquered a good slice of the American market, in Spain it struggles a little but stands out.
For those unfamiliar with it, the EVO ii drone is a modular camera drone, available in 6k, 8k and even with thermal camera, for a full drone review we recommend you to visit droni360.com, here today we will deal with Autel's native app for drone control.
Altar Explorer This is the name of the application that can be downloaded on the smartphone for the control of the Autel Evo I and II drone series, a rather complete app but in our opinion also rather complicated, with many settings that will take time to learn to navigate.
App overview
Once you have downloaded the app you will need to select which series of EVO drones you have, after the usual ones initial calibrations of the first start-up of the drone it will be possible to make the first flight.
For a video guide and full support on what actions to take, the Autel channel on Youtube is a good point of reference, the tutorials are available in English unfortunately.
The application itself is done quite well but has some shortcomings in terms of user interface and ease of navigation, the menus are full of information and especially for the previous version there were several translation bugs.
In the camera section it will be possible to select a whole series of settings including the file format, size and different photo modes.
The usual basic information such as position and battery are positioned on the upper side, the strength of Explorer is certainly the fact that it uses Google Maps for navigation, rich in details of the environment.
Video and photo settings: smart shooting
Like all drones, the Evo II also offers different modes of intelligent shooting and shooting, through the Explorer app, the feedback is positive, the drone responds well and is able to obtain extraordinary images and shots.
Among the smart shots we find:
Dynamic Track: similar to dji's Active Track, it tracks and follows the movements of a subject using AI
Orbit Or Orbit: Shoots a desired subject by making a circular flight
Tripod: the evo drone shoots a stationary subject by changing its gimbal settings, for shooting and shots from the most different angles
Parallel Tracking: similar to a Dynamic Track, but exactly in parallel, for more dynamic shooting
View Point: setting the EVO flight path via touch screen
Gesture Controls: allows you to give commands to the EVO, for taking photos, videos, etc.
VR: augmented reality
Precision flight: For low-speed flight, when shooting at low elevation or in situations with surrounding obstacles
Dual Stability: Similar to precision flight but additional stability given the drone's in-flight braking control, produces more stable footage.
Unfortunately there is no "dronie "about" rocket " of the competitor DJI, very popular among consumer drones and particularly appreciated by occasional pilots.
Autel Explore application update
Autel Explorer app for Autel's EVO series of drones has been updated to version 1.4.18 for iOS and version 1.1.5.3 for Android bringing some new features.
Autel Robotics has updated its Autel Explorer app by adding support for new features for the EVO II series and some general feature updates for the app.
Ability to change maximum flight height to 2.640 feet (804 meters)
Real-time notification when you take your flight in restricted areas
The app changes the display contrast automatically when flying in uncomfortable flight conditions
Fixed some translation bugs
New firmware for EVO II version 2.2.3.
Even the drone itself earns an upgrade, EVO II now supports a host of new features and annoying bug fixes:
New cross-hatch trajectory setting for "rectangular" missions with optimizations
Introduction of multi-battery missions or in case of low battery it will be sufficient to change it and the drone will continue on the way it was before
Possibility of locking the gimbal from the camera settings on the Explorer app
Conclusions
We must say that the app after all is not bad, if you are used to DJIO Flight you will initially have some difficulties in adapting, but once you have navigated well and understood all the settings, you will discover the pleasure of using the EVO II drone and it is worth it. worth it!
Further Reading:
The best drones
Professional Underwater Drone: from 100 to 300 meters of depth
The new trend of fpv drones for speed racing
How to install ES File Explorer on FireStick?
How to install and use Mediaset Play on Fire Stick