If you are looking to enhance your gaming experience for accompany your gameplay sessions with the right atmosphere, smart wall lighting for your location can be a great contribution to your cause. Smart wall lighting for the gaming station can be a great thing choreographic element for the composition of the shot of your facecam during your eventual streaming and video. Or, if your intent is only to embellish the walls of your gaming station with colored lighting systems, don't underestimate the smart element of these articles: wall lights that respond intelligently to your commands to adapt in the best way to your gaming sessions.
Whether they are simple led strips to be strategically placed on the edges of shelves, bookcases and wardrobes, or whether they are real choreographic panels to attach to the wall to create colorful compositions that respond to smart functions, in this buying guide you will find a selection of the best products on the market, from the cheapest to the most sought after. Before we begin our review of recommended products for the best smart wall lighting for the gaming station, make sure you've already reviewed the best adjustable gaming desks, the best gaming beautification products and the best streaming lights.
Best solutions for smart wall lighting for the gaming station
Led strips
Spotlights and Led Lamps
Geometric Led panels
Other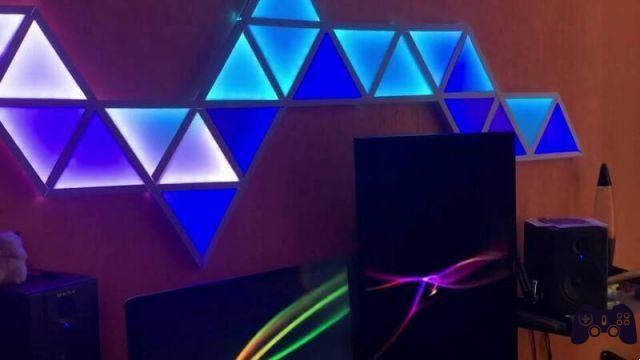 Led strips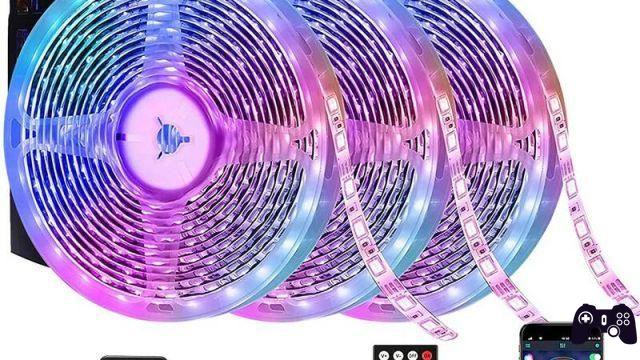 The decoration of your gaming station can only pass through the lights. To begin lightly, we point out some very colorful ones
Led strips with smart functionality, suitable for beautifying your workstation without taking up space
. Placed behind screens on the walls, paintings, shelves and other furniture, they manage to give the right atmosphere to immerse you in your gameplay. These products are also excellent if you have choreographic desires for the scene framed by your camera, in case you want to stream your games. These lighting fixtures all look a bit alike, just make sure you buy
the right size of the same brand
, in order to have the same settings for all Led Strips.
See on Amazon
See on eBay
Spotlights and Led Lamps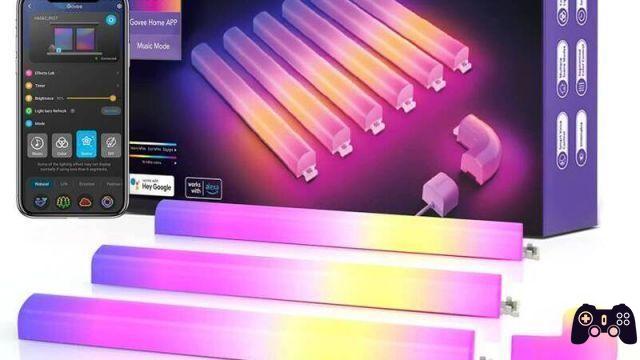 If you need
more consistent lights
for your smart wall lighting for the gaming station, also rely on some types of spotlights and LED lamps.
Lights hung from the ceiling or a mezzanine can create interesting combinations on the walls
, making it all look like a colorful scenography. Some types of lamps however, such as angular ones, can
fill wall spaces that are not reached by other lights
. A hybrid between LED strips and real lamps is the solution found by Govee Glide, with some
long smart lamps to be fixed to the wall
which can also fit into corners.
See spotlights on Amazon
See spotlights on eBay
See lamps on Amazon
See lamps on eBay
Geometric Led panels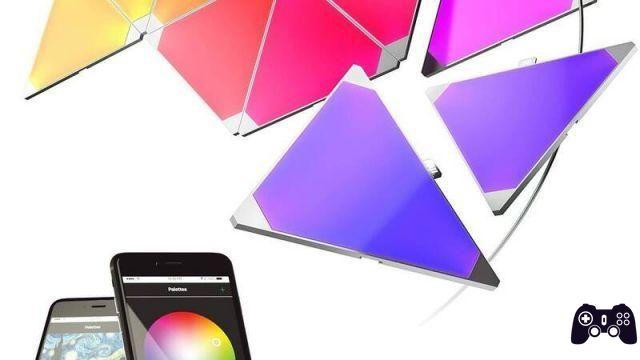 The most interesting solution for your smart wall lighting for the gaming station is certainly that of
Nanoleaf
and its cheaper counterparts:
geometric smart led panels.
This type of lighting, generally triangular or hexagonal in shape, is easily applied to the walls using an adhesive and is designed to be a sort of
modular mosaic of lights
. Geometric LED panels of this type, even the cheapest, use side magnets to connect to each other, e
they can take advantage of both vocal and touch functions to create their scenic effects
. The entire system is also powered by a USB socket. The original Nanoleaf implants also have a
music visualizer that adapts to the rhythm of what you are listening to
.
See on Amazon
See on eBay
Other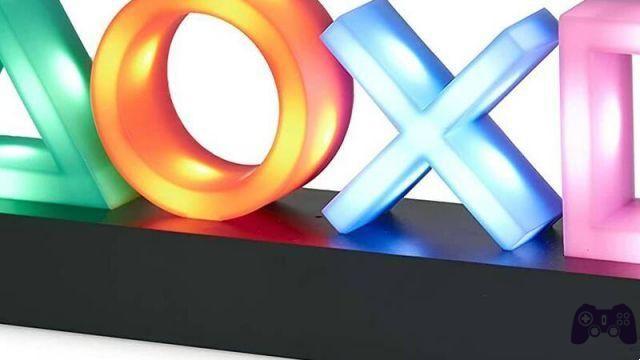 If none of the products we have recommended so far satisfies you or if you are simply looking for other types of smart wall lighting devices for your gaming station, they could be for you
types of lights and fixtures that are less traditional
. You may find, for example,
signs to hang on the walls or to keep on shelves
which form a good choreography, especially if they are gaming-themed. Or, you could try using
a smart projector
to lower the entire room of your gaming station into a more dreamy atmosphere.
See PlayStation Icons sign on Amazon
See PlayStation Icons sign on eBay
See led projector on Amazon
How to choose the best smart wall lighting for the gaming station
Having a smart lighting system for your gaming station is a quirk which, however, is able to create the right atmosphere during your streams or more simply during your gaming sessions. A something to give not only a touch more to the environment, but also to the mood of the entire room. In short, something not to be underestimated and in which to place particular care, whether you want to give an extra quid to your workstation or, above all, if you are a content creator always looking for new ways to delight your fans.
In this guide we have therefore listed several smart products that can be applied to the walls, from LED strips to lamps of various types, perfect for make your workstations unique. For this reason, in this section you can find useful information on which lighting systems are right for you, with a whole series of tips that will guide you towards the smart wall lighting for the gaming station that best suits your needs.
How does smart lighting work?
How to illuminate gaming room? A question that many will have asked themselves, eager to understand how to maximize the appeal of their workstation through LED strips and lamps. The best choice in this case is to lean towards smart lighting, that is towards something that will allow you to make your rooms and walls even more versatile and visually intriguing
Unlike normal lighting systems, smart ones indeed have different types of configuration and colors that can be remote controlled via smartphone, remote controls or more simply via your own voice. Typically this type of lighting is compatible with the most common smart speakers such as Amazon Echo, Google Home or Apple HomePod. Through the WiFi network and integrations with the smart home or with your smartphone, it is possible to automate these lighting systems and control them.
What is smart wall lighting for the gaming station for?
Not all the products needed to illuminate the wall are simply placed on the wall. You might need to enlighten it space behind a shelf, cabinet or bookcase and for this it would be useful to resort to Led Strips, or it could be convenient for you take advantage of the architecture of your gaming station using recessed spotlights, corner LED lamps or projectors.
Attention because some products, such as recessed spotlights, need to be connected directly to the electrical circuit of your home: make sure you have the room in your workstation prepared for the installation of these spotlights or, if you are designing the room to measure, enlist the help of an electrician.
Thanks to smart lighting, you can manage the lights wherever you are, even away from home if the system is connected to the smart home and you have smart speakers enabled with your voices as a management element. Think, for example, of a live stream or of your evening dedicated to gaming in which, at your voice command in an excited game situation, the whole luminous atmosphere around you changes. This is the magic of smart wall lighting for the gaming station.
What are the most common smart features?
The smart features of gaming wall lighting can include different types: a control via app and/or remote control dedicated with so many different colorful scenes is by far the most common function, but it is also possible to come across products that have sensors capable of recognizing music in order to change frequency and colors in rhythm such as NanoLeaf implants; the most useful function is certainly the connection to the Smart Home via Alexa, Siri or Google Assistant. Be sure to evaluate these smart features before choosing the system that suits you best.
Why is a smart system convenient?
If you have a greener eye or simply want to save a little on your electricity bill, smart lights are usually products that have good predispositions for energy saving firstly because LED bulbs have higher energy efficiency classes than traditional ones, and secondly thanks to the extreme malleability of their programming all in your hands.
Green solutions provide long duration so you can save on spares, or just have settings to adjust brightness and smart functions depending on your needs. Still other systems could also connect to the PC via USB so as to function only when the workstation is switched on, without subtracting electrical resources when not in use.
How much does a smart system cost?
The question relating to the price is, as always, one of the most dutiful and correct, with the monetary outlay which rightly represents one of the main decision metrics in any choice. As for the smart wall lighting for the gaming station obviously depends on a large number of factors, such as the number and type of products purchased.
In fact, if you are satisfied with a smart LED strip, you could get away with a few tens of euros, while if you are looking for large light panels that change color with music, smart spotlights and anything else, your spending will reach a few hundred euros. In short, the price range has never been as wide as in this case it depends on the needs of each of you.
How many meters of LED do you need for a room?
An excellent question that can be asked when thinking about the smart lighting of one's room or gaming station is certainly that relating to how many meters of led strip are needed. Undoubtedly, in fact, despite the fact that there are several products to illuminate one's room, LED strips still remain one of the most widespread and, above all, versatile. Understanding how many meters to buy, therefore, becomes fundamental for avoid spending too much unnecessarily or, conversely, having to make a second purchase to get enough.
Before proceeding further, and then moving on to tangible numbers, however, it is important to understand that there is no exact science that defines the perfect number of LEDs in a given room. In addition to personal taste, in fact, a number of factors come into play which affect the recommended final value. The first thing to take into consideration is certainly the type of room that we want to illuminate with a LED strip. A living room, for example, requires more intense lighting, equal to around 300-500 lumens per square metre, while a sleeping area may need lighting of around 100 lumens per square metre. Obviously change these values ​​according to your needs and preferences.
With this indication it is therefore easy to understand how to proceed: in fact, it is enough to multiply the square meters of your room by the chosen lumens and then rely on a suitable LED strip. To give a practical example, a 2500 lumen strip 10 meters long offers 250 lumens per metre: therefore, for a 500 lumen living room, two meters of this product will be needed.