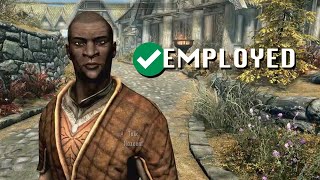 At a time when the world economy is experiencing ups and downs, between wars, pandemics, raw material crises and so on and so forth, there are those who are exploring new horizons. Since it will likely still take a long time for Elon Musk to found his ecosystem on Mars and move us all to another planet, some players are probing the waters to start a new life in places like Skyrim's Whiterun.
A youtuber known as Any Austin, in fact, has created some reports in which he collects information relating to the unemployment rate of cities in the gaming world. These searches were carried out with extreme care and attention to detail. In fact, the content creator took into account children, possible pensioners and other potential causes of impediment at work. In the research related to Skyrim's Whiterun we can, in fact, see how the author goes around the city and censuses every single citizen in order to define his potential age and understand what role he plays in society.
To this it should be added that, in addition to a rather exhaustive video lasting about half an hour, the user has also attached a file on Google Drive in which he stores all his results. In short, going to the point, it seems that Whiterun, in Skyrim is one of the cities with the lowest unemployment rate ever. According to the estimate of Any Austin, in fact, only 9.4% of citizens of working age are without a job. Therefore, the town is a great place to live and appears to have a thriving economy.
Going through the Any Austin YouTube channel we can find another survey relating to the employment rate. This time, the protagonist is Super Mario with Delfino Plaza from Super Mario Sunshine which, unlike Skyrim, has a much higher amount of unemployed citizens. We can also find other videos in this genre that investigate the world of Zelda and we hope to see more soon, perhaps on titles like The Witcher (of which you can find the third chapter on Amazon).