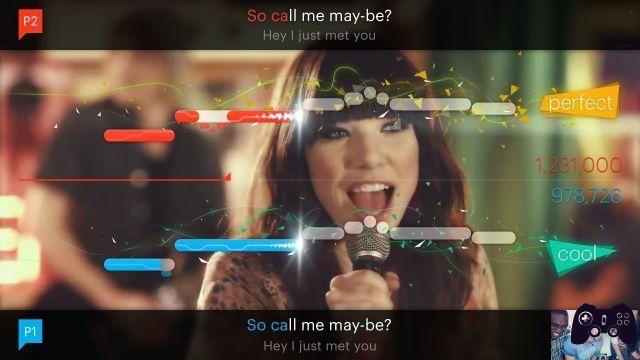 Among the many games released for PlayStation 2, among the successful sagas such as Jak & Daxter o Ratchet & Clank, between the epic battles of God of War and devil may cry, on the Sony home console also saw the light of two intellectual properties dedicated to evenings in company, those games belonging to the casual category that in the next generation made the fortune of Wii, the series Buzz and the series SingStar they made their debut and conquered many living rooms with their immediate and fun "gameplay".
If Buzz still does not see a chapter for the now new flagship of the PlayStation house, last October 29 SingStar made its debut with a cross-gen chapter thanks to SingStar: Ultimate Party.
The title is sold in physical format with thirty songs for both PS3 that for PS4, while on the latest one it is also available in free digital format, with songs that can be purchased directly on the SingStore.
Version tested: PlayStation 3 (disc) PlayStation 4 (digital)
Microphones for all tastes
SingStar: Ultimate Party is the first chapter of the series that does not necessarily require microphones to play: in fact, a free app has been released that you can install on your iOS or Android device, SingStar Mic, which connects to your game system (whether you have PS3 , whether you play on PS4) thanks to a simple four-digit code that will be given to you every time you start the game.
Obviously if you are a fan of the series and you own the microphones (whether USB or wireless) purchased with a previous edition of the singing brand you can use them without problems as you always have.
The PS4 version does not read the data of the old CDs, unlike the ps3 version
The inevitable SingStore has also been opened on PS4, where you can both try a song before buying it, and transfer those already purchased on PS3, the only backward compatibility of the current gen version available in Ultimate Party.
On PS3 instead, as in every other chapter of SingStar, you can change discs at any time between songs, and insert one from the wide range of editions released for both PS2 and PS3.
A feature that will especially be missed by users loyal to the series who are highly recommended to purchase the physical version for PS3.
New scores, old techniques
The only substantial change to SingStar's gameplay is only visual: the bar indicating the length of the song has been moved to the center of the screen and the scores no longer reach 9999 but exceed one million. The evaluations at the end of each verse, however, remain unchanged, the golden notes that give more points and the vibrato, a technique that consists in keeping the notes without pausing.
Difficulty selection no longer exists
Sony's karaoke is also renewed in the difficulty section: it will no longer be possible to choose whether to sing a song without guessing a single word at easy, hitting most of it at normal, or correctly pronouncing each verse at difficult; in SingStar: Ultimate Party you can sing at a single level of difficulty not impossible for newbies, but rightly challenging for the accustomed.
In addition, a control panel has been added (which can be accessed with the select button or with the touch pad) in which you can see your SingStar Level: a cross-play indicator that will fill up with each song performed or at the completion of certain actions; you will be able to see the progress of the download of songs or demos, and the upload of videos shot with PsEye or PsCamera.
Instead, the party modes are absent, leaving the only differences between the songs in duets and singles.
Here is a list of the songs available within the physical version of SingStar: Ultimate Party.
5 Seconds of Summer - She Looks So Perfect
Avicii - Hey Brother
Bridgit Mendler - Ready Or Not
Carly Rae Jepsen - Call Me Maybe
Clean Bandit Feat. Jess Glynne - Rather Be
Coldplay - Magic
Demi Lovato - Let It Go
Disclosure Feat. AlunaGeorge - White Noise
E - Lego House
Ellie Goulding - Burn
Pop Icon Feat. Charli XCX - I Love It
John Newman - Love Me Again
Kylie Minogue - Can't Get You Out Of My Head
Lady Gaga - Born This Way
Lionel Richie - Hello
Lorde - Royals
Naughty Boy Feat. Sam Smith - La La La
Olly murs - Dear Darlin '
one direction - Best Song Ever
One Republic - Counting Stars
P! Nk Feat. Nate Ruess - Just Give Me A Reason
Paramore - Still Into You
Pet Shop Boys & Dusty Springfield - What Have I Done To Deserve This?
Pharrell Williams - Happy
Plan B - She Said
Selena Gomez - Come And Get It
Swedish House Mafia Feat. John Martin - Don't You Worry Child
The Lumineers - Ho Hey
TPA - No Scrubs
Train - Drive By
Who does not sing in company ...
As the name says SingStar: Ultimate Party it is ideal for group nights, and is not suitable for solo players.
For the friendless uvula the title offers thirty songs ranging from all the latest pop hits, while in the SingStore there are several songs of various genres from rock to opera, and even in various languages.
The SingStore will significantly increase the choice available, especially in the digital version for PS4 which bases all itself on in-game purchases (the so-called Freemium genre).
Each song has a tariff ranging from € 0,79 to € 1,39 small figures alone but which with the increase of expenses could significantly affect the user's wallet, considering that most of the songs are present on old versions of the brand.
Verdict 7.5 / 10 Just to sing .... ooooh! Comment SingStar: Ultimate Party is a good chapter of the brand on PS3, but it is not the debut hoped for on PS4. The lack of data reading of the old versions (PS3 and PS2) is easily solved, and we hope that in a future version the developers will fix this small problem. The purchase for PS3 is recommended to all those who have enjoyed old releases or who love to sing in general, perhaps driven by an X-factor or by The Voice. Pros and cons
✓
Comfortable and practical SingStar Mic
✓
PS3 version backward compatible with all chapters
✓
Fun with friends
x
PS4 version not backwards compatible
x
Boring by yourself
x
The extra songs will put your wallet at risk