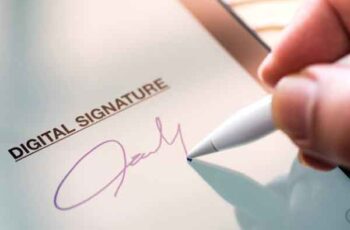 The smartphone has now become a real ally, faithful companion who follows us everywhere and without whom, let's face it, we would be lost! Most of the actions that once took place in person, with enormous waste of time, can now be carried out with your smartphone and this is undoubtedly a huge advantage.
But what happens when we receive documents by email and we are asked to sign them? Thanks to the enormous advances made by technology, today we can sign any practice directly online and the only tool we need if we are not in front of the PC is our smartphone.
1. Sign a document received on the smartphone
Signing a document that we receive on the smartphone is often a big problem, because the traditional road is somewhat winding. In fact, there are several steps to take to put your signature manually: you have to first print the document, sign it with a pen and then scan it in order to transform it back into digital format.
However, if we are away from home and do not have a printer available, things get complicated. But today there is a solution that definitely simplifies life and makes it considerably easier and more immediate to validate a document with your smartphone!
Enough in fact use the Yousign application, which allows you to put your Pdf signature directly on the document received without having to print, scan and so on.
An extremely simple and fast method, which allows you to validate documents even when you are away from home because the only thing you need is your smartphone.
2. How electronic signature works with Yousign
Yousign is one of the most popular applications of the moment for those who need to sign their documents in a simple and intuitive way using the smartphone, also because it offers very useful additional features.
If for example if you receive a contract in a different format than the PDF, you can convert it automatically through the application in order to make it more secure and ready to be validated.
Applying your signature is child's play, extremely simple and fast, as is archiving the documents that have been validated so that you can always have them available and find them within seconds if necessary.
3. Does the electronic signature with a smartphone have legal value?
Many rightly ask themselves if the electronic signature made with their smartphone has legal value and on this point it is good to make some clarifications. It all depends on the application and the provider you use.
The electronic signature with Yousign for example is recognized by the law of the European Union through the eIDAS regulation and therefore has all the credentials to have legal value. Other providers may not comply with the necessary characteristics, therefore it is always advisable to check this aspect in advance.
Recall also that the only valid format is the Pdf, therefore a document signed in word could for example be contested because it can be modified. This is why Yousign allows you to automatically convert the format, in order to be sure of issuing valid documents.
Further Reading:
How to sign a document on iPhone
How to sign PDF for free
How to sign Word document
How to sign documents in Microsoft Teams
5 ways to edit PDF online