One of the games that I liked most of last year is without a doubt Returnal. Housemarque's work, thanks to a cryptic narration, a damned mysterious setting and, above all, a superfine gunplay, convinced me deeply, kidnapping me for several dozen hours. In short, a decidedly successful mix of elements, which will soon also land on PC thanks to the conversion expected over the next year. Trying to repeat its success will be shortly Scars above, title of Mad Head Games and Prime Matter that promises to immerse us in a new adventure set in space characterized by a dark mystery. An opera expected next February 27th on PC, Xbox, PS4 and PS5 and that we have had the opportunity to try out in a preview version over the last few days.
We tested the game with the following PC:
GPU: Zotac RTX 3070 Twin Edge OC
MOBO: Asus ROG STRIX Z370-F
RAM: G.Skill Trident Z RGB 16GB DDR4 3200MHz
CPU: Intel i5 8600k 3.6 GHZ
SSD: Sabrent SSD 2TB Rocket NVMe PCIe M.2 2280
Keyboard: Corsair K70 LUX LED Rosso Cherry MX Brown
Mouse: Fnatic Flick 2
Headphones: Logitech G930
Monitor: Samsung C27HG 70 Quad HD 144Hz HDR
Interplanetary threat
Scars Above with the latest work of Housemarque definitely has more than one point in common in terms of narrative and setting, although it differs heavily on that of gameplay. Where the excellent Returnal is in fact a highly frenetic TPS with bullet-hell dynamics, the next effort by Mad Head Games has a decidedly more composed and reasoned rhythm.
But going in order, Scars Above tells the story of Kate Ward, a brilliant scientist found catapulted to a mysterious and dangerous planet during a space exploration. An event that leads her to separate from her team and find herself completely alone, trying to survive and find an answer to everything that is happening around her.
As easily observable, in short, the points of contact between Returnal and Scars Above from this point of view are many, even if the mystery that grips the stage planet of Mad Head Games' work seems to hide something much more concrete and less psychological compared to what was seen in the exclusive PlayStation. From the first hours of testing, which allowed me to complete the first three acts of the game, everything works narratively well, with the blanket of mystery that wraps the player well, resulting neither too cryptic nor trivial. Obviously everything is to be evaluated in the long term, but from what I've seen the conditions for having a good synopsis, captivating the right, they are all there. The hope is precisely that the light will last until the end credits and not be drawn too long in the meantime.
Elemental Weapons and Hazards
Moving now to the actual gameplay, this first approach with Scars Above gave me back a different experience than I would have expected from the plot behind the title and from the trailers, but still convincing. Scars Above is in fact equipped with those more investigative phases or small environmental puzzles, but they are nothing more than small moments of a larger and more more focused on exploration and combat. The mysterious planet at the base of everything is in fact a place as mysterious as it is hostile, with the fauna that inhabits it waiting for nothing but to tear us to shreds.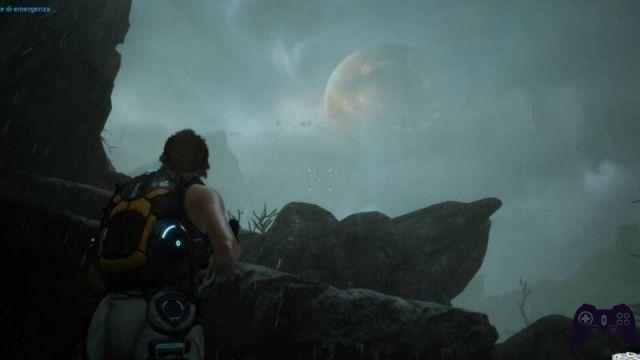 Just the fights, which take place following the classic TPS stylistic features, they convinced me and, in some ways, amazed me. Despite the certainly not triple A nature and the fact that there are still more than two months left for the official launch of the title, the situation is in fact already more solid than productions that have approached the market for some time. Mad Head Games, in addition to setting up a clean situation, then seems to have found the right balance, proposing some clashes both reasoned and equipped with the right dynamism. Thanks to classic tricks already seen elsewhere, such as elemental weapons and areas in enemies weak to only some of them, in fact, the various battles of Scar Above run in the right way, also encouraging us to use the gadgets that the game makes available to us, such as grav grenades and more. A convincing game key on a playful level and all in all also consistent with what Scars Above wants to tell.
On the other hand, the research phases were less successful, which have very little investigative, and those that put us in front of simple environmental puzzles. Nothing to complain too much about, but, as mentioned a little while ago, they seem more like simple fillers between fights and narrative phases. The whole is completed by the pillars that cover the classic role of bonfire, an inevitable skill tree and all those elements that one would expect to find in an action-TPS of these years. In the end, Scars Above is therefore a convincing play system, albeit derivative and linear all in all.
Not bad, not even the technical aspect, which, although it betrays the AA nature of the production in some small junctures, holds up worthily, also giving away some scenarios and passages that are not bad at a graphic level. The animations also succeeded, net of some tuning still missing for example in the descent phases from some raised point.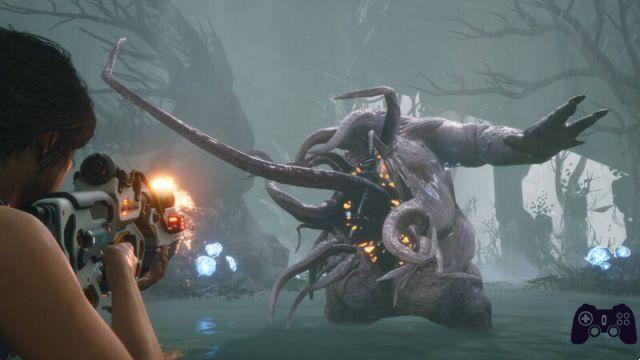 Scars Above: in conclusion
Scars Above, in short, gave me in this first approach of good impressions, dragging me to a mysterious planet filled with atmosphere. The work of Mad Head Games therefore appears to be a very honest title, capable of doing what it promises well, albeit perhaps a little too derivative in its dynamics. In any case, he has been able to entertain me well in these hours and, in the end, this is it what really matters.