Fear is a primary emotion. It acts suddenly, transforming and branching in ways that are impossible to stop. There is darkness, there is panic, there is the end and there is death. In Saturnalia there is the sound of a bell whipping the unbreathable air, uncomfortable and full of a mysterious atmosphere. There is no escape, because by now there are roads marked by blood, and the video game of Santa Ragione, the development team of this horror story, he knows how to dip the right sensations into the scenarios.
Interfacing with Saturnalia, I already knew that I would be scared to death and, reading the plot better, I knew an experience was unfolding before me that I either would hate to death, or appreciated beyond belief. In Valle d'Aosta, for example, there are many legends: one of the most famous concerns the Devil of Verrès, hung by the neck from the bridge of the hamlet, to symbolize to the entire valley that the Evil One had been defeated. But here we are not in my homeland, there is no fontina cheese, there is no good wine from a cellar and there is not even a good Valle d'Aosta dessert to savour, to forget the sad story of the devil who, thinking he was smarter than the others, he instead ended up worse than the many characters of the folk imagination, which the Church itself has helped to tarnish, denigrating and mocking with farts, purges and collective hatred.
Saturnalia has the taste of an Ichnusa and carasau bread with casa fràzigu (cheese with worms: yes, it really exists), because it is set in Sardinia, in the town of Gravoi, not to be confused with Gavoi, which is located in the province of Nuoro . However, leaving aside the lessons of geography, the independent development studio Santa Ragione, known for Milky Way Prince: The Vampire and many other independent productions, has never hidden that he is ambitious, talented but, above all, capable of creating contexts that would interest anyone looking for something new and unexpected.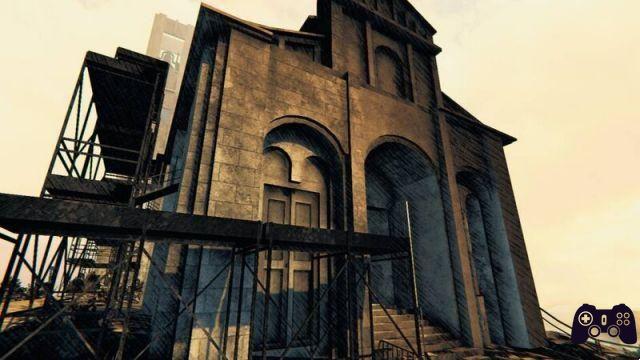 Saturnalia immediately proposed itself by already making things clear, and he did it with an absolutely creepy main menu song, composed of agonizing and screeching rhymes like cold metal chains on a rock face, stained with blood, bile and brain matter. Or is it perhaps just all the usual illusion, which configures itself to frighten and force the most impressionable to flee? It could be anything; after all, it's natural: horror is made to scare, stories are made to impress and the happy ending, which is just a great illusion, is a way like any other to tell children that there will never be a bittersweet ending . Because, in case you haven't figured it out, Saturnalia doesn't only have positive or negative endings, but above all sweet and sour. Better to proceed in order.
The unusual tale of Saturnalia
Sardinia, 1989. There is a placid, almost unusual climate. A car speeds along the motorway, crosses a bridge, another and we can glimpse the sea, which does not appear rough or as we would imagine. The waves crash on the sharp rocks, while the silence, broken only by the tires whizzing on the asphalt, surround the story of a girl who intends to reach Gravoi to pack her bags and never look back. The story begins like this, with his arrival in the small village that, celebrating an ecclesiastical celebration, it actually looks uninhabited.
In Saturnalia four existences are embodied with different problems, life stories and thoughts. A pregnant mother, a daughter fleeing her family, a young photographer in search of the truth and a former drug addict. Four stories, one place and a party that none of them know about. What could go wrong? Everything, in reality, because the events of the prologue, which quickly introduces the various protagonists, do not get lost in too many frills, unceremoniously sending the player to the mercy of darkness.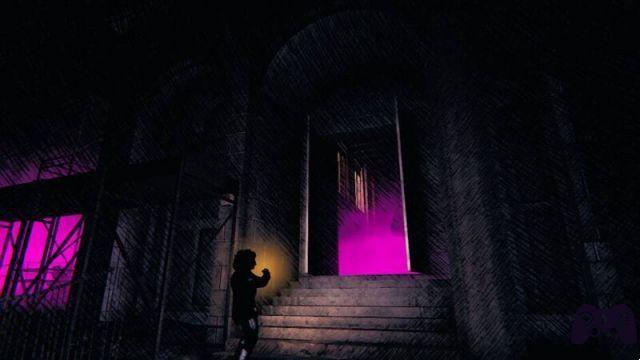 The context, intelligently proposed by the development team, is inspired, strong and well represented, because it carefully follows the dynamics of a unique cross-section of Spain. Holy Reason, carefully studying Sardinian symbolism, books and legends, he has therefore packaged a story that is not at all obvious, starring four different characters in search of a better future, or an escape route from the Creature, which represents the enemy to escape from. Yes, because the development studio based in Milan, as ambitious as Reply Games Studio, has approached Saturnalia by telling a mature story, inserting themes of the horror genre that are uncomfortable and frightening, as well as creepy and brutal, relying precisely on human feelings. In short, the writing of the story focuses on the terror of the unknown, because the Creature, which comes from a well in the mines of Gravoi, is the classic dark presence ready to do anything to kill without mercy. Armed with a knife, wearing a Sardinian folk mask, the Creature is surrounded by an aura of mystery capable of insinuating itself where no one would wish. There's panic, there's blood, there's a cemetery and there's a bell: everything is orchestrated to instill terror, leave the player dismayed and paralyzed.
The adventure, inspired by the most memorable horror works of the gaming scene, it doesn't take long to show itself in all its splendor, and makes it clear right away that nothing is as it appears. The escape of a mother who got pregnant without wanting to is certainly a story that could touch other people's strings. Not making too many spoilers, know that each protagonist hides a terrible past, which can only be discovered with patience, understood and absorbed with due propensity to listen.
There are no narrative voices, but only texts to read to better understand what surrounds each of the protagonists. Certainly, there is no time to become attached, because the Santa Ragione video game does not allow it: hunted down by the dark entity, I have often fled without stopping, not looking back, thinking only of reaching my goal. I knew I was being chased but, certain that nothing would happen to me, I continued without being overwhelmed by terror, which however was impossible to control. Certainly not an easy undertaking, especially not after these premises, which appeared to me to be absolutely well integrated in the final result. And it wasn't easy, not for a work of this kind, which could risk creating a context that is not unusual at all.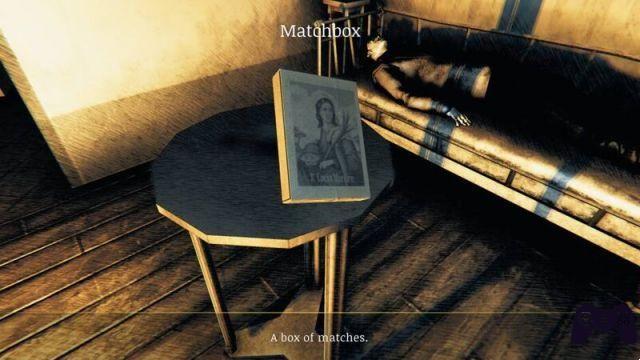 "Toll the bell at the time of death"
Saturnalia, as I mentioned before, is a dynamic and narrative adventure that captures the winning elements of investigative video games and the most famous recently released roguelite productions. No, it's not a Cult of the Lamb nor a Sifu, but a video game that offers an extremely simple but well orchestrated play structure, designed more to tell than to entertain. I begin by saying, in fact, that the roguelite dynamics of the Santa Ragione video game manage to be absolutely functional and excellently represented, also inserting very useful exploration moments to collect useful materials to advance during the game experience. In fact, by varying the scenarios after each death, it is possible to relive the situations in a different way, while maintaining the same clues previously collected in the town hamlet by a different character, which may be dead or unused.
Concluding each story, in this sense, it is essential to continue in the gaming experience to get to the end credits, which can be reached in eight abundant hours of playing, unless you want to look for the proverbial hair in the egg and get lost in the hamlet. Saturnalia offers a third-person view, allowing the player to have an excellent view of the various events that follow one after the other. The Santa Ragione video game, drawing the best from the survival horrors on the market, captures recognizable and already tested elements in the past, therefore not presenting any novelties in this respect.
However, each element is well placed in context, so as to push the player to use stealth on various occasions, sometimes by distracting the Creature with shrewdness and skill, and as many running away in search of a light source capable of illuminating what is aroundso that you don't get lost. To move in the darkness of the night, which is when the secret ritual of the village takes place, the only source of light is a match, which can go out at any moment. During the entire duration of the journey inside Saturnalia, it represented an important tool for escaping the darkness and hidden fairs where no one would expect.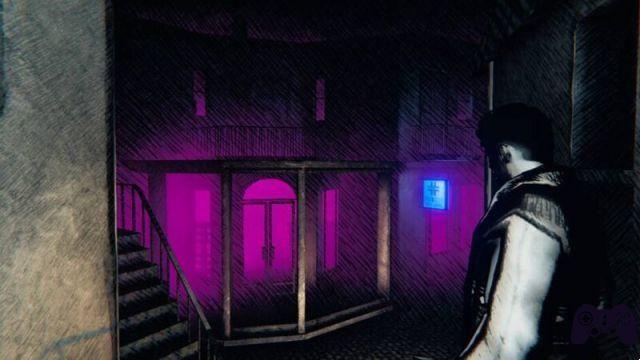 The game structure, designed precisely to offer a distressing and anxiety-provoking experience, convinces because it is simple and intelligently proposed, reaching its goal without stumbling too much. What does not work convincingly is the artificial intelligence of the Creature, which often does not notice the presence of the protagonists or their movements, thus invalidating any of his attempts.
In fact, hiding was as simple and not at all as demanding as escaping from his clutches. I didn't struggle or find it difficult to escape, even if on many occasions I risked being discovered by the Creature. Her presence, which is constant even when she doesn't show herself, could scare those who are not used to video games of this kind, in which anxiety takes control of the player, who finds himself carrying on despite the terror.
A village built with passion
A refined setting, a passion for Sardinian folklore and a great desire to surprise the medium with simplicity. I was enchanted by the houses, the positioning of each and in general by the game map, which can be consulted in the center of the village, thus selecting the direction you prefer to follow, even if I recommend arming yourself with courage and advancing without making use of the help of automatic or fast travel, the latter available at the telephone booths scattered around the level design of the production. While not representing who knows what intricate labyrinth, Gravoi is a small village with a soul and many places to visit.
It is the archetypal country village away from the city, with only one bar and a pharmacy. What more could you want from something like this? On the technical side, however, we have to make some criticisms: there are bugs scattered here and there, as well as interpenetrations which, unfortunately, sometimes they prevented me from reaching a place of interest that I absolutely had to reach. Net of this, however, the game is set at thirty frames per second, managing to enhance the graphics engine and the animation style, made up of bright and sometimes dark colors, like a blackish purple that changes the chromaticism when something inevitable happens.
Saturnalia is not a video game like the others. Indeed, it is much more unusual, as well as original and inspired, because it captures the Sardinian tradition and the elements of the island in a careful and dignified way, as well as references to the Roman texts of Seneca, which could make any number of players smile. After all, fear is a primary emotion. Why not try some more?