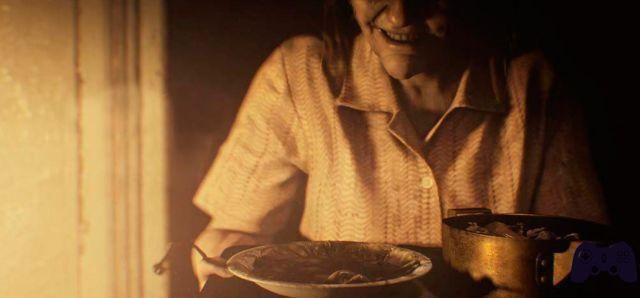 Despite the futile criticisms received from some web users, Resident Evil 7 has established itself on the market as a title curated, profound, fascinating and capable of restarting a brand that in recent years had suffered an undeniable decline in quality. So, as was evident from the presence of a season pass in the various virtual stores, the first additional content, entitled Resident Evil 7: Banned Footage Vol.1. Will the guys at Capcom be able to make a DLC at the same level as the original title, or are we facing a mere commercial operation ?! The answer, as always, can be found by continuing to read this review. We remind you, as always, that the price of Resident Evil: Banned Footage Vol. 1 and of 9.99 € and that you can find it exclusively in digital format on the related stores for PlayStation 4, Xbox One e PC.
Version tested: PlayStation 4
Hangover
This additional content is just what Resident Evil 7 needed
Much of Resident Evil 7: Banned Footage Vol.1 is based on the finding of two videotapes belonged to one of the victims of the Baker family. Just like in the original adventure, in fact, we will be called to relive the experience recorded on the tape and, in this particular DLC, to take on the role of a man named Clancy. The first recording that is made available to us is entitled Nightmare and, although everything is masked by a light narrative sector, it is one survival mode where we will be forced to fight against five waves of enemies to survive a long night of terror. Admittedly, this additional content is just what it needed Resident Evil 7, or a mode to face once the main adventure is over in all its difficulties and different versions. Completing the Nightmare videotape is really difficult at the first attempt and for these the programmers have entered a cumulative ranking within the game which, at each of our deaths, will allow us to earn points to unlock new weapons to be created via the workbench and new traps to activate on the game map. In case you manage to end this difficulty, Capcom has well thought of adding the Night Terror mode, containing an extremely more complex version of the experience just described which, we are sure, will delight those who have described Resident Evil 7 as "too easy".
Misery doesn't have to die
The Room is nothing more than an Escape Room in a Resident Evil key
The second experience present within Resident Evil 7: Banned Footage Vol.1 it is called The room and always sees us in Clancy's shoes, but that's it this time forced to flee from a bedroom and from the special attention given to him by Marguerite. It is without a doubt about a much more narrative content and that, to simplify the type of game, it can be associated with an escape room. Through a series of puzzles, in fact, we will have to find a way to escape from the room, but staying be careful not to make noise so as not to attract the attention of the woman who is always ready to enter the bedroom and attack us if she does not find us in our place. One of the most fascinating elements of this mode is the need to put everything back in its place in case we get too confused, to prevent Marguerite from realizing that we have managed to get out of bed and that we are trying to plan our escape. Beyond three hidden objects to find (and thus unlocking a special trophy / objective), The Room can hardly be considered a replayable content once finished. It must be admitted, however, that this could be the perfect experience for anyone who has not yet purchased the game to try, in order to understand the general atmosphere of the product within a narrative arc that begins and ends in (relatively) a short time. In any case, we would like to reward the inventiveness of the developers who, let's not hide it, made us waste a lot of time to complete this content at the first run thanks to moderately complex and certainly addicting puzzles.
Ethan, on the other hand, has to die
Ethan Must Die will be able to put a strain on your nerves
The third and final addition of this first DLC for Resident Evil 7 it disconnects from any narrative context to present what, at the moment, it surely is the hardest experience of the whole game: Ethan Must Die. In this new mode we will be called to take on the role of Ethan again and, starting from the garden in front of Villa Baker, we will have to find the key to access the greenhouse and kill Marguerite. Things, however, will not be as easy as they may seem. In fact the player will leave completely devoid of firearms and he will be forced to create his own (scarce) arsenal through the exploration of the house and the collection of objects scattered randomly inside various chests (marked by a number of stars based on the quality of their contents). All, of course, trying to avoid opponents and traps scattered around the house; dangers that, at the slightest blow, will knock us out, forcing us to start all over again, given the absence of any rescue system. In a way somewhat similar to the Nightmare videotape, also this Ethan Must Die turns out to be a modality that goes perfectly to integrate with all the production of the last Capcom branded work, adding hours of play not connected to any narrative sector and, therefore, extremely usable once the main adventure is over.
Verdict Yes Ethan Must Die must be banned in the Vatican Comment Resident Evil 7: Banned Footage Vol. 1 turns out to be simply a must-see add-on for anyone who bought Capcom's latest effort. The only criticism we can make (even if it leaves some time for it) is that the Ethan Must Die mode could already be included in the base package, rather than via additional content. Once we have overlooked this negligible detail, we can not help but praise once again the Japanese software house which, without a doubt, was able to present a varied, fun DLC and capable of giving some interesting hours more to all the players who they will want to give it a chance. We only hope that future additional content will settle on this level. Pros and cons
✓
Well-managed and fun Nightmare mode
✓
The Room will thrill you
✓
Ethan Must Die is a real challenge
x
Ethan Must Die could have been included in the base title