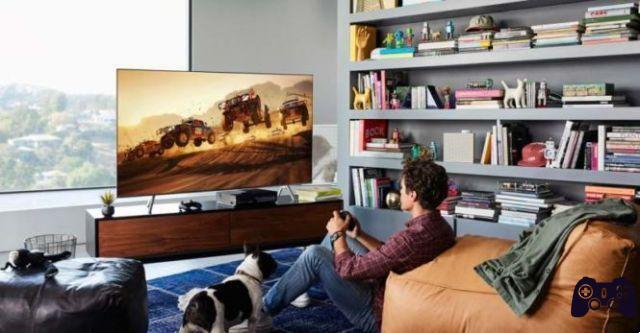 What are the differences between QLED vs. OLED vs. MicroLED? The LCD screen is long dead and the LED is experiencing its last days of glory. The war for TVs is hard-fought between these three new technologies: OLED, QLED e MicroLED and we dedicate this special to them. Which one is worth buying? It makes sense to buy a Flat screen TV at this point? What technology will be the standard in a few years?
What is the difference between the definition and the resolution of a screen? >>

The differences between LED TV vs. OLED TV >>
While there are many TV manufacturers, when it comes to companies that actually make a TV - such as the screen and the processor - the list narrows down considerably. Today we can divide the market into three trends:
QLED, with the bet of Samsung and its Quantum Dot LED technology.
OLED, with LG and Sony as main supporters.
MicroLED, Samsung's future proposal and in which other giants such as Sony (under the name of Crystal LED) could participate.
For many years, the technology behind a screen has been similar: a layer of crystals with external illumination (first behind, then on the edges, and in the latter models almost at pixel level) to build the image.
With the arrival of OLED, each pixel can light up becoming a brutal contrast, a practically pure black and the possibility of customizing the design (very thin screens, curves, etc.). unattainable only until recently. Since they don't require an external light source, the design can be much thinner and also consume less power.
At this point, it's worth clarifying that QLED is nothing more than an evolution of the LED system we've had so far (and an idea from the marketing departments to make it even more complicated for consumers). Its fundamental difference from "normal" LEDs is that each pixel can be activated individually, offering superior advantages to the standard but not reaching the OLED.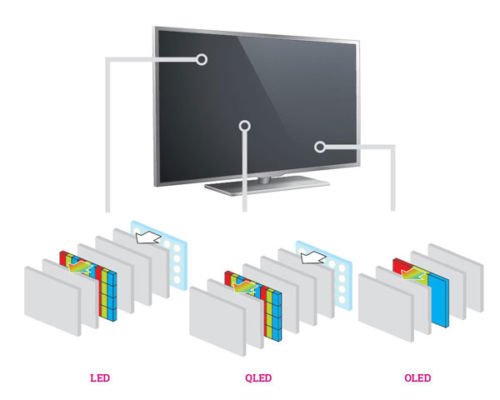 QLED vs. OLED vs. MicroLED
Our third protagonist, the MICROLED, has recently arrived on the scene, and represents the real challenge for the future: the basic revolution of this technology is to reduce the pixel dimensions up to 100 times compared to an LED traditional (already there are screens with 0,15 mm pixels), multiplying the number of them and reducing the distance between them.
Thus, one MICROLED TV can offer the best of both worlds: minimum pixel size that can be controlled at will, possibility of pure black, much brighter than an OLED, wide viewing angle and no degradation problems in the medium and long term.
A MicroLED screen is made up of small independent modules, allowing manufacturers to create televisions of any size and shape; only one controller is required to indicate which pixels should be activated at any given moment, but the possibilities are nearly endless.
Surely more than one reader wonders how it is possible that there is not one yet TV a MicroLED on the market. The reasons are different, but the biggest challenges for the industry are two: screens are extremely expensive to produce and generate a lot of heat, which needs to be dissipated efficiently and without noise.
Will we see the first MicroLED TVs in 2022? Although Samsung has already shown The Wall (a 146-inch TV) from my point of view it takes at least another two years to see one in the living room.
As mentioned, in addition to the price, it is difficult to install a cooling solution in small and thin TVs, a problem that does not exist in a larger TV or that is intended to display commercial information. These will be the first destinations of the MicroLED TV.
So which TV should I buy?
As always, the decision depends on the budget we have available and how we use the television. For watching conventional television makes no sense to invest in it, but if you are fond of high-quality movies and series or have a group of friends you want to play with in maximum detail, the differences between one technology and another are important.
If your budget is less than 1.500 euros, my recommendation is to opt for one Latest generation LED or QLED TV. In this price range, HDR shouldn't be a fundamental variable, but if it has it much better. As far as 4K is concerned, it will be hard to find a model over 50 inches that is only 1080 so there is no question.
You can find some OLED deals around this price point but, in my opinion, it's much better invest in the best LEDs or QLEDs you can afford instead of a low-end OLED. From my point of view, the Samsung QE55Q6FN or SonyKD-55XF9005 are two very interesting options.
Sover 1.500 euros there are not many doubts: OLED is the present and is unrivaled in both the mid and high range in terms of image quality. My two recommendations here are the Sony KD55A1BAE P e l'LG 55 "55E7N, but the offer is very wide.
Further Reading:
What exactly is Samsung's MicroLED technology (and how it affects your new TV)
OLED TV: what you need to know
Differenze TV LED: Edge LED vs Direct LED vs Full Array
OLED or QLED: What is the best screen technology for 4K Smart TVs?
What is a 4K TV?