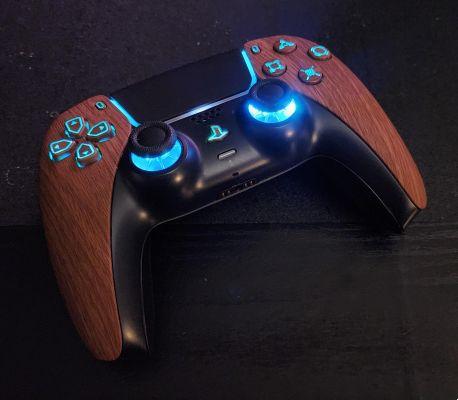 Someone has customized your PS5 DualSense controller by coating it with wood. The love for a console is not limited simply to its playful possibilities, but also to the design that distinguishes it from all the rest. Thus customization becomes almost an identity motif in which to recognize oneself, even reaching the most free and "do-it-yourself" experimentation.
I customized my default white controller from playstation
You got it right: a fan of PS5, such u/FrigidReaper, decided to dress up their controller using the wood. His work was then shown to the general public through a Reddit post, accompanying everything with a detailed description of the additions and the work implemented in the modification phase: "I love the customization options with the PS5 and the various accessories. I bought the controller as soon as the console came out. It was originally the default classic white controller. I added a new shell, a new touchpad and also a rubberized rear shell. Also I put in new wood grain buttons along with an LED kit. I think the result is surprising."
Not only, therefore, an aesthetically end in itself customization, but a reasoning background related to the continued and future use of this PS5 controller. The rubber and wood finishes have been inserted, in fact, also thinking about the comfort of those who are playing. In response to the curious who asked for a few more details about these changes in the comments, u/FrigidReaper said he based himself on the various tutorials he found online, following them step by step.
Staying on the subject of PS5 and accessories, if you are looking for the perfect gift, in this sense, to make at Christmas, we refer you to our latest guide entirely dedicated to the subject.
Before saying goodbye, we also recommend that you visit our YouTube channel, where you can find videos dedicated to the gaming world at 360 degrees.