What are the best headsets for PS4? From the simple sound effects that we still remember with great nostalgia today, the audio component has made enormous strides forward in recent years, with increasingly precise sounds and incessantly more refined and gigantic soundtracks. Especially horror titles and competitive shooters benefited from this, since they also fully exploit the spatiality of sounds, the so-called "surround system." Stealth games are no less, as are the most important story-driven titles. No more talk, let's start immediately with our advice, not before suggesting that you also take a look at the best offers for Nintendo Switch and Xbox!
The best headphones for PS4
HyperX Cloud 2
3D Pulse
JBL Quantum 100
Cuffie Gold a tema The Last of Us Parte 2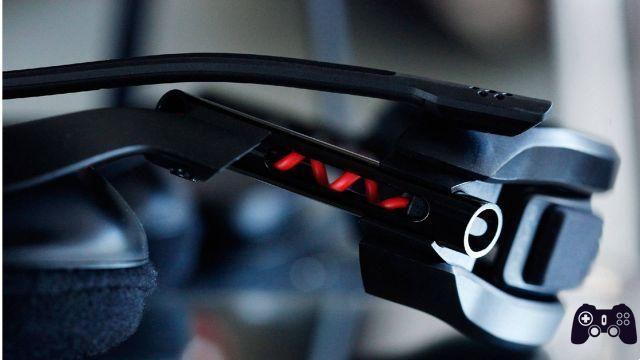 The best wired headphones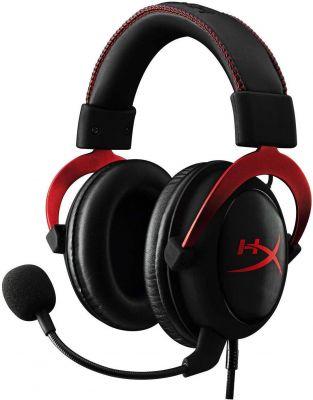 Headphones Hyperx Cloud 2 they are a practically perfect choice for those who are not afraid of simple cables to have around during gaming sessions. Built with materials capable of not weighing down the two pavilions and the headband too much, this device is not only very comfortable for those without glasses, but even those who wear them will not feel any discomfort, unless they keep it on their heads for excessively long periods. prolonged.
There are basically two methods of use: jack cable to be connected to the dualshock 4, or USB cable to be attached to one of the many ports on PlayStation 4. There will be differences depending on the type of connection chosen, considering that from the moment you connect the device via USB, you will also use the remote control, which is useful for adjusting the volume of the audio or microphone. Also from this small remote control you can also activate 7.1, which however does not always work properly, since often and willingly some titles - especially the exclusive PlayStation – they will ask directly about the proprietary devices of Sony. However, this is a bearable renunciation, because in the vast majority of games the audio is well directed and of good quality. In case you are a fan of multiplayer, know that these headphones are also equipped with a microphone, the quality of which is not impeccable, but in any case satisfactory for communicating with friends during games.
All this you will take home by spending approx 100 €, a not excessive expense especially considering many other overpriced models due to the brand.
See on Amazon
See on eBay
The best wireless headphones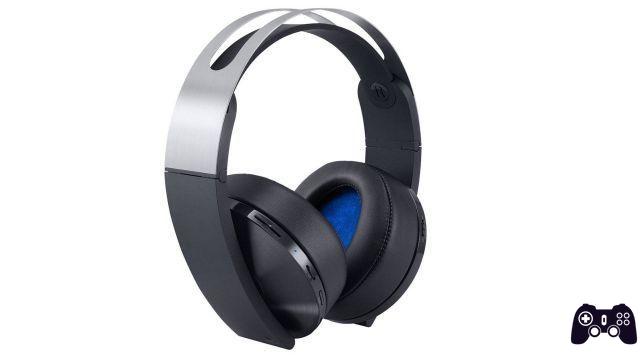 Purchase proprietary devices Sony it's a great choice. In fact, you will have access to preset audio presets that will significantly improve the quality of the sounds in some titles, as well as profiles that are well suited to any genre of game. You will find all this within the very convenient "headphone application" on PlayStation Store, characterized among other things by a very small download size.
As for the build quality, the product stands at excellent levels and the size of the pavilions is large enough. Connectivity is instead managed with a bluetooth key to be connected to one of the USB ports of yours PlayStation 4, a receiver that will allow you to use them wirelessly, allowing you to move around the room even during use, provided you don't overdo the distance, otherwise the headphones will be disconnected. As for the price, at the time quite prohibitive, today it is around 140 €, certainly a considerable figure but well repaid by the quality offered by the device. Furthermore, although the brand suggests an exclusive use on the platforms Sony, can actually be used on devices as well mobile devices and PC.
Although not directly designed for PlayStation 4, you could also consider buying the new 3D Pulse, specially designed for PlayStation 5. Also because, unfortunately, the original PS4 Wireless Headphones are now struggling to be bought.
See on Amazon
See on eBay
The best headphones at a low price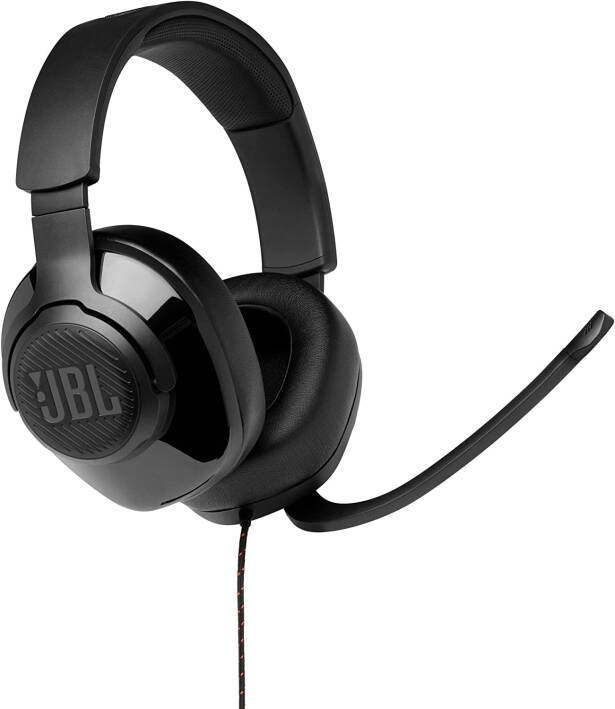 Sound quality is essential to fully appreciate a video game, therefore having excellent quality headphones is important. If you really have no intention of shelling out over 100 euros, the JBL Quantum 100 model is for you. Let me be clear, don't expect impeccable build quality or sublime depth of sound, everything is average.
To connect headphones to your PlayStation 4, just attach the jack cable to the controller; to adjust the audio and the microphone, however, there are special buttons located next to the pavilions, including the key to completely mute the microphone.
The product is sold for around 30 euros, often even less, so take a look at the reference links.
See on Amazon
See on eBay
The best collectible headphones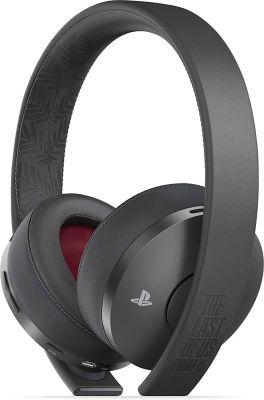 Now arrived last year, The Last of Us Part 2, in addition to the numerous acclaim from critics, has received various themed accessories: from headphones, through the screen-printed console, up to an external HDD.
The headphones in question, a simply branded version of the excellent Gold released by Sony a couple of years ago, perform very well on PlayStation 4 and, as for the Platinums mentioned above, they allow you to access a support application capable of enhancing the audio of the games thanks to presets developed directly by the developers. Then we have an integrated microphone, the possibility of adjusting the audio of the chat and activating the virtual surround.
In short, for PlayStation 4 users and fans of the Naughty Dog game, it's really a crazy headset.
See on Amazon
See on eBay
Headphones for PS4, everything you need to know
Almost like a good controller, headphones are now an indispensable device for a good gaming experience: They allow us to be more competitive in shooters and immerse us more in great stories. However, choosing the right device, in this case the best headphones for PS4, is not easy at all due to the many elements to pay attention to. Therefore, in the following paragraphs we will give you a general smattering on headphones and on the elements to pay more attention to. Audiophiles listening, let's get started!
Compatibility
An important element to which it is right to give weight is compatibility. Regardless of which version of PS4 you own, therefore Standard, Slim or Pro, incompatibility issues may arise with wireless devices. In fact, if there should be no problems of any kind as regards wired headphones, equipped with the common 3,5 jack, it is with the wireless connection that you may have some headaches. Our advice, from this point of view, is to buy headphones specially licensed for the Sony console, whether first or third party; if you do not find such a label in the package, in order to avoid compatibility problems it is better not to take the risk.
Connection type
Playing on one of the three PS4 models available on the market, the types of connection for headphones are varied: directly to the controller via the 3,5 jack and via the console's USB port, both in the case of wireless headphones equipped with a dongle and in the case of headphones with a USB cable. But what are the differences? Different. In the first two cases, therefore with cable and jack, you will have a solid connection, with audio without any interruptions due to errors in the bluetooth connection. The only flaw, the cable, which some of you may find quite annoying to have around. As for the wireless connection, however, unless you exaggerate with the distances or have a bad receiver (the dongle), there should be no problems of any kind; indeed, not having cables around is extraordinary, which is why so many choose and continue to choose completely wireless headphones.
Battery
As for wireless devices, then without cables, battery life plays a decidedly important role, especially if the buyer is an inveterate gamer and not an occasional one. The products we have selected for you, namely Platinum 7.1, 3D Pulse and Gold themed The Last of Us Part 2, are three excellent choices which also abound in terms of battery life, which is around 8 hours of use. Let me be clear: it is necessary to get used to it and enter into a continuous routine that provides for the daily – or almost – daily recharge of the headphones; obviously everything depends on the actual hours of use.
Audio Quality
The market invents names after names and it is therefore easy to get confused if trends and new releases are not adequately followed. The most passionate gamers dedicated to competition know it well: today, having a good gaming headset is very important, which is why the choice often falls on models capable of reproducing good spatiality of sounds, sometimes even 3D. In this way, unlike the common and now past headphones with 2.0 stereo audio, rather than perceiving only the sounds coming from the left and right, other directions are also added, achieving a 360-degree sound envelopment.
But before that, it is important to make sure that the device has at least audio drivers with a diameter of 40mm or greater, so as to properly separate the different frequencies, highs, mids and lows. There are also other indispensable technologies, but not all of them are supported by the PS4. For example, however exceptional, Dolby Atmos is not supported by the Sony console, so it is useless to have headphones equipped with this technology. On PS4, if you want good sound spatiality, pay attention to Dolby and DTS technologies, or to full 3D headphones such as the Pulse released for PS5 but which also work on PS4.
Microphone
You will already know this if you usually play online: during competitive matches, communicating with teammates is essential, especially in games where you have to team up with a small group of players. For these reasons, you absolutely need a headset with a microphone. There are different types, integrated or external, for example. The advantages or disadvantages are easy to understand: an external microphone attached to a rod that you can move closer or further away as you like can be very useful and can give your voice a clean and crystalline sound. The integrated microphones, on the other hand, often suffer, giving life to a sound of your voice that is not exactly crystalline and clean, especially in medium-low range headphones. In fact, on high-level headsets, even on the very popular Pulse 3D, your voice is already cleaner and clearer. Finally, the presence of a key to mute and turn on the microphone instantly is important, considering that PS4, unlike PS5, does not have any key on the controller to mute or turn on the microphone instantly.
Soundproofing
It's fine to put on headphones and start playing, but to fully immerse yourself in the games it is essential to completely eliminate external noises, in short, the real ones. How to do? Simple: you have to meticulously check the shape of the pavilions; in particular it is important to buy headphones that have earcups characterized by a closed dynamic design, i.e. devoid of any hole that allows external sounds to enter. Finally, the model must be over ear, i.e. capable of completely enveloping your ears.
Ergonomics and build quality
Especially those who find themselves forced to wear eyeglasses must be very careful when choosing a gaming headset. Obviously the cases vary greatly since everything is also due to the type of frame and shape of the skull. However, there are some details to pay attention to in order to avoid making mistakes. First of all, the shape of the pavilion is preferable to be oval, not in the shape of a circle, and that the upper arch is well covered and does not cause headaches. The quality of the cable is also very important, if your headphones are not wireless, so pay close attention to this small detail as well.
Price
Unless you are competitive gamers at a competitive level, all the headphones we have selected, budget and preferences aside, are just fine. Spending too much is in fact unnecessary, e our advice is to focus on the popular Pulse 3D headphones, which we replaced the original Platinum 7.1 releases on PlayStation 4, now difficult to find at standard prices. With this model, you will have everything you need to enjoy an excellent experience on PlayStation, from 3D audio, integrated microphone with noise cancellation to many useful and easily accessible buttons and functions. All this for a total of €100, which often becomes €70 or €80 depending on the discounts. Alternatively, if you are looking for a low-budget model, it is possible to spend even less than €40. In this case we recommend the Trust Gaming GXT 488 model.