What are the best PS4 and Xbox One external hard drives? Have you run out of space on your hard drives or do you want to better prepare yourself for the next generation that is coming? Don't know where to install new games anymore? No problem, we've probably all been there. Both PlayStation 4 and Xbox One, especially in their first 500GB versions, are able to host a very small amount of games due to the fact that the most recent ones even occupy over 100GB just for installation, excluding patches. Fortunately, there are several ways to extend or even replace the console disk: the most common and simple method to implement is to buy one of the PS4 and Xbox One external hard drives to simply attach to one of the USB ports of your console. But which one to buy? How much to spend? Let's take a look at some of the best external hard drives ps4 and xbox one, taking into consideration both the price and the quality.
If you want to equip your PS5 with more space, also take a look at our guide to the best external HDs for PS5 or the best internal SSDs.
PS4 and Xbox One external hard drives, the best
Seagate Game Drive, the best
WD_BLACK D10, the largest
Toshiba HDTB310EK3AA Canvio Basic, the cheapest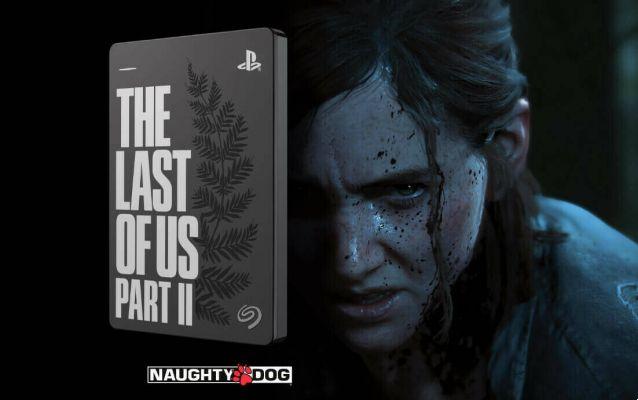 Seagate Game Drive, the best for Ps4 and Xbox One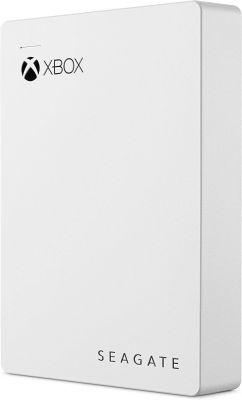 Calculating an average size of over 50GB per game, with this model developed by Seagate you can install more than 70 software (with the 4TB version) on your systems Xbox One o Ps4, spending approx 150 € and taking up very little space on your console.
As we said at the beginning, the external hard drive connects directly to one of the console's USB ports, asking you to format it. Remember that it is in fact possible to assign it to only one system at a time; if you suddenly decide to use it on another platform, you will have to reformat it first.
As far as the aesthetics are concerned, we are dealing with a very elegant and light product, with different colors and customizations that make it perfect for each console. Even the performances are not far behind, in certain games the loading times will be speeded up a bit, but keep in mind that this is a purchase to be made above all to extend the memory of your console: if your intent is exclusively to to speed up uploads, you'd better choose an SSD to be mounted internally.
See on Amazon

That for PS4 instead it is always available in several sizes and in various branded versions.
See on Amazon
See on eBay

WD_BLACK D10, the largest for PS4 and Xbox One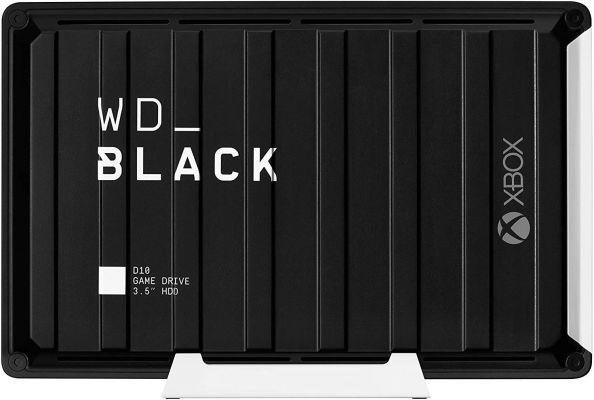 Here is also a decidedly premium model dedicated to gamers consul e PC very demanding, who are not afraid of the price and are looking for a high transfer speed, which in this case reaches up to 250 MB / s a RPM 7200. We are referring to the model Western Digital WD, external unit compatible with all platforms and available in numerous sizes, come on 500 GB of storage up to 12 TB.
The only drawback that some players may find concerns the massive and imposing design of this HDD, which may not fully convince. Although the materials are of excellent workmanship, in fact, the space it occupies is important and should not be underestimated. However, the dimensions are justified by its capabilities: guarantees high level performance both on console and PC, as well as a active cooling system to maintain optimal thermal conditions and reduce the risks related to possible failures due to an excessive increase in temperatures. Thanks to the enormous amount of space available to you, you can also consider the idea of ​​saving numerous clips and screenshots captured directly by pressing the appropriate keys on the console. Another feature not to be forgotten is the presence of two charging ports USB Type-A da 7,5 W, very useful for charging devices such as the controller or your wireless headphones.
As for the price, know that it is very variable and depends exclusively on your needs. Given the minimal difference between the various editions, we suggest considering the bands ranging from 5 TB to 12 TB. Keep in mind that external HDDs can be emptied at any time, so you may already find more than enough i 149 € required for the 5TB size. Furthermore, if you are a passionate Xbox gamer, there is even a completely branded model, excellent to complement yours Xbox One S o Xbox One X.
See on Amazon

TOSHIBA HDTB410EK3AA, the cheapest for Ps4 and Xbox One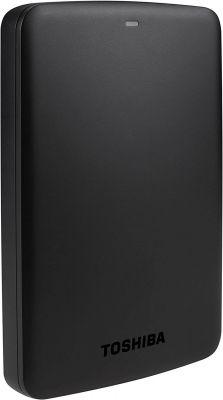 Dedicated to decidedly less demanding users in terms of space, this one External HDD developed by Toshiba it is among the best for value for money. It is no coincidence that the transfer speed is not low, thanks to the use of technology SuperSpeed ​​USB 3.0 you will be able to quickly transfer your games installed on the internal drive. If you want to use it on slightly outdated devices, know that it is also compatible with USB 2.0 technology, so you can really use it anywhere. It is a super cheap proposal that allows you to take two home with you a TB of space for only 35 euros!
See on Amazon
See on eBay
How to choose an external hard drive for PS4 and Xbox One?
First you need to understand what kind of gamer you are. If you are one of those gamers who download only one game at a time and then delete it once it's finished then you practically don't need it and the same goes if you are a gamer who buys almost everything in physical version. But given the advent of digital gaming services that really offer an avalanche of games at a super attractive price (who said Game Pass?), perhaps having an external HD isn't such a bad choice. However, there are some features to keep in mind when purchasing these products.
Memory capacity
If you don't need too much extra memory, you can easily save money and get yourself a couple of TB HDs, but if we can give you some advice, for a hundred euros you can take home a comfortable, compact and fast hard disk with 5 TB of space and that allows you to install something like over 70 pieces of software (calculating an average of around 40-50GB per game). A crazy storage space that will finally free the memory of the console weighed down by an entire generation of games.
Brand reliability
In this guide we have offered you only the best of external hard drives for consoles. There are so many on the market, some at even more affordable prices as you can see in the "Other external hard drives" section located just above. But why choose these over those? Well it's easy to say, it's about reliability. In gaming as in work, digital archiving has become an important prerogative. Our files, our many hours of play, our software, must be able to be secured and archived in a place that functions as a real digital library. Brand come Seagate, Toshiba e Western Digital they offer a truly unparalleled archiving service, with compact products capable of guaranteeing an efficiency that other brands struggle to achieve. So take a look at the proposals of others, there are many very valid and others a little less valid, but if you want the highest quality, trust the products you find in this guide.
Speed
Another important factor to consider when buying an external hard drive is speed. Today gaming has become ultra-fast and virtually load-free, waiting longer than necessary to transfer your games to a hard drive is not recommended. Therefore, always choose products with USB 3.0 which guarantee maximum data transmission speed and, if you are still not satisfied, then it is precisely the case to abandon external HDs and switch to the much more performing external SSDs for consoles.
Advised price
Let's say that external hard drives are products whose price varies a lot according to the market. That said, however, the average price to take home a one TB HD is around between the 60 and the 80 euro, depending on the brand of the product in question. You pay for the quality of a Seagate, but the Toshibas aren't bad either and if you're satisfied, just over 30 euros will be enough to have the same space and a little less speed. If, on the other hand, you want to get closer to 4 TB, the average price is usually around 130 euros.