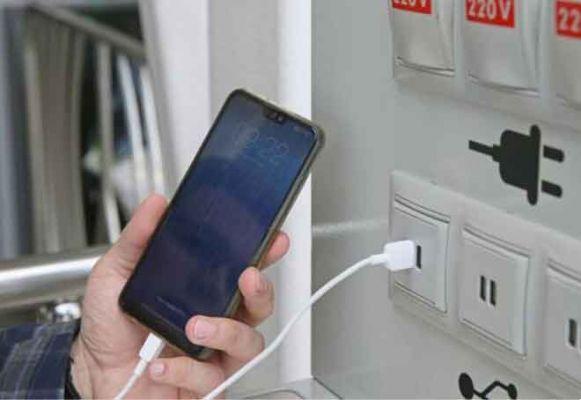 In this article, you will find a list of tips to protect your phone from public USB charging stations. The first piece of advice we can give you is to avoid charging your phone using USB charging stations in public places and always use electrical outlets. The seemingly harmless behavior of these USB charging stations can put our privacy at risk.
If you want to protect the data on your phone, do not recharge your smartphone from public USB charging stations unless it is strictly necessary, if you have very little battery, you will have to use precautions that will allow you to secure your smartphone and the data contained within it. you find below.
How to protect your phone from public USB charging stations
We now have public USB charging stations at malls, hotels, markets and airports. If your phone or any other device has a low battery, you just need to plug in the charging cable to connect that USB socket and recharge. But this could be risky. In this article, I will tell you how these USB public charging stations can be harmful and how to use them safely.
The USB port is not only used for charging but also for data transfer. Therefore, you can use a malicious public USB charging station, to install malware on your device and access sensitive phone data.
Attacks using an infected USB port are not new. We are in 2020 and the first demonstration was given at the Black Hat security conference in 2013. In 2016, a researcher demonstrated how a malicious USB wall charger could record and mirror the screen of the connected device for charging.
Hence, there are several ways to exploit public USB charging stations for malicious purposes. This attack is known as Juice Jacking.
USB wall chargers that can be plugged in public places may be available for free charging, but it may be a malicious charger for loading malware onto devices.
It's also worth noting that the latest versions of Android or iOS now have pop-ups in the UI that indicate whether the USB port is attempting to transfer data. So, this isn't a big security threat now. However, you should know about this attack and how to secure your devices.
How to protect your phone from harmful public USB charging stations?
There are a few methods you can take to be safe.
Use USB Defender
USB Defender (also known as a USB condom) is the small device that protects your data. You just have to connect the USB cable to the USB defender and then connect the defender to the USB ports.
USB Defender blocks the data pins of the USB port, so data cannot flow. Hence it blocks unwanted data transfer. If you use this device while using public USB charging points, malicious USB ports will not be able to access any type of device data. Then, your device will charge securely and you will have complete peace of mind.
Defender USB or USB Condom or Data Blocker is a budget device. So, you can also buy it. In case you travel a lot and need to use a public USB charging station, you can use USB Defender to protect your data. I personally prefer to use a power bank because I know it's safe and I don't need to find charging points. And I can charge my phone whenever I want.
Further Reading:
App to find the electric charging stations
How to find the nearest gas station to your location with Google Maps
How to change the voice of Google Maps
My phone does not have an FM radio - best apps to listen to the radio on your phone
How to add wireless charging to any phone [Solved]