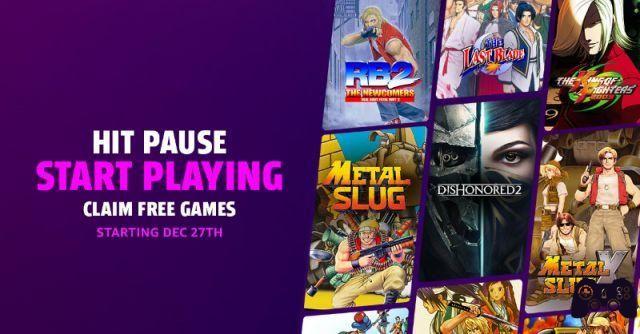 Free game hunters will be happy to hear that the Prime Gaming subscription service has one in store avalanche of new titles to redeem. As per tradition, the Amazon service continues to offer a series of very interesting games month after month. Arrived in the month of December, here are the new free titles that will be redeemable by Prime Gaming subscribers to enjoy the Christmas holidays in an even more playful way.
The free games offered by the Prime Gaming service in December have already been made available, but as a nice gift to subscribers, an avalanche of other titles will arrive at the end of the month, all to be redeemed and played. The announcement came a few hours ago, with Prime Gaming unveiling the line-up of titles to come give yourself as a gift from December 27th until next January 3rd 2023. Once again we are talking about many titles of very different genres and types.
There will be ten free games that will be made available to Prime Gaming subscribers during the Christmas period, and they range from different videogame generations. It goes from the highly appreciated Dishonored 2, stealth title that offers great freedom of action to players, up to a series of great SNK classics that have made the history of arcades, and not only, such as: three chapters of Metal Slug, Real Bout and many others.
The holidays can be stressful, but we'll help you relax!
From December 27th – January 3rd, #PauseandPlay with some sweet new games & in-game goodies. Read more in our blog
— Prime Gaming (@primegaming) December 12, 2022
Let us now see in detail what they are ten free experiences which will be given away by Prime Gaming from December 27th to January 3rd 2023:
Dishonored 2
Metal Slug
Metal Slug X
Metal Slug 3
Real Bout Fatal Fury
The King of Fighters 2003
The Last Blade
The Last Blade 2
Twinkle Star Sprites
SNK 40th Anniversary Collection
Before saying goodbye, we advise you to also visit our YouTube channel, where you can find videos dedicated to the gaming world at 360 degrees.