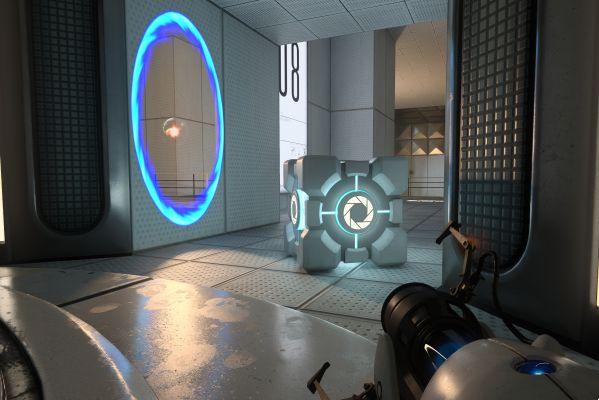 A few months ago Nvidia announced a new free update for the beloved first Portal. The title developed by Valve soon became a real video game cult thanks to a series of iconic situations. Now, several years after the original launch of the first chapter of the series, Nvidia is about to launch a new update that modernizes the whole graphic and visual aspect, and this free update finally has a release date.
Nvidia itself announced all the latest news on the Portal RTX update, with the US company having published a new press release to update us. Within the post that appeared a few moments ago on the official website, we discover that this free update will be made available on Steam starting next 8th December. We're almost there, then, but Nvidia wanted to point out that from now on Steam players will already be able to add this update to their Wish List.
Thanks to this new update, which will be free for everyone, the classic from Valve dated 2007 has been reinvented in its technical side using the cutting edge technology that we have available today. Thanks to Ray Tracing we will enjoy even more real environments and with unparalleled lighting, shades and shadows. The textures have also been revised together with the models present in the game, which will now react realistically to all reflections thanks to the previously mentioned Ray Tracing.
But it doesn't stop only on the visual side, and performance has also improved significantly compared to the past. Thanks to technology DLSS-3, in fact, it will be possible to play Portal with a much higher framerate than the solid 6o FPS while also keeping Ray Tracing active.
Before saying goodbye, we advise you to visit our YouTube channel, where you can find videos dedicated to the gaming world at 360 degrees.