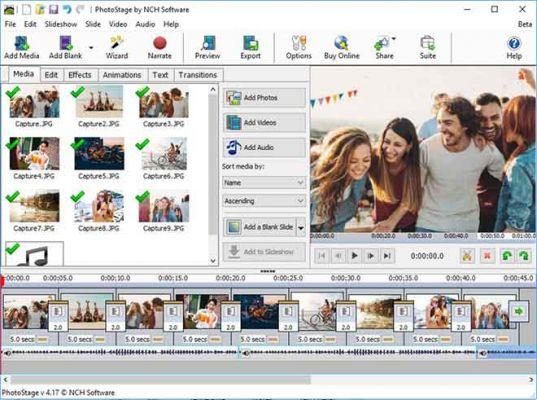 I decided to tell you about what many consider to be one of the best value for money solutions: PhotoStage Slideshow. When you come back from a trip or take stock of a whole year of photos, you usually think you can incorporate them into an attractive and dynamic photo slideshow that you can give to anyone who comes home.
Well, to that end I scoured the market looking for the best photo slideshow maker and I decided to tell you about what many consider to be one of the best value for money: PhotoStage Slideshow. Do you want to see how it works and what this photo slideshow program offers you?
What applications and criteria have I considered?
Perhaps, like me, you are already using a photo slideshow program such as Picasa, XnView, MemoriesOnWeb or PhotoLapse. Or you had opted for PhotoStory, which practically all of us have tried on occasion.
Or, perhaps, alternatives offered by other photo slideshow programs not specially designed for that purpose, as Lightroom itself does through its projection module.
However, what I intended to do with this research was something more. More capacity, more control, more rotation and better results. And that's why I had to open up the range and consider specific photo slideshow programs for this purpose, regardless of whether they were paid.
The result? I chose PhotoStage Slideshow, compared to other photo slideshow creators in the industry like PhotoStory Deluxe or ProShow Gold. Applications that surely sound familiar to you if, like me, you've ever delved into this topic.
This is the best option for those who want something more when preparing our photo presentations, but he doesn't want a lot of options and difficult management, nor does he have to pledge the house to buy the slideshow program.
Let's take a look at PhotoStage Slideshow
The first thing I have to tell you is that even though the screenshots are in English, this program is available entirely in Spanish! Furthermore, it can be said that it is an incredibly simple and intuitive application, as you will see below.
From the moment you open the application, you notice a certain sobriety, but also a clear organization of the points that you will have to face to create photo slideshows:
Add photos, videos and music
Add effects
Add transitions
Record and add a voice narration
Save and generate your presentation
To create your presentation, you will only have to follow the different points of the interface. Do you have doubts about any of them? Quiet, let's see an example where we will follow each of the points, ok?
1. Select the photos and audio you want to include
The first step is to select the photos and possible audio tracks you want to include in your slideshow. To do this, select the option "1) Add photos, video clips and music" and click the "Add photos and multimedia files" button.
Then mark the files you want to include and click to add, you will see the media list section is loaded with the selected files. As you can see in the image above.
Finally, to actually add the photos and songs to the slideshow, you will have to select and drag them in the image sequence or the audio sequence, depending on whether it is the image or audio you want to add.
As an alternative to dragging photos, you can also, once the files have been selected, click on the "Add to exhibition" button. The presentation is taking shape, right?
2. Apply concrete effects to each of the photographs
There may be some photos where you want to add text, apply a zoom effect, show it with a sepia filter, superimpose another image… This is the second step. This way you can select those images on which you want to apply a certain effect (or more) and apply it to them.
To do this, as you can see in the image, select the clip, select the option "2) Add effects" and then apply all the effects you want on it. You will be able to see, edit and delete the effects applied to a certain image in the "Applied Effects" section.
In addition, you can preview the result in the right section of the program and decide if you like it or need to continue working on the photograph.
3. Work on transitions between clips
As you know, in any presentation, the way you switch from one image to another is called transition.
PhotoStage, by default, applies the same transition to all photos, but if you want to vary any of these transitions you need to follow these steps: select the photo whose transition you want to change, click on the option "3) Add transitions", select the transition you want to apply, choose its duration and, finally, click "Apply".
After the transition has been edited, you can see on the clip "reel" that the transition image has changed e the selected transition time is also displayed under it.
4. Add narratives
If you want your slideshow to already include a narration describing each of the photographs, and you don't even have to talk when showing it to your friends, this is the option you should choose.
The application will allow you to record the clip and, when the recording is finished, insert it in the place of the presentation you want. Extremely simple and very useful, as I said, if you want the presentation of photos to be completely autonomous.
5. Record your presentation in the format you need
If you followed the previous 4 steps, you would already be able to generate the presentation in the format you want. This is what the 5th step is for.
However, my advice is to preview the presentation first to make sure you agree with the result ( "Preview" ), then save the project via the option "Save".
Once this is done, you can choose from output options (CD / DVD, Computer file, portable device like iPod, Image sequence, Youtube, Flash, etc.), Define the output format, resolution and finally the number of frames per second.
Once you have chosen this, it will be enough press "Save presentation" and wait for the presentation to be generated. Ah! and go make popcorn to enjoy the "movie" 🙂
Try it! And if you like it, buy it!
If you find it interesting and want to try it, it's very simple. You just have to go to the PhotoStage Presentation page and get the evaluation version (which is a fully functional version).
And, if after doing the tests you think it's appropriate you think it's worth it, buy it for $ 29,90 ( approximately EUR 22, at the current exchange rate). After a couple of days of testing, I ended up buying it and for now I'm more than satisfied.
Do you have the courage? Do you prefer another application for this purpose? What's your advice for anyone who doesn't know which presentation software to choose? You know, we want to hear what you think!
Of course, there is no excuse for not preparing a photo slideshow as God intended with Photostage Slideshow.
Further Reading:
Discover PhotoScape to create photo collages
How to insert GIFs in Google Slides
How to crop photos on iPhone
The 30 best programs to edit photos
How to merge PowerPoint files into a single file