For some years now, the indie market has devoted itself to titles that are sometimes too similar to each other (and therefore repetitive), but, in some circumstances, it has given life to small masterpieces that the gamer becomes attached to after a few minutes of game. Owlboy becomes part of the second category by right, a 2D "hi-bit" title created by the independent studio D-Pad Studio, made up of just five developers from Canada, the USA and Norway who love platformers and in particular the great classics like Super Mario, which inspired them in this long work, which began between 8 and 10 years ago, and the trailer released shortly before the game's release shows perfectly what the gamer will find in front of him. So we just have to find out what it is, but above all who Owlboy is.
Version tested: PC
Minimum system requirements:
Operating system: Windows 7/8/10 / Vista
Processor: Dual Core
Memory: 1 GB of RAM
Video Card: Pixelshader 3.0 (Directx 10)
Memory: 600 MB of available space
Additional Notes: Requires the installation of Windows Media Player
System used:
Operating system: Windows 7
Processor: Dual Core
Memory: 4 GB of RAM
Video card: ATI Mobility Radeon HD 5470
Windows Media Player Installation: Yes
"He is intelligent, but he does not commit himself"
it will get stronger and stronger
Within what can be considered to all intents and purposes as an open world, players will move a small and dumb boy-owl called Otus, to whom we will soon become attached. In fact, the Owlboy seems to be laughed at by everyone for his ineptitude, and his grimaces of sadness enter our hearts after a few minutes: it is up to us to ensure that Otus takes his revenge against those who do not believe in him. From the very first moments of the game, we also perceive something wrong with him: his grades at the "school of owls" are not good, and even in practice he does not excel. Gamers will find out immediately, in a tutorial game phase in which they will not be able to complete the orders that our teacher will give us. And it is from the latter that we will receive the harshest criticisms, after having given up in the face of Otus' continuous failures. Fortunately, however, the owl boy has a friend who will defend him from those who continue to make fun of him: Geddy, who with his sympathy, will bring some joy to the game. Thanks to him and to other characters that we will meet during the approximately 10 hours of play, Otus will become stronger and stronger, constantly taking confidence in his own means, despite the teacher mentioned above and other not very nice jokers will try to bring his self-esteem to minimum levels.

An atmosphere of magnificence
The plot of the title is very simple and intuitive. If all initial attention is given to Otus and his muteness problem, we soon discover that a group of space pirates attack Advent (the place where the owl boy lives) with the help of a local Spider, and they threaten to take over the world in a short time, having found all the relics of the Ancient Owls, which are found in places that generate an atmosphere of Mayan-like magnificence and authority in Mexico. It will be Otus and his friends who will have to fight against these pirates and be able to avoid a tragic end for the whole world.
We learn to owl
After the first and very simple minutes of the game, in which we will learn how to use the commands and skills of Otus, we will enter a magnificent world accompanied by a themed soundtrack for each place Otus will go. The first moments of the game also allow us to understand that in order to proceed, our protagonist absolutely needs the help of his friends, and if at the beginning we will have to and will be able to transport only Geddy, who with his laser gun will be able to shoot and hit the enemies, as the story progresses, there will be other little heroes with their unique and inimitable characteristics and personalities, they will help us face dangers that the lonely and poor Otus would never be able to overcome on his own strength. But we must not think that our protagonist is the inept who fails the lessons at the beginning of the game: Otus always learns new skills along the way, in addition to being able to buy, thanks to the coins scattered around the various worlds, new objects that will increase its statistics (especially its health, perennially threatened by the many enemies and hidden dangers). If at first Otus could only jump, walk and fly, from a certain point he manages to perform a series of movements that were initially precluded, such as running and being faster in flight.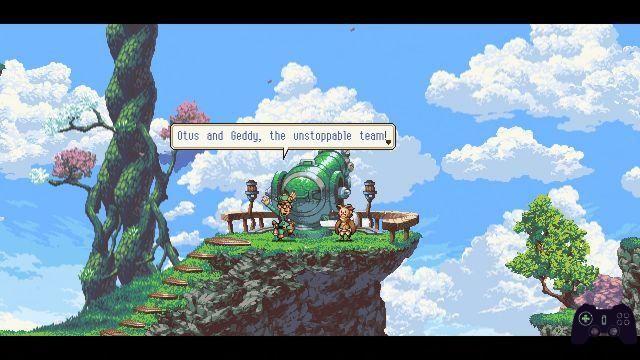 Variety and Quality
However, the plot and the character of Otus are not the only strong points of this title, which makes use of a series of components that make it that little masterpiece we were talking about in the incipit of this review. If we were to describe this title with only one noun, the right word to use would be "variety". Despite a secondary mode that does not exist if you do not take into consideration the idea of ​​wanting to collect all the coins and spend them on more or less useful items in the only shop in the game, the main one is full of different things to do, in addition to having to face it with two different approaches; because if it is true that some missions must be completed with great attention to every detail that we find inside the place where Otus travels (especially in the caves), on the other hand there are some circumstances in which we will have to arm ourselves with speed and be quick to press the buttons on the controller. Variety also includes enemies to face: each race must be defeated in a different way; because sometimes we will have to hide among the flower beds or behind some objects and run when they turn our backs on us, in other circumstances we will have to be careful to use the right companion, as only and only he, his skill or his weapon, can help us; without forgetting one of Otus' abilities, which allows him to rotate on himself and momentarily stun the enemy on duty. And how not to mention the bosses, who with their strength will perhaps be the only real complicated challenge to face?
The variety is also found in a magnificent soundtrack, composed by the musician Jonathan Geer and which includes 67 different reasons for a total of 94 minutes of listening, a poem made into music that we hardly find in other indie titles; without forgetting that many of these are leitmotifs that we will find in the clashes with the various bosses - with the alternation of going and slow times. In short, the variety is king also in this case. Soundtrack which is already on sale on the official website of the game.
The out of tune notes
No, we're not talking about the game's soundtrack yet, but about some very small issues encountered within Owlboy. One of these concerns some bugs scattered here and there in the game (especially within the Owl Temple, which has been quite discussed on the web). The other discordant note concerns the background colors of the caves: in fact, in the clash with some bosses, Otus almost blends in with the environment behind him and for this reason it can happen to lose sight of him, which sometimes causes our defeat. . The real problem, however, concerns the absence of the Spanish language: the game, which has no voices but only dialogues, has so far been published in English only, what can cause some difficulties when the cartoons jump automatically, which is why, players may need to know at least the basics. These are perhaps the only problems that prevent the title from obtaining a judgment that would border on perfection.
Verdict 9/10 Let's go to Gufare Comment Owlboy is a fascinating interior and exterior journey, in which we will have to help little Otus and the whole community to grow and defend against the abuses of merciless enemies. The title has very few problems, if not some small bugs that occur from time to time after losing a life (but D-Pad is already working to solve everything) or during the gameplay and the absence of the Spanish language (not essential however), and if the price of 22.99 € is usually high for an indie title, this is not the case, because Owlboy can easily remain within us gamers for a long time and is a candidate to be one of the best indies of 2016 after having already received the first prizes. Pros and cons
✓
A wide variety
✓
Magnificent soundtrack
✓
Totally empathic protagonist ...
x
... which sometimes blends into the background of the caves
x
Lack of the Spanish language
x
Small bugs scattered throughout the game