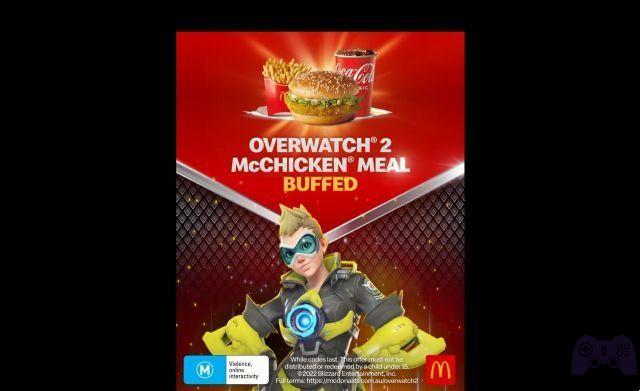 And it finally happened. The rumors about it were true, as was the intuition on the McDonald's Australia teaser. The famous fast food chain has really struck a deal with Blizzard regarding Overwatch 2. An agreement that not only gave away a skin for Tracer already present in the game (and therefore creating a collaboration that does not add anything new to the game ), but it is probably even the ugliest of those currently available for the character, at least according to the latest community opinions: we are talking about Lightning Tracer.
First things first: the collaboration between McDonald's and Blizzard is currently limited exclusively to the Australian market. In order to receive the Lightning Tracer skin within Overwatch 2 it is necessary to purchase a Big Mac menu, a McChicken menu or a 10-piece box of Chicken McNuggets in the menu version (with drink and chips). However, you don't have to go to the shop: every lunch of this kind must be ordered from the Australian app, called MyMacca.
The biggest problem, of course, isn't promotion: for some time video games have established relationships with realities that have almost nothing in common with the industry. The problem arises precisely from the fact that a skin has basically been recycled which is probably among the worst available for the character, and this relates to the community criticisms of the skins that can be obtained with the free version game pass, which are not exactly the best. In short, it seems that Blizzard and McDonald's are playing a little more on the classic "FOMO" (Fear of Missing Out, the fear of being cut off from social events or phenomena). Perfectly legitimate: nobody forces someone to have lunch at McDonald's.
The Overwatch 2 Meal has finally arrived at select McDonald's Restaurants in Australia
Download the @maccas app
⚡ Order to unlock Lightning Tracer (Epic) pic.twitter.com/GsxYwMKEEL
— Overwatch Cavalry (@OverwatchCaval) October 18, 2022
Overwatch 2 debuted in early October 2022, radically changing its distribution system and becoming a free-to-play which replaced the first chapter. With over 25 million active players, Blizzard Entertainment is discovering several bugs that it probably hadn't noticed in the testing phase: it's the flip side when a title can potentially welcome the whole world, especially given its spread across platforms. Keep following Tom's Hardware for all the news and upcoming announcements from the world of video games.