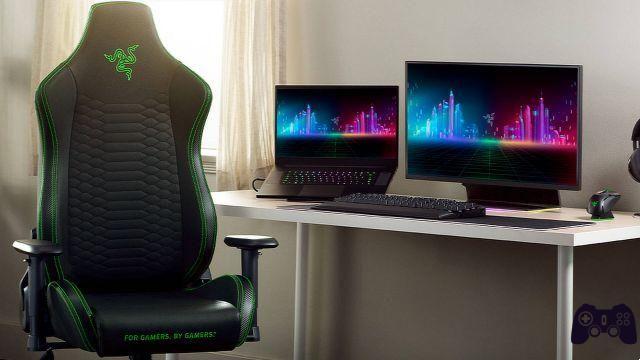 If you are looking for a great gaming chair, and you only want the best of the best to support your long gaming sessions, then you mustn't hesitate, and you must immediately rush to buy this splendid Razer-branded gaming chair, discounted today thanks to the splendid Prime Day 2022 offers!
This is an excellent opportunity because, as mentioned, we are not talking about a "common" product, but about one of the best chairs currently on the market, namely the extraordinary Razer Iskur, already among the protagonists of the summer edition of the Prime days, and now discounted again, after months, thanks to a 23% reduction on the price!
Thus, the price is reduced from the original €499,99 to a more affordable €382,85, which certainly remains a bargain not for everyone, but which makes absolutely sense when you consider the general quality of the product, which elevates this chair well above the market average, and not only in terms of price, but also in terms of comfort and durability.
In fact, Razer has created this chair not only with a truly remarkable, sober and elegant design, while remaining faithful to the corporate colors of black and green, but also aiming to top notch build quality, with artfully crafted finishes and great attention in the selection of materials.
The result is a comfortable, resistant chair, with a soft but stable and compact seat, capable of guaranteeing maximum comfort, precisely because designed for long gaming sessions of professional gaming, which requires the body to remain seated for many hours, often in positions of great tension.
Neither Dark, in that sense, will guarantee you maximum comfort, even after hours and hours of fun, letting the weight of the body be dutifully distributed over the entire seat, also offering the right support to the shoulders, back and neck, that is, the areas that are most easily affected by incorrect and prolonged sitting.
Made with a reinforced steel frame, resistant to shocks, and capable of support up to 136 kg of weight, the Razer Iskur is proposed, in fact, with a padded seat and backrest with high density foam, capable of supporting the body properly, also avoiding fatigue for the lumbar area and back.
Also read: Amazon's best October Prime Day deals
Having said that, we remind you that, as regards the offers of these Amazon Prime Days, to take advantage of the offers you will need to be registered with the Amazon Prime subscription service, without which you will not be able to access the excellent discounts on the portal! For this reason, we strongly suggest that you go to the registration page immediately, also considering that the first 30 days of service are completely free for all new customers!
In closing, we suggest that you do not delay any longer, and complete your purchase immediately by consulting the product page immediately, so that you can take advantage of this discount before the offer or availability runs out.
Furthermore, before completing your purchase, we strongly suggest that you also subscribe to our three Telegram channels dedicated to offers, with specific channels dedicated to: Offers, Hardware & Tech and Clothing and Sport. Happy shopping!
» View the offer on Amazon «
Follow us and always stay informed on the best offers!
Events » Amazon Prime Day | Black Friday
Offers and Discounts » All offers | Discount Codes
Telegram channels » General Offers | Hardware & Tech | Clothing and Sports
Buying guides » SOS Home & Garden