When an important anniversary occurs, and in this case that of the first Dishonored, I love abandoning myself to past memories, perhaps rehashing the past afternoon runs on it, imagining what choices I could have taken, perhaps making different and extremely unpredictable choices. It happened to me with Skyrim, which turned ten last year, and the same happened with Borderlands, of which I am a huge fan.
To be honest, when a video game has a birthday and it hits a round figure, I just can't help myself: I have to celebrate it; no matter how, why and with how many guests. I have to do it because that moment spent together helped me grow as a player and made me curious about our favorite hobby. With Dishonored, in fact, I immediately feel at ease, because I am a great fan of Arkane Studios video games, so much so that I consider Deathloop a unique product of its kind, difficult to approach for many e, at times, even visionary, despite its limitations.
The work certainly better structured, both in terms of story and gameplay, still remains Prey, published two years after the release of Dishonored 2, the continuation that improved the first chapter edited by Raphael Colantonio in every way. Furthermore, the massive stand-alone expansion in which we played Billie Lurk, known during the events of the second chapter of the franchise, was that final chapter of the series that definitively closed the plot that dealt with the events of the Outsider, an ancient entity that accompanied Corvo Attano and Emily Kaldwin in two stories capable of surprising and leaving their mark. As a great fan of steampunk and of the British aristocracy in general, immersing myself in the world of Dishonored was like reading a book of English literature and experiencing an unparalleled adventure firsthand.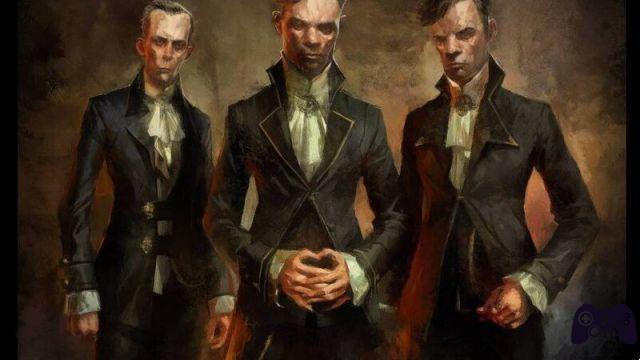 Of course, it wasn't a Charles Dickens-style Oliver Twist adventure, although the references to the Victorian era were evident and the topics dealt with had a precise role in the structure of the plot. I have always adored a stylistic cut of this kind, both because it allowed me to better understand what I was facing, and because it allowed me to learn some of the customs and traditions of the aristocratic realities. In Dishonored, published October 9, 2012, there is no republic nor an absolute kingdom that looks down on everyone, although the bias is present. Net of this, even if not in a simple way, equality prevails, which is the basis of every human relationship, even though not everyone is prepared to listen to others and prefer to go ahead without creating problems.
You want to be bored, you want to prove you're the best, you want to be strong and indomitable and fearless but with complicated situations at the center, I was constantly fascinated by those ways of doing things, even by the haughtiness of certain characters. In Dishonored, an empire was created, one of the most fascinating and plausible I've ever seen, and its epicenter was Dunwall, a capital that could remind you of London in the 1800s, tbetween progress and tradition, between popular beliefs and internal problems.
A world on the brink of destruction
There was a reality within everyone's reach that, in one way or another, it was fascinating and worth experiencing to the full, fully enjoyed and supported in its wonder, even if hypocrisy was everywhere, ready to make room for greed, thirst for power and contempt. Where once loyalty reigned and power was strong and well secured, in the shadows there were those who waited for the right moment to deliver her fatal blow. When I first interfaced with the Arkane Studios video game, I knew very well that I would come out changed, especially thanks to the inspirations and the very nature of the project.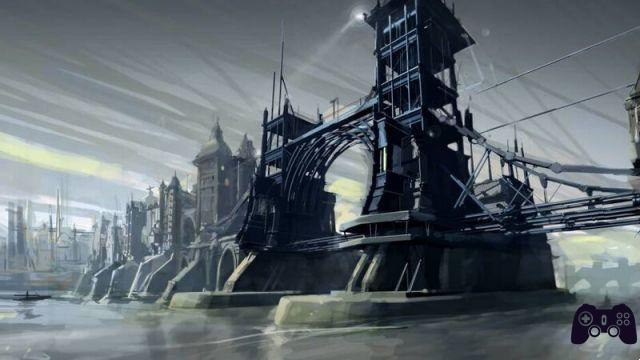 Dishonored was supposed to be a video game about ninjas, but the team intended to include characteristics of the steampunk genre and, taking inspiration from it, he built a story and a world that included these very synergies. Arkane Studios arrived at the reveal of the game with great fanfare, thanks to the success of Dark Messiah of Might and Magic, a video game that had the ability to make anyone's eyes pop. In general, the reception from critics and the public rewarded the new video game from Arkane Studios. It was 2012, a year after Skyrim: while many were still tied to the legends of the Dragonborn, there were those who were enchanted by the legends of the Corvo Attanothe protagonist of the story. A trait that has always distinguished Dishonored from the most famous immersive sims, in fact, was the inspiration for the Bioshock series, which is the masterpiece of the genre. However, Arkane managed to fit the same winning personality of the Irrational Games masterpiece, building in turn a commendable and utterly relevant production for the genre.
Dishonored was not born on the ashes of any other project, as is often the case with many video games. The final result, which has not betrayed the primordial idea of ​​the project, was created entirely thanks to Arkane Lyon, the French detachment who recently dealt with Deathloop, and who is an expert in immersive and captivating adventures. During the development of the first installment of the series, the guideline to follow was to remain faithful to the initial ideas, which however changed during the work precisely because he did not want to give up the winning characteristics of the steampunk genre.
The team wanted to create a work that offered the player the possibility of approaching various situations as he preferred, without giving up a convincing storyline. The talent of Arkane Studios, already revealed in the past, thus returned to mark the videogame panorama, with the French boasting of game designers who had an edge over the others, as well as storytellers who knew how to build a moving story around Dunwall. The Dishonored universe, as I mentioned before, expanded with the second chapter, although in the former there were references to Serkonos and the distant islands on the fringes of the Empire of the Isles.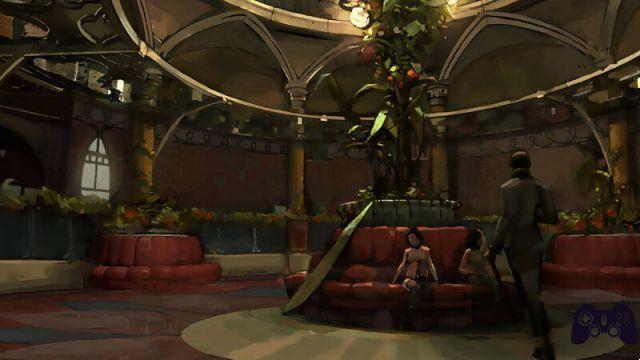 The black plague and the birth of Corvo Attano
The story development of Dishonored – the first one, especially – was a lot of fun for the French team, who built an unedited story, however, taking inspiration from the great monarchies of the nineteenth century. If you look carefully, the Empire of the Isles has a parliament, and is not an absolute monarchy. Arkane Studios captured these elements precisely from the British monarchy, but did even more, because it was inspired by the ancient maritime republics that were absorbed much later. The world was there, it was alive, pulsating and engaging: now needed a context.
As I mentioned before, initially Dishonored was supposed to be set in a fantasy Middle Ages, both to ride the wave of the moment and to insert the Black Plague in an apt way. How was it inserted, however, within a similar story? With skill, above all, because there needed to be something horrible and brutal to weave a story that created anguish and a sense of loss in an excellent way. How many of you remember the beginning of Dishonored? Corvo Attano was moving towards the imperial palace, surrounded by guards and illustrious men, who complimented him for having brought peace to a kingdom in conflict. Meanwhile, among the streets of the slums, the city was rotting with the plague, mysteriously arrived in the city due to rats that infested the sewers.
An isolated city, once shining, which was now the epicenter of a pandemic without equal. Corvo Attano, charged with seeking help, did not find him: he had to give bad news, defend Empress Kaldwin and protect her from the future that would have befallen them in a completely unpredictable way. in all its brutality. When a man is bound deeply by lust and greed, he is driven to betrayal as a murderer is forced to survive by killing those before him. Sometimes he does it knowingly, other times because there is no other way: whoever betrayed the Empress, however, knew very well what he was doing. Everything happened quickly, with murderous fury and brutality, leaving nothing out and leaving no witnesses. Or so thought the masterminds of the assassination, ready to seize the throne for themselves.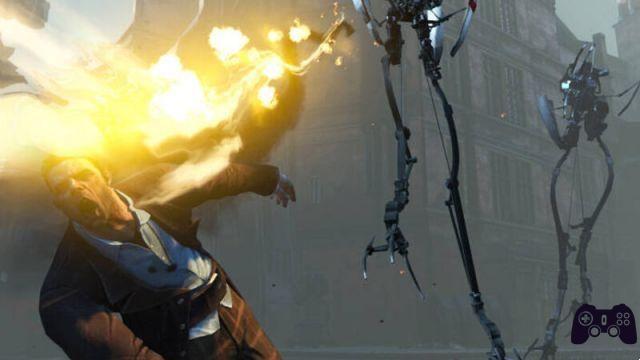 Dishonored, in this sense, teaches that no one is who they say they are to the end, not even those who profess to be friends or ally. And while Corvo Attano knew the Outsider closely, absorbing his powers, Dunwall was the silent protagonist of those events. Where once stood a blissful realm, where science and magic merged, now there was nothing but rot, which struck brutally indiscriminately. Between the mysticism and the tyranny of a few, while the coup d'état had been completed, it was the people who were losing everything, thrown into an inhuman condition. But, thanks to the Outside, you could choose who to be.
Dishonored: to be murderers or merciful angels?
As I mentioned before, Dishonored has all the characteristics of an immersive sim. When I reflect on this genre, which is one of my favorites, of course I happen to dig up some video games from the past. In Dishonored, as I explored Dunwall and agonized by its narrow streets and enforced quarantine by the plague, I could choose who to be, and not through a line of dialogue as is now the case with some narrative adventures. I could decide whether to drop the blade or let things resolve themselves without bloodshed, perhaps by stunning or avoiding an enemy. In several runs I really tried not to kill anyone, even if it was impossible, while in many others I killed knowingly. In fact, I remember that on YouTube there were videos of many content creators who had managed to conclude it without committing murders, using cunning and patience, sstudying the movements of enemies.
While not presenting an artificial intelligence that put the player in real difficulty, However, Dishonored had the ability to make these kinds of choices weigh through its game design, which was itself beautifully constructed. However, if there is something that I remember distinctly, among the many stories within Dishonored, one of the most interesting concerned Nonna Cencia, an old woman who, despite the quarantine of the thieving government of the Empress's usurpers, had not abandoned her home and she had remained where she was born and raised, experiencing great discomfort, letting herself go to the point of not remembering who she was. The Outsider tells of her as a once respectable woman who has now become trash because she has lost her usefulness. This is the tremendous exegesis of a character who, compared to many others, however, he manages to retain his humanity.
Nonna Cencia, although she was a marginal character, she was told as a noblewoman who had lost everything. This allows us to understand that, in a city like Dunwall, you can make or lose what you own with the blink of an eye. The old woman, who lived in the city's slums, was a pleasant meeting, although distressing, because I was afraid she might betray me at any moment. As I listened to her talk about her, I realized that by now she had completely lost her mind, and it was Dunwall's fault herself. On multiple occasions, someone has talked about how the city had a soul of hers. In modern architecture, when you create a house and study it, you do it especially for those who might live inside it. Those who once lived in those houses, in one way or another, have now lost everything. This can be understood when you explore the level design of the various areas of Duwnall such as Bottle Street, a place dominated by a gang who live on the backs of the innocent, and vaguely reminiscent of the same ones that exploited children during the Industrial Revolution in England.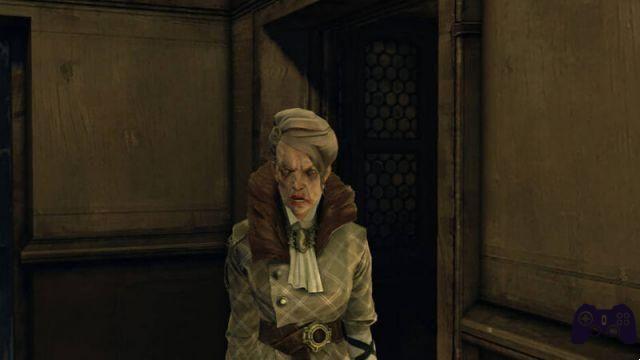 Arkane Studios, taking advantage of the story, he had the ability to give an illustrious context to Corvo Attano. His ups and downs, which helped to allow for a deep understanding of what was going on in the minds of its creators, are still today among the most memorable on the scene. Building each mission, especially in the early hours, was important as you learned to wield the Outsider's abilities and generally even their own weapons.
Choosing who to be has never felt so good, and this was an implementation that allowed many other development studios to extend this feature, giving it an enviable personality. For Bethesda, Dishonored was an important franchise, and for players it was one of the most incredible experiences in recent years. Arkane Studios also developed two DLCs, which arrived in 2013: the first allowed us to move our hand as the Dagger of Dunwall, while the other to experience the horrendous plots of the Brigmore Witches more closely.
Two additional contents that had enormous importance in the lore of the entire first chapter, which focused precisely on two illustrious mentions during the discovery of the main adventure. Unlike many other video games, Dishonored came at a time when perhaps it wasn't really needed, yet it left its mark all the same and, even today, is remembered as the masterpiece of Arkane Studios, without taking anything away from Prey, the most complete work of the team.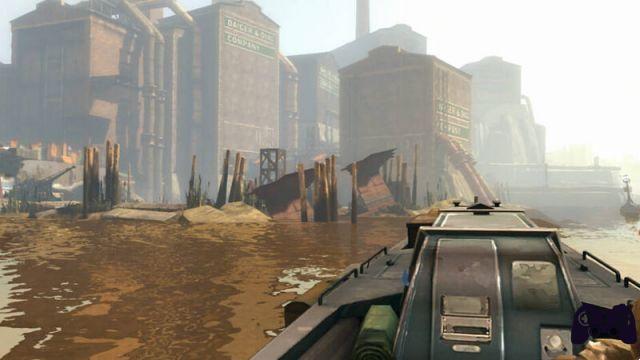 Dunwall will never change, Dishonored will always remain Arkane Studios' masterpiece
At this point, now ten years after its publication, I reflect on how much the weight of time has changed both the visions of Arkane Studio beyond those of the players, and how they have grown during this entire geological era. At the time nobody cared about it, but at the time it was different: productions like Dishonored came out two years apart among many video games that, in reverse, they had few arrows to their bow, although they retained their uniqueness. But none were like Dishonored, none were like Bioshock, and none were like Halo Reach. We were happy but we didn't know it, because there were works that literally broke the third, fourth and fifth wall without major proclamations, but leaving the last word to the player.
I'm talking about those productions that, in one way or another, improve and innovate the medium to such an extent that they leave you feeling bewildered once they're finished. Dishonored is, without a doubt, Arkane Studios' masterpiece not because it was a work that proposed well-implemented stealth, a unique context and a character that is impossible to forget. No, Dishonored is Arkane Studios' masterpiece because each of its components has been carefully and scrupulously amalgamated precisely to make it the video game that today, ten years later, still has a lot to say.