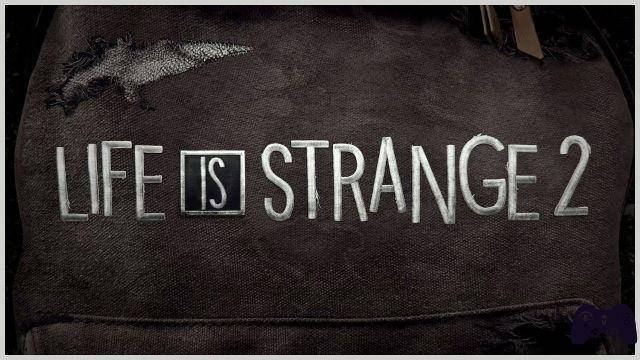 Square Enix e Dontnod Entertainment announce, through Press release, That the first episode di Life is Strange 2 è available now on PC, PS4 and Xbox One.
EPISODE 1 OF LIFE IS STRANGE 2
IT IS NOW AVAILABLE
The new season, divided into five episodes, begins today, September 27, 2018
MILAN (27 September 2018) - SQUARE ENIX® is pleased to announce that Life is Strange ™ 2, the newest installment of the award-winning, critically acclaimed series by DONTNOD Entertainment, is now available.
The first installment of the new Life is Strange 2 series, divided into five episodes, is now available on XBOX ONE®, PlayStation®4 and on PC (Windows).
Learn the story of two brothers, Sean and Daniel Diaz, aged 16 and 9 respectively, forced to flee their home in the Seattle suburbs after a tragic event that will change their lives forever. Complicating the situation further is the arrival of a new, exciting power that will have great repercussions on Sean and Daniel and on their fraternal relationship. Things will never be the same again.
The story of Life is Strange 2 unravels over the course of a year and begins when Sean and Daniel are forced to leave Seattle to go to their father's hometown of Puerto Lobos, Mexico.
Living on the street is a difficult experience and teaches that nothing is ever just black or white. There are no right choices and wrong choices, there are only your choices. Ponder your decisions carefully, remembering that Daniel is always there watching you, learning from your attitudes!
The key aspect of Life is Strange 2 is the dynamics of the brotherly example that is established between the two protagonists. The decisions you make in the first episode of the season will also have long-term consequences and will transform the way Sean relates to his little brother Daniel over the course of the next four episodes.
"We are incredibly happy to be able to tell the world a new chapter in the Life is Strange series, with a beautiful story that deals with themes such as the relationship between siblings and that of becoming an adult," said Raoul Barbet and Michel Koch, Co-Creative Directors by Life is Strange. "We hope that fans will also welcome this story and the new characters with the same passion they have shown towards the first season."
Raoul Barbet, Michel Koch and their Life is Strange team from DONTNOD Entertainment return with a new narrative adventure that will touch your soul. Life is Strange 2 continues the tradition of the series by telling engaging stories of characters you can relate to, with realistic settings and real problems, all seasoned with a supernatural element. A new story that deals with issues such as fraternal relationship, growth, the education of a child and the responsibilities that inevitably come when one becomes an adult.
"Life is Strange is a series that we are particularly fond of here at Square Enix External Studios and we are very proud to be able to present the first episode of Life is Strange 2 to players around the world." Says Jon Brooke, VP of Brand Marketing at Square Enix External Studios. "It's just the first, thrilling act of an all-new season of Life is Strange, and it has a value all its own within the vast, interconnected Life is Strange universe we are building."
Source