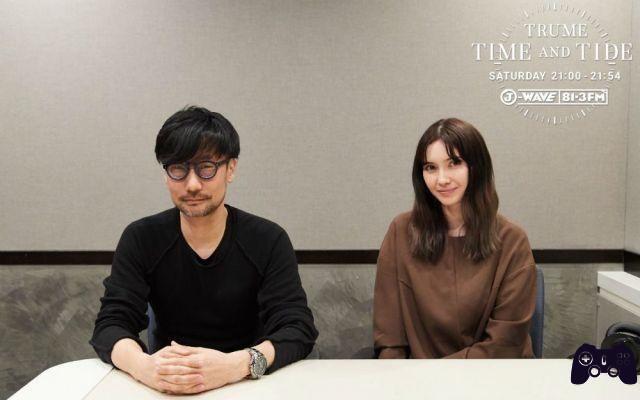 In a recent radio interview, Kojima talked about Death Stranding and his personal vision on videogames.
On March 2, Kojima participated as a guest in Trume Time and Tide, a show aired on the commercial radio station J-Wave, together with Saya Ichikawa. During the interview, Kojima he talked about Death Streanding, noted that development is taking slightly longer than expected, what game development means and the future of this medium.
Regarding the new title of the Kojima Production, the director specified that this is an open world with parts yet to be fixed, and therefore are not yet in the development phase where small adjustments usually take place before the final release. At the moment, he is rehearsing the game on a daily basis, fixing both script and control bits.
Regarding the release date, Kojima he has stated that he will delay, but not by much. He then added:
We have several compromises. When you are not working professionally, you have plenty of time to perfect your art. On the other hand, having deadline dates makes work more effective, setting goals and giving it priority. I'm the type who never stops until the end, so I'll do everything I can until we get there. One thing is for sure though, we will not release the game until it is up to my standards.
Kojima he later answered some questions about video games in general. He said that everything in the game is crucial: graphics, sound design, script and gameplay. When you propose an idea as a director, you only have it in mind and the most important thing is to be able to communicate it in the best possible way to your work team. It literally creates something that no one has ever seen, so every little change could turn the initial idea into something else. Kojima also underlines how important it is during development not to be influenced by the judgments of the players.
Finally, Kojima spoke about new technologies and how the ways to entertainment have changed in recent years, especially thanks to streaming. He believes that while movies and video games are completely different today, one day these two forms of entertainment will become one and will accelerate the metamorphosis. Kojima he also believes that approximately between ten years le AI they will play a major role in our lives, including game development, enabling everyone to develop their own game. Put simply, the AI they will aid creation based on "databases", while humans who do not need this technology to create will fill the databases with new ideas and projects. A kind of endless chase between cat and mouse, where humans will try new experiences and creations, while the AI they will follow their ideas and feed themselves.
To stay up to date on all the news regarding Death Stranding, keep following us.
Source