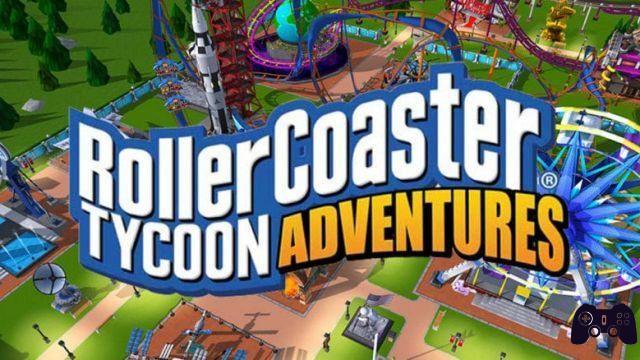 ROLLERCOASTER TYCOON® ADVENTURES IS NOW AVAILABLE FOR NINTENDO SWITCH ™
For the very first time on Nintendo Switch ™, build, customize and share the best amusement park you can create!
Bigben and Atari® are proud to announce that RollerCoaster Tycoon® Adventures is now available.
RollerCoaster Tycoon® Adventures is the latest work from one of the most beloved franchises in video game history. Created by Chris Sawyer, and initially released for PC in 1999, RollerCoaster Tycoon has quickly become a reference point for gamers around the world. This episode will be able to enjoy the unique features of Nintendo Switch (portability, ease of use, touchscreen, etc.) to offer an experience never before seen in the world of RollerCoaster Tycoon.
Key Features:
Thrilling Game Modes: It will be possible to create extravagant parks in 3 different modes: - Adventure, Scenario and Sandbox.
Choose Your Adventure: For the first time in the RollerCoaster Tycoon series, the adventure mode will have an Event System that will make each park one of a kind. Difficult decisions will have to be made, making sure to create a compelling story.
Customize your Park: You can choose from over 50 colors to customize the tracks, roller coasters, shops and restaurants. It will be possible to transform the park by adding themed paths, tree-lined avenues and waterways. There are four distinct locations to choose from - Mountains, Moon, Canyon and Tropics.
Exciting races: Seven types of fully customizable roller coasters will be available - Wood, Steel, Winged, Inverted, Hyper-speed, Dive or Super Acceleration.
Simple and intuitive management system: Simplified management and easy-to-use tools will make RollerCoaster Tycoon Adventures the most accessible product to enter the RollerCoaster Tycoon franchise, even more by making the most of Nintendo Switch.
Attractions galore: You can choose from over 120 fun tracks, restaurants and shops for your park, from the modest Merry-go-Round to the deadly Roto-Drop, all with stunning effects and shadows.
Flexible Gameplay: it will be possible to play using both the Nintendo Switch Joy-Con ™ and the touchscreen controls. RollerCoaster Tycoon Adventures runs at 1080p in TV mode and 720p in handheld mode.
Source