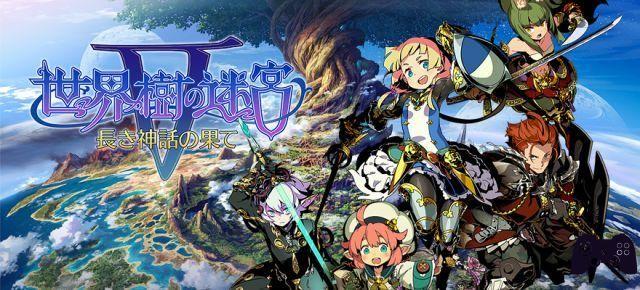 Atlus has released a new trailer for Etrian Odyssey V: Beyond the Mith.
Prepare to face the hidden dangers of Yggdrasil with Etrian Odyssey V: Beyond The Myth
See how protective the dragon is in your party in the new trailer
They say that anyone who reaches the top of the colossal Yggdrasil will be able to grant his greatest wish. So what's so difficult about climbing a tree? Well, besides being a gigantic labyrinth, Yggrasil hides frightening dangers and terrifying enemies always lurking. But don't be intimidated, Etrian Odyssey V offers a treasure that will strengthen your adventurous spirit!
Here's what you would get by pre-ordering or buying a copy of the game: a 24 Page Art Book - beautiful art and concepts, the cover of this magnificent art book is the work of illustrator Yuji Himukai. The unique explorers who will make up your party are a marvel to watch.
And that's not all! Learn more about the armored dragon with the new trailer. One of four classes for the Earthlain race, the dragon is perfect for absorbing damage and taking out heavy artillery. He will have to protect the party from various attacks with different stages of guard, he is the first line of defense against all hostiles around Yggdrasil. As dragons level up, they can choose between a Master form for impenetrable defense or focus on offensive capabilities.


Etrian Odyssey V: Beyond the Myth features:
Create Your Odyssey - From choosing your party to exploring the mysterious tree maze of Yggdrasil, Beyond the Myth is completely based on your choices for a unique adventure. Test your survival skills as you wisely explore Yggdrasil's plans, use cunning tactics to fight the ferocious beasts in your path, make the right decisions depending on the occasion, and so much more. To meet these challenges, your Iorys city is the foundation to meet all your selling / buying, recruiting and information needs!
Map Progress Gameplay - It wouldn't be a true Etrian Odyssey game without the basic need to track your progress on the map. For those new to the series, the bottom screen of the 3DS shows a map that must be filled out as you progress through a dungeon. Players can use the map to mark where treasures, doors, enemies, environmental obstacles and more are located. Expect the unexpected at every turn — and make a note of it on the map so it won't be unexpected in the future!
Epic Turn-Based Battles - There's a reason no one has ever reached the top of Yggdrasil. Dangerous creatures and terrifying enemies haunt the maze on every floor, so prepare for epic strategic turn-based battles. Proper planning and party balance are key to success. You will need the right team to achieve your goals!
Extensive character creation and customization - With four unique races, 10 distinct classes, the title offers more customization options than in previous installments of the franchise.
Magical Art and Music Direction - Celebrated illustrator Yuji Himukai and renowned composer Yuzo Koshiro return to put their signature on the game's art and music direction.
Etrian Odyssey V: Beyond the Myth will be released in Autumn 2017 for Nintendo 3DS ™ for € 39.99.