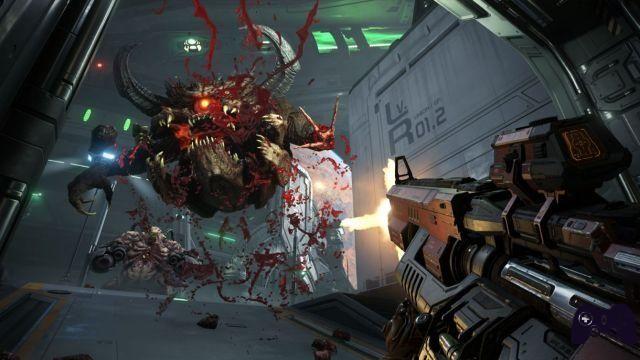 Revealed by Bethesda during the conference at E3 2019: Doom Eternal will bring hell to earth.
Ready to face hell on earth? Not much is missing: Doom Eternal will be available from 22 November for PS4, XBox One, PC and Nintendo Switch.
Before the sermon on the game delivered by Marty Stratton and Hugo Martin - executive producer and creative director of id Software, respectively - was shown a trailer that sported some new weapons and the Doomslayer himself, during the bloody killing of a demon.
The two then move on to the details, presenting the places they will visit - among these there are new ones, such as Paradise, Earth, the homeland of the Sentinels and "others". They also wanted to point out that the gameplay and level design were crucial in bringing the best possible gaming experience in Doom to the public.
The presentation ended with further gameplay, where the Doomslayer is seen returning to Mars. Even more cinematic than usual, the fast and aggressive gameplay of the Doom franchise is evident, in every jump or chant of the Doomslayer as it makes its way through the most disparate demons. New weapons are also seen in action, including a shoulder-mounted cannon.
Finally, another trailer reveals the gameplay of Battle Mode, a new competitive mode. New information about the game will be released at QuakeCon.
Doom Eternal was officially revealed at Bethesda's E3 conference last year, although Pete Hines seemed to have missed something a few months earlier during PAX East 2018. The first taste of gameplay comes at QuakeCon 2018, where fast-paced style gameplay and Fluid typical of Doom (2016) showed the Doomslayer's terrible new weapons.
Doom Eternal will be available from 22 November 2019 for PS4, PC, XBox One and Nintendo Switch.
Doom Eternal - - PlayStation 4
On amazon: 28,49 € buy
Source: Dualshockers