Acclaimed title and among the most anticipated of this beginning of 2019, Metro Exodus will show fans of the series a new glimpse into his world, taking players out of the claustrophobic subway that has always characterized him, but into a much larger world. The developer 4A Games ahead of the launch has disclosed the official specifications for PC.
On the official Metro Exodus website, 4A Games revealed the full range of PC specs that allow players to customize their builds before getting their hands on the latest installment of the series, starting with the minimum specs to be able to play. 1080p / 30fps, up to the coveted 4K / 60fps.
While the minimum specs are on hand for low-end systems to launch Metro Exodus, it's clear you'll need some decidedly robust hardware to run the game beyond 1080p / 60fps. Achieving 4K / 60fps will require the top of the GPU currently on the market, such as an expensive one RTX 2080 Ti or equivalent.
Metro Exodus will be released for PS4, Xbox One and PC on February 15, 2019. To find out what you'll need to make the next 4A Games title work, you can take a look at the official specifications here attached. Keep following us for this new shoot'em up.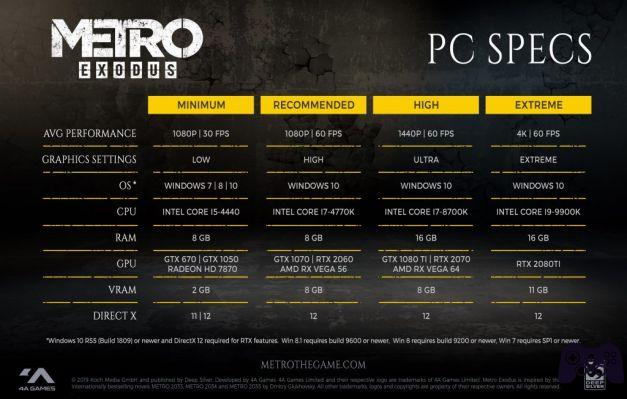 Source