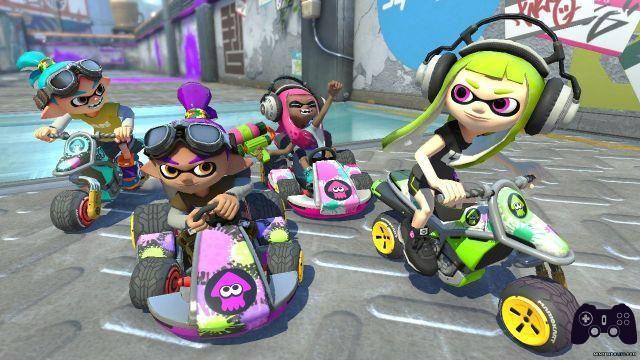 Nintendo, during the presentation of Nintendo Switch, officially announced Mario Kart 8 Deluxe, the revised and corrected version of the racing game that has raged on the screens of owners of Wii U.
This new Deluxe Edition will include all DLCs featured in Mario barth 8 with the addition of new tracks and characters. There will also be a Battle Mode and the ability to play up to 8 people simultaneously locally.
The new characters that will be introduced will be: Inkling Boy and Inkling Girl from Splatoon, King Boo, Dry Bones and Bowser Jr. Instead the new tracks for the Battle Mode will include two Splatoon themed circuits: Urchin Underpass and Battle Stadium, along with Luigi's circuit. Mansion of the GameCube version and the historic first Mario Kart circuit for SNES.
Below we leave you to the debut trailer:
As you can see from the video, you can now have two objects at the same time.
Mario Kart 8 Deluxe will have a resolution "up to 1080p" in via the TV screen, which probably means that it will use a lower resolution for multiplayer mode - with more than two players - as it did on Wii U.
Finally, a new smart steering function has been introduced for beginners to make driving easier.