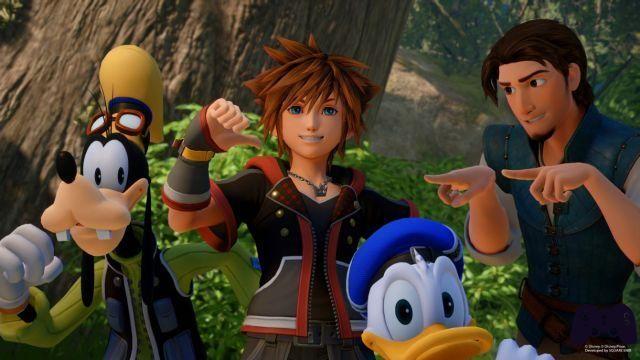 Square Enix announces the availability of Kingdom Hearts III
KINGDOM HEARTS III IS NOW AVAILABLE
ALL OVER THE WORLD
SQUARE ENIX and Disney take players on a wonderful adventure
where they can explore the fantastic Disney and Pixar worlds of Toy Story, Frozen, Rapunzel, Big Hero 6 and more
MILAN (January 29, 2019) - Square Enix Ltd and Disney are delighted to announce that KINGDOM HEARTS III, the highly anticipated new installment of the beloved RPG and action video game series, is now available worldwide.
Both longtime fans and newcomers alike will follow the fantastic adventures of Sora, a young hero of the Keyblade who is tasked with protecting the universe from evil forces known as the Heartless. Sora, with the help of his faithful companions Donald and Goofy, or the emissaries sent by King Mickey from the Disney Castle, will join the most famous characters of Disney and Pixar to try to defeat the darkness and save the universe.
"I am delighted that KINGDOM HEARTS III is finally available," said Tetsuya Nomura, Director of the KINGDOM HEARTS series. "The story is full of mysteries, so players can take it easy not to miss any details. Adventure is in the journey itself, not just in the final destination. This story represents one of the greatest experiences ever lived by Sora and his friends, so I really hope the players like it. To all our fans around the world, thank you for waiting patiently for this day to come. "
"KINGDOM HEARTS III is the continuation of a fantastic long-lasting creative collaboration between Tetsuya Nomura, the worlds and characters of Square Enix and Disney," said Sean Shoptaw, SVP, Global Games and Interactive Experiences, Disney Parks, Experiences and Consumer Products. "The new chapter in this fan-favorite series is the perfect result of our philosophy of combining Disney and Pixar characters and worlds with the best gaming partners and giving them the flexibility to create something magical and unexpected. We are delighted that today fans can finally enjoy this title. "
KINGDOM HEARTS III includes a spectacular series of voice actors who brought characters from the most beloved Walt Disney Animation Studios and Pixar Animation Studios to life. Those returning to play their roles for the video game include Kristen Bell, Idina Menzel, Frozen's Josh Gad and Jonathan Groff, Rapunzel's Zachary Levi, Big Hero 6's Jamie Chung, and more.
The opening track "Face My Fears", created by Skrillex, eight Grammy Award winner and longtime fan of the KINGDOM HEARTS series, and internationally acclaimed singer-songwriter Hikaru Utada, is now available on the iTunes Store: https: //itunes.apple.com/gb/album/face-my-fears-ep/1444855032?app=itunes.
KINGDOM HEARTS III is now available on the PlayStation®4 digital entertainment system and on Xbox One (including Xbox One X).