Ubisoft announces, in a press release, the contents of the Season Pass dedicated to the highly anticipated For Honor, coming to PC, PS4 and Xbox One.
UBISOFT ANNOUNCES THE SEASON PASS OF FOR HONOR
Six new heroes and seven days of Early Access for Season Pass owners
MILAN, February 2, 2017 - Ubisoft® announces that the For HonorTM Season Pass will include six new heroes available seven days earlier than other players, new gear and 30 days of Champion Status, which will give players more experience points and loot. New add-on content will be available to all players for free after the game's release including new maps, modes and gear.
The For Honor Season Pass is included in the Gold Edition or can be purchased separately. Season Pass content includes:
Six new heroes available seven days earlier than other players
Six elite outfits to customize the new heroes
Day 1 War Pack

An exclusive "sunshine" effect for all heroes
Three special outlines for emblems
Three vulture crates to unlock additional equipment
30 days of Champion Status that allows you to give XP boosts to friends, more XP for crafting and additional end-match loot.
All Season Pass content, with the exception of the six new heroes and their elite outfits, will be available simultaneously with the game's release on February 14, 2017. The new heroes will be available in pairs at the start of the new War season. of the Factions, a persistent and cross-platform conflict between knights, Vikings and samurai that will change the world of For Honor. After this period of early access, the heroes can be unlocked through Steel, the in-game currency of For Honor that can be earned through completed challenges and matches.
Other additional content, including new gear, new maps and modes, will be available for free to all players after launch. Some of this content will be available in early access for Season Pass owners.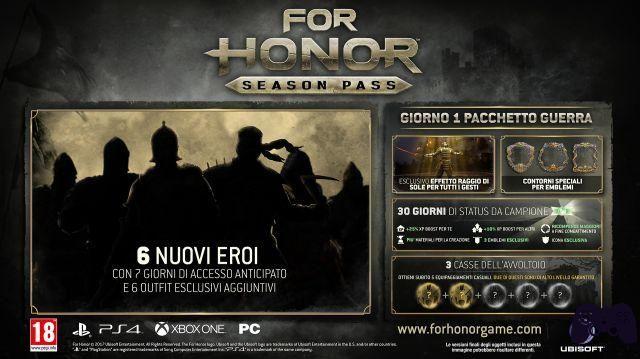 Players who want to hone their skills before the official release of For Honor can participate in the Open Beta taking place February 9-12, 2017. This Beta version will include the new Elimination mode, a best-of-five, four-on-four round. without respawn. The Elimination Mode joins the other modes that will be available in the Open Beta, including Domination, Brawl and Duel, and nine playable heroes. Upon release, For Honor will offer a choice of twelve playable heroes and five different multiplayer modes.
Developed by Ubisoft Montreal in collaboration with other Ubisoft studios *, For Honor offers a truly compelling campaign, as well as an exciting multiplayer experience. Players will be able to take on the role of the warriors of three great factions: the daring knights, the brutal Vikings and the mysterious samurai, fighting to the death in a series of intense and realistic battlefields. Art of War, For Honor's innovative combat system, grants total control over their warriors, allowing players to use each hero's skills and fighting styles to eliminate any enemies that stand in their way. For Honor will be available on February 14, 2017.
To see the post-launch content trailer visit, https://youtu.be/JqigKM3DMr8
Source