Electronic Arts announces, in a press release, that theEA Play this year will be held from 7 to 9 June 2019 in Hollywood.
2019 will be the occasion to celebrate EA PLAY's fourth year.
What Electronic Arts envisioned as a celebration of the game has become an incredible moment that it loves to share with the community every year.
This year there will be fewer words and more moments of play, with an event entirely focused on the beating heart of EA PLAY: the communities of players and the games they love.
There will be the first playable versions of some of the biggest EA titles and exclusive content from the most popular creators in the world.
All with free participation.
The start is set for the night of Friday 7 June 2019 with a new EA PLAY inauguration event.
This year there will be no press conference and will be replaced with several live streams for the first two days of the event, giving even more of what gamers really want: more gameplay and previews from the teams that developed the games.
The EA PLAY fan party is scheduled for Saturday 8 June and Sunday 9 June, where players can preview the most important games. There will also be some live content creators from Creator's Cave in the Hollywood Palladium providing gameplay content to all players online. EA.com will be the foundation for all EA PLAY online content.
Players will be able to go behind the scenes of the titles thanks to exclusive gameplay previews, developer interviews and breaking news.
To stay up to date on all the news, you can register for the newsletter or follow the official Twitter (https://twitter.com/ea) and Facebook (https://www.facebook.com/EA) accounts.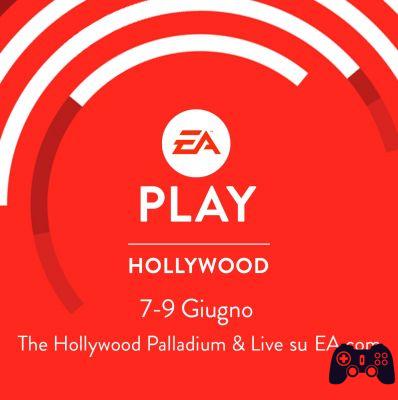 Source