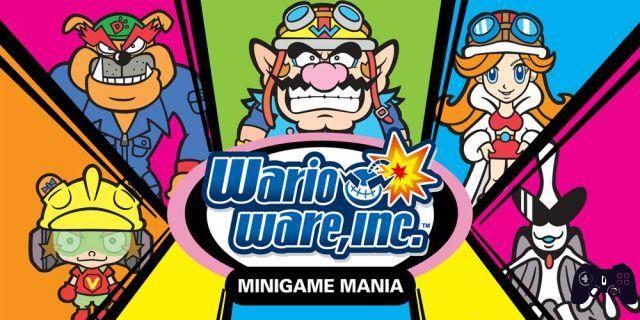 In 2003, Nintendo's internal R&D 1 team (now scattered among the various EAD studios) created a crazy new genre on the Game Boy Advance, consisting of an avalanche of micro-games that could be solved in a matter of seconds. A carpe diem gameplay where every moment has a unique taste. Submit CV to WarioWare Inc. to find out more!
Hirofumi Matsuoka, director of one of the craziest projects ever to land under the fingertips of gamers, also had a respectable resume until his inhibitions were released by Wario, our favorite videogame villain. To be clear, let's talk about someone who was a designer of Metroid e Super Metroid, two seminal titles that brought the two-dimensional action-adventure genre to maturity.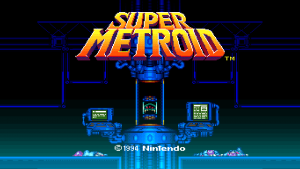 To learn more:
Downswing - Super Metroid
Something began to creak in 2001, with a Wario Land 4 that broke through the banks of already precarious sanity, of a series created to be irreverent contrast between Mario and his Kingdom Of Mushrooms, noble standard-bearer of the Kyoto house and for this reason always politically correct. But what in 2003 (2004 in the Old Continent) landed in the Game Boy Advance of traveling players from all over the world, was a totally alien title, unsettling, new in conception, development and narration, a storm of strobe lights to take on gameplay pills about every 5 seconds, to avoid epileptic fits and so on. The package, sorry, the cartridge that contains them has only one contraindication written on the back: "it can induce addiction".
Wario, greedy founder of the indie movement?
But what is WarioWare Inc.? A question that can be answered in many ways, all more or less inconclusive. Physically it is one game development start up founded by the greedy Wario to profit from passionate players like us. An idea born watching the news, while the news of the inexorable increase in video game sales passed, even if very soon he will understand that creating playful pleasure is not a job for everyone, especially if you are narrow-minded and a little incapable like him. So he decides to get involved with his friends, get help in the development, of which we will be the Beta Tester, constantly peeking through the fourth wall and feeling in the heart of a crazy project with the ultimate goal of making tons of money.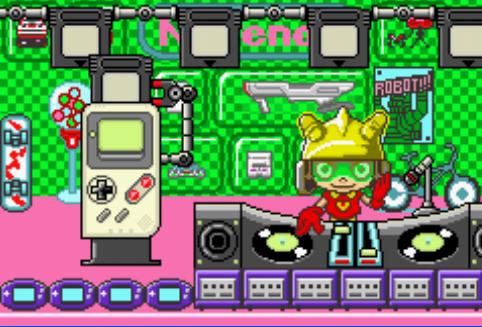 9-Volt, DJ with a passion for retrogaming. This is style!
From our position as guinea pigs we are therefore able to give another answer to the initial question. WarioWare Inc. is a bombardment of 100+ micro-games, to be faced holding your breath through nine virtual folders created by Wario & Co., with an eye on the timer-bomb at the bottom left and the other reading the imperative verb that indicates the action to be performed, transmitting the information first to the brain and then to the fingers. On the small screen of wonders, used as the desktop of a development kit, they will take turns speed and increasing difficulty cherries of gameplay where one leads to another: bouncing a stick man on a trampoline, rolling a forkful of spaghetti, putting eye drops on a strange dude, retracing epic scenes from the 8-bit Nintendo era (from F-Zero to the Virtual Boy, passing through ROB, contained in the self-ironic encyclopedia of 9-Volt), solve puzzles and be amazed at the reality seen by Dr. Crygor's eyes, all stop-motion and festival of the absurd, and then be enchanted in front of microscopic sports and automotive challenges, without limits, experiencing a constant and hilarious Christmas. The theory of everything, of all kinds, collected in a cookbook that is pure pornography for ludo-maniacs.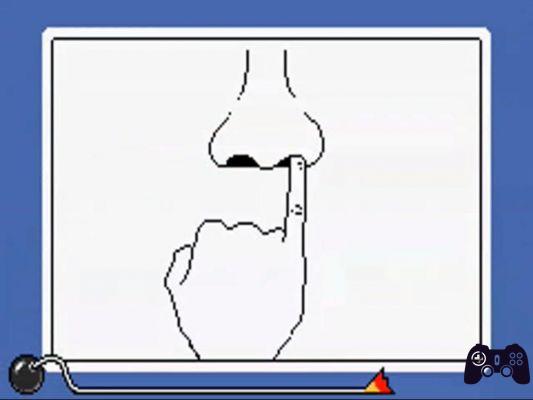 The use of the little finger is the thin line that divides a man of class from a caveman.
D-Pad and A key will be enough to solve all these inexplicable situations, transforming first into fire hydrants, then into the language of the "lizard of love" (no questions, thanks) and again into an umbrella that will have to repair a kitten from the pouring rain. A subtraction of keys and combinations at the service of an extraordinary variety, which ridicules the modern touch control systems of smartphones and brings in triumph a title that can be easily defined "the perfect portable game". Game design school born on paper, precisely that of the famous Post-it, on which each element of the team drew a sketch of the micro-gameplay he had in mind, which would be passed or rejected based on the intuitiveness it conveyed. Imagination that from impalpable power becomes a line drawn in pencil on squares of colored cellulose, and then returns to abstract, virtual. Playing with another human's imagination, have fun with their personalities, their little stories, forever imprinted in a code.
Eyes and ears exclaim, "What the hell is going on?"
A puzzle with pieces all different in shape and color that fit together perfectly to form the physical image of Japanese madness. In front of the player's retinas, now irremediably addicted and unrelated to the events of the real world, there will be an infinite number of aesthetic styles at the speed of a 90s slide show. From the aforementioned stop-motion, disturbing and hilarious distortion of reality, we pass to the most superb of pixel art from 8 to 16bit, and then find yourself immersed inJapanese painting art after having ventured into the inevitable style anime, in a visual compilation without complete meaning, if not that of triggering a love at first sight that will make us get married playing until "death do us part". Characters and game world then make you want to create an RPG version of the title on the spot to explore that picturesque city and have a chat with its psychopathic inhabitants, each with a dubbing made up of senseless exclamations, made-up words and even words, not to forget the origins of Wario and his brothers. The fact that they managed to define the genre of Mona's stage as "strange" speaks volumes about how strange it really is, given the tenor of the whole opera!
But this perfectly amalgamated jumble of styles is nothing striking when compared to a soundtrack that scoffs at sheet music and notes to make us listen. MIDI melodies deliberately out of time, at times even annoying but brilliant like the most unconventional pieces of Radiohead, protesting against any musical convention and common sense to underline the general deviation of a product that seems to say "I just escaped from a Kyoto madhouse". In this sense, the track that accompanies the taxi raids of the Dribble & Spitz duo is splendid, who during a night shower of incredible atmosphere, play the tape of their favorite cassette, a synthetic jazz sung by a sensual Japanese voice, who seems to have decided to record the track on the intercom.
An extreme aesthetic, unique, who exaggerates, dares and wins hands down with her style that is total freedom of creativity and expression, as well as the whole game, expression of a Nintendo capable also of taking off the tuxedo of videogame elegance to run naked in the middle of the street of a market that always needs these strokes of genius. A title that becomes synonymous with "game" in the purest of its meanings, anarchist distilled of joy 0-99 suitable for any person who simply wants to have fun, be amazed and laugh out loud.
And at this point I could say "thanks for reading!", But I feel the need to give relevance to a Nintendo hero abandoned to his fate, relegated to the imagination of WarioWare Inc. but which would have deserved titles in their own right for playful quality and total charisma. I'm talking about one of the minigames (not micro), unlockable by reaching certain objectives, one of the thousand secrets scattered in the maze of the fictional dev-kit, the one who made the monkey of easy money tied to video games rise on the shoulders of Wario: Pyoro.
Mega-micro demotion: Pyoro, the hidden IP
Di minigames in my career I have found, tried, unlocked many, but Pyoro remains the Mario 64 of this sub-genre, an obscure bonus concocted by the most generous designers and a decidedly reduced practice today, at least outside Kyoto. Pyoro is a bird that cannot fly and is not even that quick to walk, but it compensates for Mother Nature's wickedness with a kilometric and sticky tongue, an exaggerated version of the organ that made frogs and toads famous on the animal stage. Greedy of turnips he will have to go back and forth in his little 4: 3 prison in the open to draw his tongue strictly in diagonal, forcing the player to aim towards the vegetable in free fall and holding down the A of Ancona for as long as necessary to lengthen the gustatory organ properly. Each bite that falls to the ground will create a small chasm, redefining the already small living space of our bird and trying to eat the bright turnips to repair the ground under our legs. Pure genius, like who played this game.
The depth is in the score, bestowed on the basis of the distance between us and the delicacy. The compulsive accumulation of numbers from 50 to 1000 will cause the background to change into an escalation of psychedelia and wonder, making historical monuments appear first and then giving them life, amidst lights, fireworks and an increasingly acid and pressing soundtrack. To unlock Pyoro 2 it will then be the final orgasm that will transform the concept into a seed-based shooter (probably those he has previously swallowed) always and in any case obliquely. The very nice bird will also make brilliant appearances in other titles of the saga, even landing stand alone on DSi Ware (so also on 3DS) with these first two episodes, doing it a little justice but keeping it always far from the consecration to which he deserves to aspire. Your audience loves you and does not forget you, always looking for a new high score, waiting for mom N to take you off!
"Thank you for playing!" tell us Satoru, eternally imprinted in the pixels of an incredible work that will never age, a carnival where we can all dress up as Peter Pan, reset the saves and immerse ourselves again in amazement, thanking this universe for such true, synthetic, sincere emotions.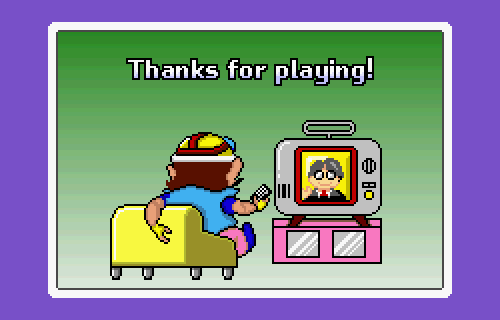 Fun and tears. Thanks to you President!