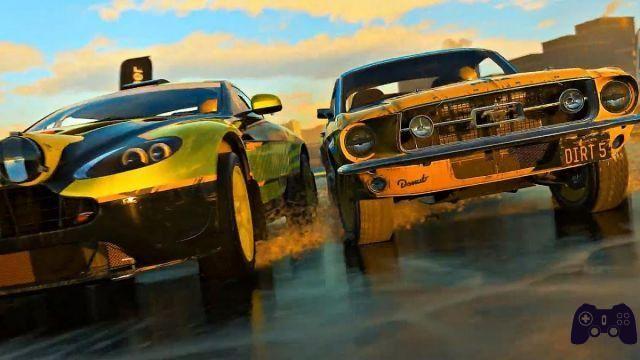 DIRT 5 ™ INAUGURATES THE NEW GENERATION OF RACING WITH THE ULTIMATE OFF-ROAD RACING EXPERIENCE
Extreme off-road racing, stunning real-world locations, four-player split-screen and more
May 7, 2020 - Codemasters® presents the new generation of racing with the announcement of DIRT 5 ™, which will start in October 2020 on Xbox Series X, PlayStation® 5, Windows PC (via Steam), the title will also be available for the current generation of Xbox and PlayStation consoles. A Google Stadia version will be released in early 2021. Fully optimized for all platforms, DIRT 5 is a thrilling new off-road driving experience, in a sensory scenario of vibrant visuals, an eclectic soundtrack and dynamic weather conditions.
DIRT 5 includes some of the most exciting, exotic and picturesque locations such as New York City and Rio de Janeiro along with challenging events in remote areas of Greece and China. Players will be able to experience the thrill of extreme racing aboard a variety of vehicle classes such as buggies, trucks, rock bouncers and traditional and modern rally cars.
The broad narrative career is bigger in every respect with types of events and challenges on some of the most difficult terrains. Before you hit the track, get creative using the livery editor, with more customization options than any other DIRT game. DIRT 5 features a non-linear progression path, so players can choose as many events as they want.
DIRT 5 announces the return of split-screen for up to four players. The full list of game modes will be announced shortly, including a new mode focused on creativity and designed for fun with friends locally or in global online battles against the best pilots in the DIRT universe.
DIRT 5 also boasts a roster of talent led by the iconic Nolan North and Troy Baker. Together and in their own unique style, the dynamic pair guides players with their voices through Career mode and the features of DIRT's in-game podcast series.
"As a studio, we are huge fans of DiRT 2 and 3. This game is our homage: a broader and amplified DIRT off-road experience in a lively, challenging and fun environment," said Robert Karp, Development Director at Codemasters. "Whether you want to compete against the AI ​​in some of the toughest settings in the world or play a four-player split-screen game with your friends, DIRT 5 will satisfy you."