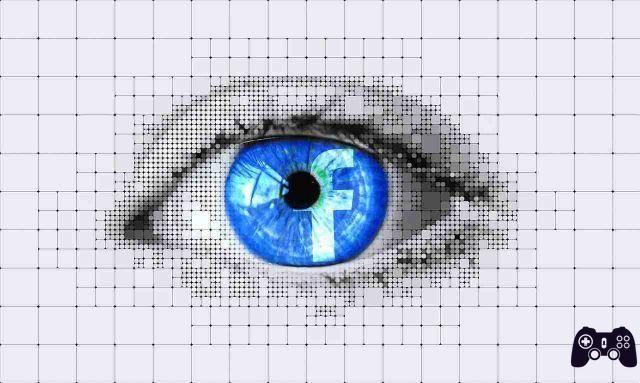 New Facebook privacy settings. Facebook recently made it easier for you to manage your privacy settings. These changes should help you understand how your data is used and how to prevent its use in the future.
Facebook privacy settings
If you use Facebook mainly on your phone, you will be happy to know that your settings will be consolidated. Instead of settings "spread across nearly 20 different displays," they will all be where they should be: in one place.
In addition to grouped settings, Facebook has also revamped privacy shortcuts in its mobile apps.
On your phone, you can access these new settings by doing the following: Go to the tab Settings (icona del menu hamburger)> Settings and privacy> Quick links to privacy .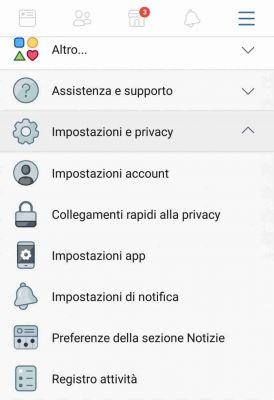 Here you will find the following:
Privacy control
With Facebook's Privacy Checker, you can consult a short questionnaire that facilitates: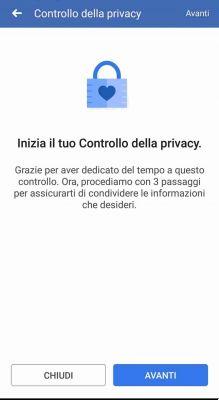 Choose the default audience for your next post (Audience, Friends, Friends with exceptions, or Just me)
Understand and select who can see your profile information
Understand and select the apps and websites linked to your Facebook account.
Quick links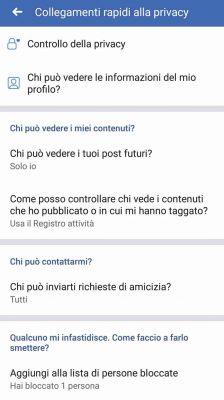 You will find quick links for the following:
Who can see your future posts
How can I control who sees the content I've posted or tagged me in.
Who can send you friend requests.
Contacts blocked.
Privacy Basics
A new basic privacy menu split into five sections aims to explain to users everything they need to know about Facebook's security and privacy features.
In addition to explaining Facebook's many features, where applicable, you'll also find links at the end of each section that take you to the relevant settings for your account.
This includes:
How to create and delete posts, how your profile is viewed by other users, who can see your friends list, tagging, comments, your timeline, and more.
How to deactivate or delete your account, create secure passwords and set up two-factor authentication.
How to check the ads you see both on Facebook and how to change the ads you see.
Toccata Privacy Basics> Menu to view the five sections.
You can also read the Facebook Data Policy. This is quite broad as a topic but it is a good resource to start understanding how Facebook collects and uses your data and how you can manage or delete it.
How to download all your Facebook data
How it worked before the privacy settings changed
You can still access your data the old fashioned way. Go up Settings and click Download a copy of your Facebook data . (via web browser)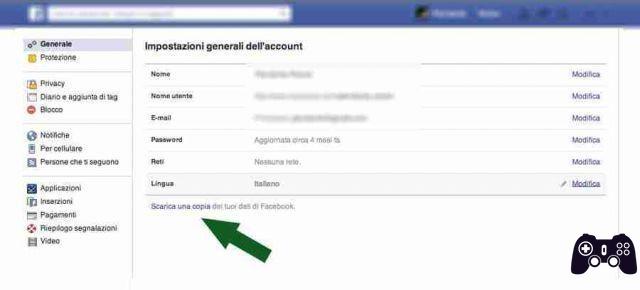 The Facebook download request may take some time depending on the frequency of use of the social network.
How to access your data from now on
Rather than having to download and wade through bulky documents, Facebook unveiled a new feature Access Your Information , which will also be rolled out to users, but it's unclear when this will actually happen.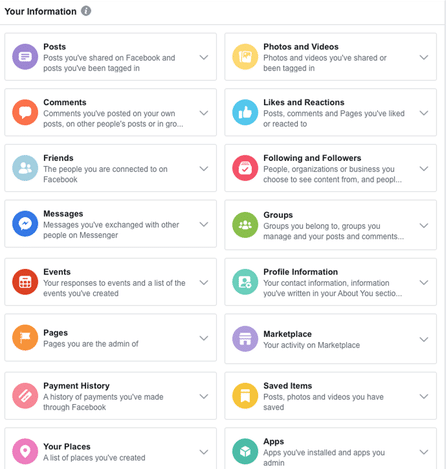 From the shared Facebook screen, it is clear that all the information that can be downloaded will also be accessible from a convenient page.
This will include all of your Facebook interactions: posts, photos, comments, groups, likes and reactions, friends, and more.
Facebook says this new feature will also make it easier to download a secure copy of your data or move it to another service. It should also make it easier to delete anything from your timeline or profile.